The Textile and Apparel Southeast Asia (SEA)-Cambodia Summit 2024, a highly anticipated event in the textile and apparel industry, is scheduled to take place on March 14–15, 2024 in Phnom Penh.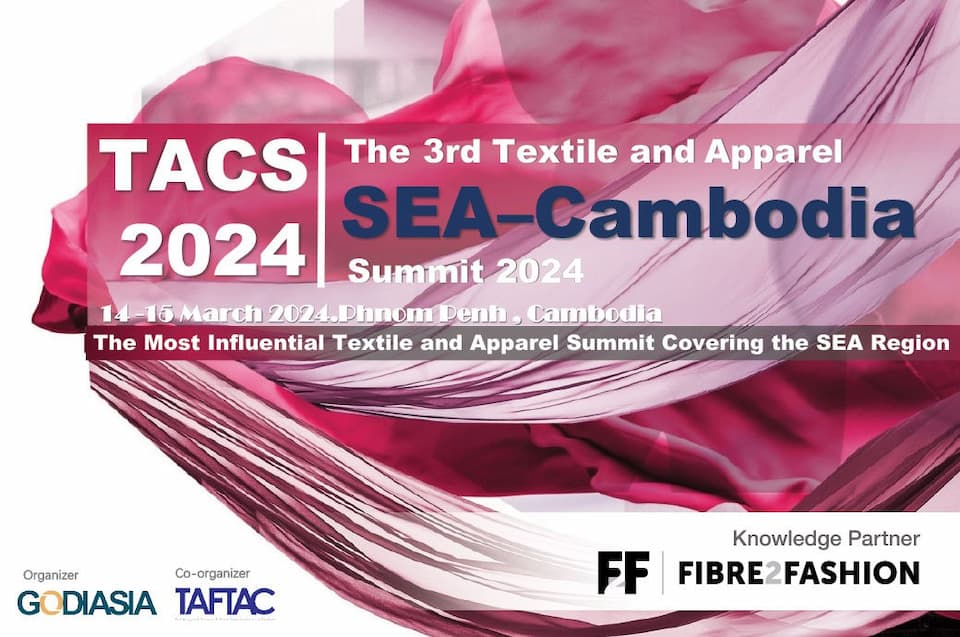 The summit aims to drive growth in the region by addressing key trends and issues, including policy, sourcing strategy, supply chain digitization, local factories, and sustainable development.
According to Fibre2Fashion, they will be the knowledge partner for the event and the summit will be organised by GodiAsia and the Textile, Apparel, Footwear, and Travel Goods Association in Cambodia (TAFTAC). The summit intends to serve as a platform for industry stakeholders to explore business opportunities and collaborations for the advancement of the textile and apparel sector in Southeast Asia. 
The summit will consist of four sessions, each focusing on a specific theme. The sessions include discussions on policy, the current situation and opportunities; sourcing strategy and supply chain digitisation; local factories, labour, technology upgrades; as well as sustainable development and circular textiles value chain. These topics were highlighted in a joint press release issued by GodiAsia and TAFTAC.
Prominent discussions at the summit will revolve around subjects such as:
Sustainable Development and Circular Textiles Value Chain

Made in Cambodia: Deep Interpretation of Latest Government Investment Policy on Textile and Apparel Industry in Cambodia

Cost Analysis and Road Map to a Balanced Production Strategy in Cambodia's Textile and Garment Industry.
Other notable topics include the 'Outlook 2030 for Cambodia's Textile and Apparel Industry,' 'Deep Analysis of the Impact of the Russo-Ukrainian War on Cambodia's Industry,' 'Current Status and Key Trends of Asia Apparel Sourcing,' and 'Supply Chain Digitisation.'
Speakers invited to the conference include representatives from the Ministry of Commerce of Cambodia, Giles Fowler (Director-Southeast Asia Production Operations at VF Corporation), Ken Loo (Secretary General of TAFTAC), officials from the Ministry of Economy and Finance of Cambodia, and experts from renowned organisations such as Adidas, China National Textile and Apparel Council, Decathlon VN, Marks and Spencer, Coats Digital, Li & Fung Limited, MAS Holdings, Asmara International Limited, Worldwide Responsible Accredited Production, Bao Minh Textile JSC, Bluesign Technologies AG, and H&M.
Industry stakeholders and businesses are encouraged to participate and stay informed about the emerging opportunities arising from Cambodia's evolving textile landscape.
Cambodia's Garments & Textiles Industry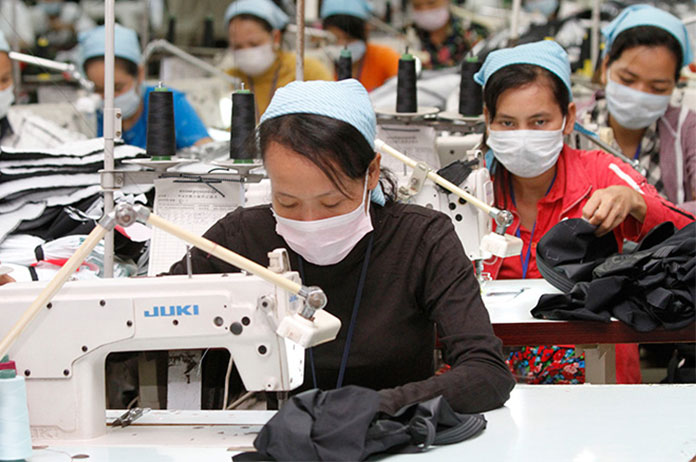 Cambodia's textile industry has experienced remarkable growth and plays a significant role in the country's economy, contributing more than a third of the gross domestic product. In 2022, the garment, footwear, and travel goods industry accounted for 57 percent of Cambodia's total exports, reaching a value of USD $12.6 billion – a 14.9 per cent increase compared to USD $11 billion in 2022.
There have been several headwinds in 2023, and the data shows Cambodian apparel exports from January-July 2023 have dropped as much as 20 per cent. Exports to the US market in particular fell sharply in Q1 2023.
As the ninth-largest exporter of garment, footwear, and travel goods globally, Cambodia's shift towards higher-value textiles and apparel presents new opportunities for businesses to capitalise on.
In September 2022, Cambodia increased its minimum wage for textile and garment workers to USD $200, an increase from USD $194, and the negotiations for 2024 have begun. Cambodia's National Council on Minimum Wage (NCMW) is discussing the annual increase of monthly minimum wage for the garment, footwear and travel goods industry which includes approximately 750,000 workers working at as many as 1,100 factories and branches in the Kingdom.