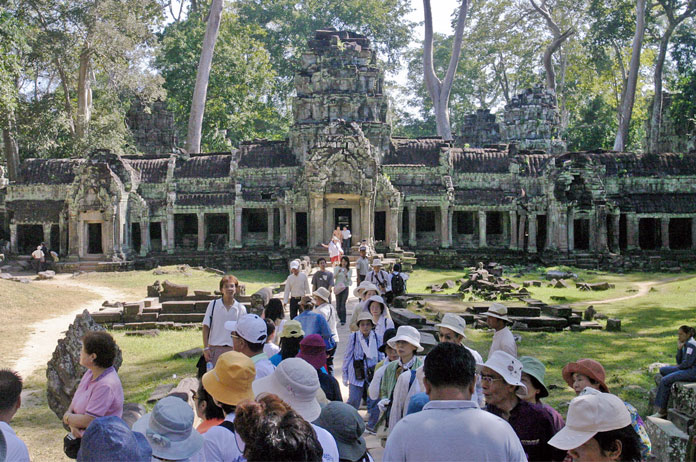 Revenue from ticket sales to foreign tourists visiting the Angkor Archaeological Park in Siem Reap reached $30.85 million, up  51 percent in the first quarter of this year compared with the same period last year, according to a report from Angkor Enterprise, the state-run ticketing agency for the park.
"The revenue has remarkably increased to about 51.6 percent while foreign tourists has increased to about 8.95 percent up to 764,146 in the first quarter of 2017, compared to the same period last years," the report said. According to the report, a total of $30.85 million was made in revenue from ticket sales to foreign tourists, of which about $29.9 million went to the national budget while $954,210 went to charity Kantha Bopha Children's Hospitals.
Economy and Finance Minister Aun Pornmonirath and Tourism Minister Thong Khon yesterday have pushed the Angkor Enterprise to put much effort to collect and manage effectively, transparent and accountability on the revenue from ticket sales to foreign tourists to visiting the Angkor Wat. The calls came after both ministers chaired the fifth meeting of the first mandate of Angkor Enterprise in Phnom Penh yesterday.
"To boost the effectiveness of providing the ticket sales services, both ministers have decided to allow Angkor Enterprise to manage and develop the ticket sales to foreign tourists through online with credit card payment," the ministers said.
Angkor Wat ticket sales generated $62.5 million last year, a 4.21 percent increase on a year earlier, while the number of foreign visitors rose 4.63 percent to 2.19 million.
From February this year, the new price for entrance to the park increased to bring it in line with other tourism destinations in the region and some of the income will go to charity. The new price of a one-day pass is $37, up from the current $20, a three-day pass went up to $62 from $40 and a weekly pass is $72, up from $60.
Ho Vandy, the secretary-general of the Cambodia National Tourism Alliance, said the potential of attracting tourists had still to be fully realised. "The tourist numbers are increasing but the rise is quite flat. We want to a much bigger increase than this," he said. "Establishing more tourism products will attract tourists to stay longer so that other sectors will benefit."
Siem Reap Provincial Tourism director Ngov Seng Kak, told Khmer Times yesterday that the increase of new price for entrance to the park will not effect to the foreign tourists, the foreign tourists are still flogging to the Angkor Wat Archaeological Park recently.
"There is increasing of number of foreign tourists and number of tickets, there is no fall," said Seng Kak. He has yet released the total number of tourists to visit Siem Reap as he promised to release by next week after collect all figures from airport and other border gates.