Vietnamese electric vehicle (EV) company, VinFast, which also operates a taxi company under the name Green and Smart Mobility (GSM) is due to expand across Southeast Asia and into Cambodia.
VinFast listed on the Nasdaq in August 2023 and hit global headlines as the stock's price went from USD $10 to a record high of USD $93 per share – momentarily becoming more valuable than automobile behemoths Ford and General Motors combined after its market capitalisation crossed USD $230 billion at its peak.
VinFast is the automobile arm of Vingroup, and the group's chairman Pham Nhat Vuong, owns 95 per cent of GSM (Green and Smart Mobility) which is offering e-taxi services in the region utilising EVs from VinFast. Vuong has built up a USD $5 billion empire with business interests in real estate, tourism and education.
Since listing on the Nasdaq, stock prices have seen a major correction, and although the EV manufacturer has ambitious plans, it also had to deal with some criticism of the quality and safety of its vehicles which it says it has addressed, and announced in October 2023 it will need to raise major capital to expand.
VinFast has opened showrooms in the United States, and outlets in France, Germany and the Netherlands, while also boasting one of the biggest EV manufacturing plants in ASEAN.
VinFast Growth And Challenges
The EV market is ultra-competitive with Tesla the most recognised global brand, and even though VinFast has huge brand recognition in Vietnam, the company has struggled to convince the local market.
Approximately 280,000 new passenger vehicles were sold in Vietnam in 2022, according to the International Organization of Motor Vehicle Manufacturers, but VinFast sold only 7,400.
These sales have increased in 2023, with the first half of the year seeing 11,000 sales but more than half went to its parent Vingroup.
VinFast aims to deliver up to 50,000 cars globally in 2023 and by Q3 has sold around 21,000.
GSM Expansion into SEA
The EV company's target markets include India, Indonesia and the Middle East but it has also laid out plans to enter the markets in Laos and Cambodia through GSM.
In April 2023, GSM launched its first electric taxi service in Hanoi, and by the end of 2023, GSM says it will expand its operations to 27 out of 63 provinces and cities in Vietnam, boasting a fleet of 30,000 electric taxis and over 90,000 electric scooters.
In October 2023, GSM entered the Laotian market as part of its overseas expansion plans with the launch of its electric taxi service with the plan to introduce 1,000 EVs.
Green and Smart Mobility was the largest purchaser of VinFast cars in two quarters of the 2023 financial year, and Nguyen Van Thanh, the chief executive officer, said the company wants to be in both the Laos and Cambodian markets with their e-taxis before the end of 2023.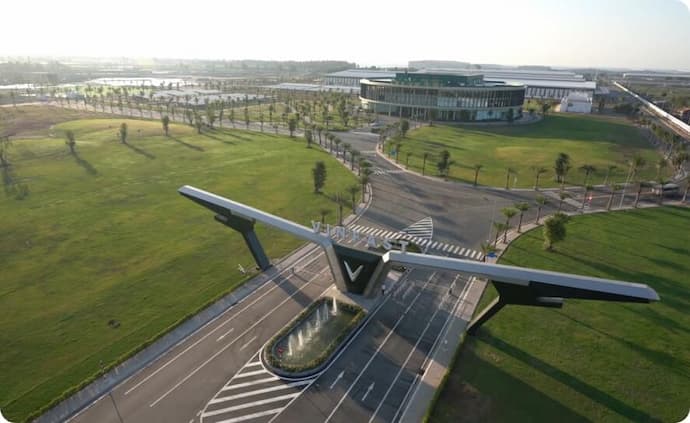 Cambodian EV Market
There are several electric vehicle brands available in Cambodia and Tesla opened its first dealership in Cambodia in 2021, while Chinese companies BYD and Hongqi have also opened their retail outlets in the Kingdom. Other EV brands in the Kingdom include; Levdeo, Letin, Foton, Wuling, amongst others.
The Cambodian government has been encouraging people to use EVs and electric motorcycles, and according to the Ministry of Public Works and Transport, 800 new EVs have been registered by February 2023.
The ministry said Cambodia is targeting to have 40 per cent of EV cars and 70 per cent of electric motorbikes by 2050 to reduce carbon emissions. To achieve this target, the government has reduced import duties on electric vehicles since 2021 and they are 50 per cent lower than taxes on traditional combustion engine vehicles.
The government has also encouraged investments in EV assembling plants in Cambodia, with VinFast currently constructing a USD $2 billion manufacturing complex in North Carolina, USA and the Vietnamese company has plans to establish factories in Indonesia and India.
The Cambodia Consumer Report 2023 indicated that a majority of Cambodians (94.41%) indicated that the future of automobiles lies in electric vehicles (EVs).
The Ministry of Public Works and Transport set a fee of 1,600 riels per kWh for EV charging according to Sub-Decree 214.
EVs are also widely used by ride-hailing companies in Cambodia and for delivery services. With the increased competition in this space, firms have been encouraged to expand their fleets by utilising electrical vehicles.
Cambodian EV & Energy News