East-West International School, established in 2006, is a bilingual international school accredited by the Western Association of Schools and Colleges (WASC).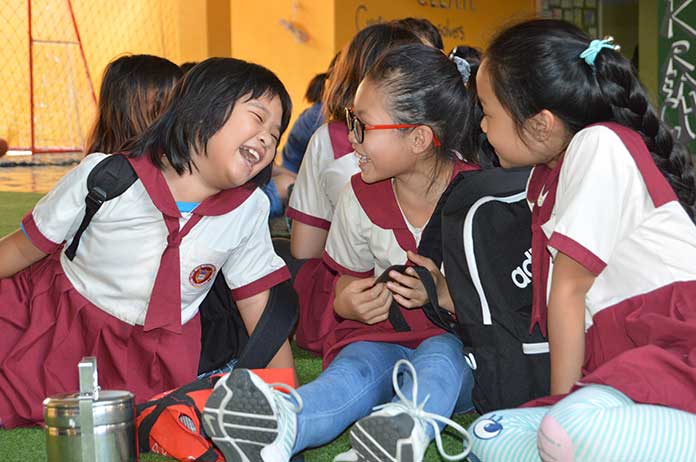 Centrally located in BKK3, they offer classes from Nursery all the way to Grade 12, where students can study the Khmer national curriculum approved by the MOEYS, the International Primary Curriculum, as well as a full Cambridge program of IGCSE, AS and A level classes in Secondary. Combined with their extensive extra-curricular program (sporting, academic and cultural), they are helping develop global citizens who are ready to make a positive impact on the world.
B2B Cambodia sat down with Mr Jeffrey Kane, Director of the school, to find out about how the education industry has changed here, the challenges school still face, and the projects he's overseen during his time at the helm:
Q: How has your industry evolved in Cambodia in recent years? What have been the major factors for these changes?
A: When East-West opened in 2006, Phnom Penh was quite a different city. There were not many traffic lights, very few people had cell phones, and if you wanted to check the internet, you had to go to an internet café. There weren't even ATMs.
At East-West, we know we have to prepare our students for the world they are going to encounter when they graduate, not the world as it was ten years ago. Education is moving away from single-subject classes, value primarily on exams and scores, and the standard desks-and-chairs approach. We see the value in developing our students to become global citizens who are creative collaborators and innovators.
Q: What challenges remain in Cambodia regarding this industry? What are the solutions to these challenges?
A: Our main challenge is moving forward with education in a way that is very new to Cambodia. It is difficult to create change in an education system where a lot of value is put on test scores and the number of hours spent learning certain subjects. We have seen our students succeed with the integrated learning that is happening in the International Primary Curriculum, as well as bilingual instruction in mathematics, so we are optimistic that we can extend this into the secondary school, giving our students an education that will equip them for the 21st Century workplaces.
Q: How many projects have you completed in Cambodia during your time here and in which locations?
A: East-West International School has been open since 2006 and continues to grow and thrive. We are proud to still be a people-centered school. We put relationships at the forefront of what we do, and we operate as a family. Our current campus is our third location since we opened, and we have been here since 2008. We have three buildings now on our single campus in BKK3.
Q: What projects have you undertaken that you are most proud of and why?
A: One recent project we are proud of is our school ban on plastic bags, non-reusable water bottles, and Styrofoam containers. Our students and staff have adapted this eco-friendly mindset, and now we are thinking of ways of helping our community do the same.
Q: What projects have proven most challenging and why?
A: Our biggest challenge has been trying to help parents understand that our Khmer program is sufficient for their children. Many of our students have a lot of extra studying time outside of their day at East-West even though they are getting a full, completely bilingual education during the day at our school.
We have also been challenged to explain why it is so important that our school is accredited by the Western Association of Schools and Colleges (WASC). This is quite a difference from many "international" schools in Phnom Penh, and makes a diploma from our school equivalent to one earned in the United States.
Q: What demographic of customers are you working with in Cambodia, and has this changed at all over time? Do you think it will change in the future?
A: Cambodia, as a developing country, is growing rapidly, and there is definitely a desire for global, trustworthy education. We see this expanding middle-class, made up of many young people who value a high-quality, affordable education for their children, as our target customers. These people want a stimulating, challenging curriculum, as well as a holistic, character-based education delivered by a group of caring, talented educators.
Q: What are the main advantages of a customer employing your services over other companies in the same sector?
A: What sets us apart are our price, our location, and our community atmosphere.
Our price, in relation to the quality of education we provide, is reasonable. We are one of only three schools which next year will be WASC-accredited up to Grade 12. Of those three, one is a religious school, and the others are the two leading schools in the country. It is a very small group to be connected with, and our fees are much lower in order make our school accessible to a larger group of people living in Cambodia.
We are also centrally located in BKK 3, which, with today's traffic patterns, makes it easy for parents to get to.
Many of our teachers and students have been with us for many years, so there is a continuity that is uncommon among schools in Phnom Penh. This continuity gives our school a real feel of community. The teachers care about the students and the vision and mission of the school, and their success after they leave East-West.
Q: What are the most exciting things happening in the industry right now, and can we expect to see some of these things in Cambodia in the near future?
A: Education 10 years from now will look nothing like it does today. I can't think of anything more exciting than finding creative, exciting ways to get our kids ready to be impactful citizens in the 21st Century.
Q: Can you tell us about any upcoming projects you are involved with?
A: At East-West, we are looking to increase awareness of our school in the community. Stay connected through our FB page and website to find out about all the exciting things going on in our school community.