B2B Cambodia has been acquired by Realestate.com.kh and we are very excited by the future and the "reboot".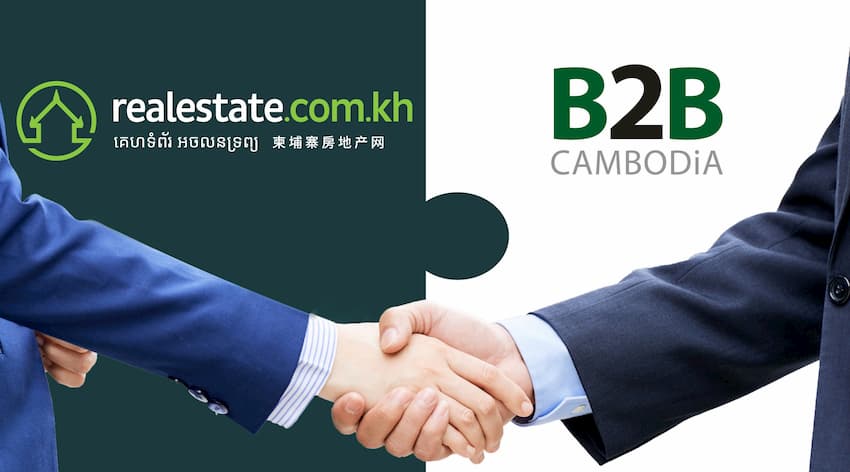 B2B Cambodia acquired by Realestate.com.kh
Realestate.com.kh is Cambodia's number 1 real estate platform, and its CEO Tom O'Sullivan said, "We have been working with B2B Cambodia for the past 5 years, and it was a natural decision for us to restart the website. Multinational companies and individuals looking to move to Cambodia to set up a business, or create a life in Cambodia, are of course looking to buy and rent homes as well as searching for commercial real estate whether it be office space, retail shops and more."
"We believe that this adds even more value to our clients in generating leads, particularly anything related to commercial real estate. As well as providing companies and individuals with a definitive guide to life and business in Cambodia.  It will also add huge value to our corporate clients in advisor services, law firms, accounting practises and more" said O'Sullivan.
Steve Noble is our new B2B Cambodia Editor, and is really excited by the potential of B2B Cambodia and said that the team "have been working hard behind the scenes to get the website to be even more relevant." 
"That includes a range of new and updated content that will be invaluable for our readers. We have a bold and achievable plan to make us an indispensable resource for all businesses in Cambodia" he added.
Cambodian Investment Management (CIM) arranged the transaction. CIM's CEO Anthony Galliano, commented, "B2B will be an invaluable source of information for anyone doing business in the Kingdom". 
What is new on B2B Cambodia?
From a technical point of view, there are a lot of enhancements we are rolling out, some of which may not be as obvious from the start.
You might have noticed that features such as our live chat, already proving to be successful for lead generation, has been rolled out and speed optimizations have been implemented with further changes are planned.
"We were actually really surprised when we took over, there are 1000's of people on the site each month. As soon as we had a soft rollout of the live chat, we had over 100 messages within 5 days, with people asking for a range of services such as business registration, audits, tax, commercial leasing and more" added Noble.
One of the most popular resources and high traffic pages on our website is the comprehensive business directory. The Industry Guides also provide essential tips and information and are going through detailed updates.
"It will also be important for us to listen to our customers to understand what is most important for them in delivering key information in this fast-changing business environment," he said.
Feel free to get in touch about advertising and partnership opportunities and all of our updated contacts are here.
Who are Realestate.com.kh?
Established in 2009 by Cambodian National Moek Chenda, Realestate.com.kh has grown to be the leading real estate platform and marketing company in Cambodia, working with the nation's leading real estate agencies, developers and lenders. In 2015, Australian-based DCG partnered with Moek to develop the business rapidly. 
The platform, available in Khmer, English and Chinese languages, has over 20,000 properties for sale and rent, with tens of thousands of property hunters visiting the website and app each month. Realestate.com.kh also produce an annual investor guide "Cambodia Investment Guide" in English and Chinese languages, and co-produce the weekly property section with the Khmer Times newspaper. Realestate.com.kh also hosts the "Cambodia Real Estate Expo" series, which has facilitated over USD $100m in direct sales since it launched its offline events in 2017.
Please feel free to contact Tom O'Sullivan, CEO of Realestate.com.kh (+855 95 911 466), or our B2B Cambodia Editor, Steve Noble via email.