The Cambodian real estate industry's leading participants gathered at the Sofitel Phokeethra in Phnom Penh on Friday, April 7th 2023 to celebrate the achievements of outstanding individuals and companies in the industry at the Cambodia Real Estate Awards.
The prestigious event is organised annually by Realestate.com.kh in collaboration with The Ministry of Land Management, Urban Planning and Construction, The Real Estate Business and Pawnshop Regulator of Cambodia, and the Cambodian Valuers and Estate Agents Association.
The event was graced by over 500 of the most prominent and successful real estate players in the country's industry. The nominees and award recipients were evaluated based on their industry leadership, innovation, business growth, impact, and overall excellence.
Over 30 winners from the leading property developers and agencies in Cambodia were announced throughout the night, and they were awarded the iconic trophy, prestigious CREA seal, and gold plaques to confirm their company's success.
The top development of the year winners included Forest Harmony, which won the top award of the evening, The Development of the Year.
Le Condé BKK1 was the winner of multiple awards and took home Condominium Development of the Year, whilst Borey Dragon Land 598 won the Best Landed Property Development of the Year, and Angkor Grace, another multiple award winner, won Hotel Development of the Year.
The top Developer of the Year awards included a joint winner for the overall Developer of the Year from both Prince Real Estate Group and SIHA Property, while Forest Harmony was back in the thick of it, taking home the Best Landed Property Developer of the Year, as was Le Condé BKK1 for the Best Condominium Developer of the Year.
Canopy Sands – Bay of Lights, Daline Property, Borey Sovannaphumi, Meanchey Residences, Borey Bosba and Morgan EnMaison were some of the other notable winners from the developer categories.
The top Agency of the Year award was shared between CBRE and CPL Cambodia, while C-Herald, Vanguard, IQI, and Khmer Foundation Appraisal rounded out the agency awards for the evening.
The event was opened with a spectacular video highlighting the industry's growth over the last few years, as well as paying homage to Van Molyvann, the grandfather of Khmer Architecture.
In an interview after the awards, the CEO of Realestate.com.kh, Tom O'Sullivan, thanked the efforts of the judging panel and highlighted the success of the 2023 awards.
"With more than 100 nominations this year and over 50 entries, this real estate awards event was the most successful of its kind ever to be held in Cambodia," O'Sullivan went on to thank "the massive support from all the sponsors including Hanuman Beer, I.A.A.C Advertising, B2B Cambodia, and Legend Cinema."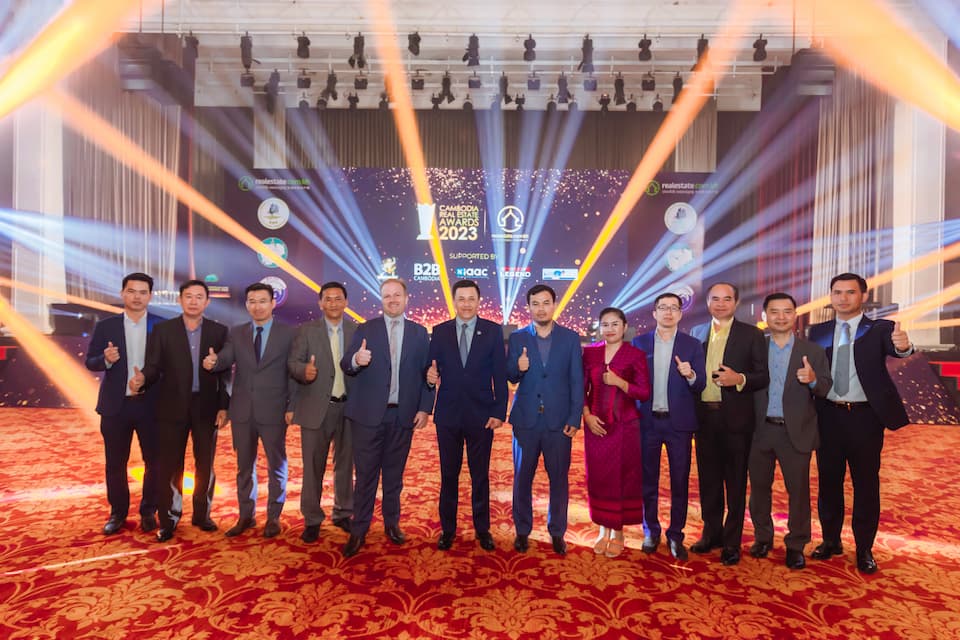 Development Winners – Cambodia Real Estate Awards 2023
Development of the Year –

Forest Harmony – Kampot

Condominium Development of the Year – LE CONDÉ BKK1
Township Development of the Year – Bay of Lights 
Borey (Landed Property) Development of the Year – Borey Dragon Land 598 
Affordable Condominium of the Year – One 70 Condo
Premium Condominium of the Year – LE CONDÉ BKK1
Waterfront Development of the Year – Morgan Enmaison
Retail Development of the Year – Prince International Plaza
Hotel Development of the Year – Angkor Grace Residence & Wellness Resort
Design of the Year – Angkor Grace Residence & Wellness Resort

Lifestyle Development of the Year – Angkor Grace Residence & Wellness Resort

Best Borey (Landed Property) – Eastern Phnom Penh – Borey Laorthmey Penhchet
Best Borey (Landed Property) – Western Phnom Penh – Borey Uptown
Best Borey (Landed Property) – Northern Phnom Penh – Borey Dragon Land 598
Best Borey (Landed Property) – Southern Phnom Penh – SIHA Residence by SIHA Property
Regional Development of the Year – Bay of Lights
Affordable Housing Development of the Year –  Borey Uptown
Boutique Housing Development of the Year – Borey Sovannaphumi
Sales & Marketing Strategy of the Year – Borey Bosba
Luxury Development of the Year – Mean Chey Residences
Best Residential & Commercial Shophouse of the Year –  Daline Property Development
Community Development of the Year –

WorldBridge Sport Village 

Innovative Real Estate Marketing Campaign of the Year –  

Borey Lorn City Lotussea
Developer winners – CREA 2023
Developer of the Year (2) – Prince Real Estate Group & SIHA Property
Condominium Developer of the Year –  LE CONDÉ BKK1
Borey (Landed) Property Developer of the Year – Forest Harmony – Kampot
CSR & Social Impact Developer of the Year –

Canopy Sands Development
Agency Winners – CREA 2023
Hall of Fame / Personality of the Year – Edward Lee Prince Real Estate 
Real Estate Agency of the Year (Enterprise) –

CPL (Cambodia Property Limited)

Real Estate Agency of the Year (Corporate) – CBRE Cambodia 
Agency – Research / Valuation Firm of the Year – Khmer Foundation Appraisal
Property Management Firm of the Year  (2) – CBRE Cambodia & C-Herald
Agency – Employer of Choice (2) – Vanguard Investment and Consultancy Services & IQI Cambodia
Agency of Choice (3) – C-Herald Property Service, IQI Cambodia & Khmer Foundation Appraisal