The Cambodia Restaurant Association (CRA) recently held a workshop to explore and discuss the "Top 5 Marketing Trends in the F&B Industry" in the Kingdom.
The session took place at Lucky Pavilion Mall in Phnom Penh and the CRA said: "Thank you all of you for your numerous participations to our workshop. It couldn't be such a success without the strong commitment of our 5 panellists and our moderator.
They talked about fundamental topics such as healthy food, sustainability, new technologies, single product strategy, food delivery as well as experiential dining."
CRA – Top 5 Marketing Trends in the F&B Industry Presentations Panel Discussion
There were presentations from the following members of the Cambodian food and beverage scene:
Borima Chann (Nham24 Founder and CEO) – Online platforms & convenience – Takeout & delivery should not disappear, far from it.
Kyra Cabaero (

Head of Marketing

– Experiential dining – From menu choices to interior design, restaurants must get creative with their concepts.
Florian Bohême – (b.Consulting Hospitality Food and Beverage) – Health & Wellness – The rise of healthy menu options & the increasing awareness toward transparent nutritional information.
Renaud Dion (WILD Creative Bar & Eatery) – Environmental & social commitment – A growing consciousness among customers / WILD original concept
Christopher McCarthy (CEO of MangoTango Asia) – Technology & Data Analytics – A way to ensure high-quality guest experience/ personalisation of customer experiences.
What Were Some Of The Top Tips For Restaurants in Cambodia?
Borima Chann discussed how they overcame the pandemic and that Nham 24 actually saw 2.5x growth due to the demand for food delivery. His advice for F&B owners is that restaurants with better menus, item descriptions, and images do better with online/app deliveries.
Renaud Dion, who runs the WILD Create Bar and Eatery, said online: "We were invited to participate in a conference about innovation in the food industry by the Cambodia Restaurant Association. Our lecture was about the fascinating world of single-product restaurants, its advantages and the challenges it represents."
On offering a customer experience he said at the CRA Workshop: "We try and create memorable moments for the customers so it's a unique experience on the plate, but we work on the decoration, the service and the servers." On appealing to customers, he said that they mainly attract customers through word of mouth but its important to stay on top of trends in the market.
Kyra Cabaero shared her thoughts on experiential dining with the members of the Cambodia Restaurant Association. She said that restaurants need to "give customers an experience they won't forget and can that they can share with their friends."
She added that TRIBE tries to offer unique promotions and events and tries to partner with organisers who can bring a new audience.  Cabaero also said that customers want entertainment while they are at the restaurant. In terms of marketing, they use reels and videos and work with influencers and mucro influencers to attract more new customers.
Florian Bohême believes that customers consume in a more responsible way and urges restaurants to try to offer at least 50% local products on their menu and that consumers are looking for transparency in the food they are eating.
Christopher McCarthy added that F&B owners have to treat different customers differently and that data has shown that "regular customers are worth 5-7 times more than new customers."
He also offered some interesting insights on the pros and cons of offering discounts and promotions to regular customers.
In the topical issue of AI, McCarthy discussed images for food and how tools and apps can make a professional photograph to better present food and menus. He urges everyone to start experimenting now using AI tools, as those who don't use them will fall behind.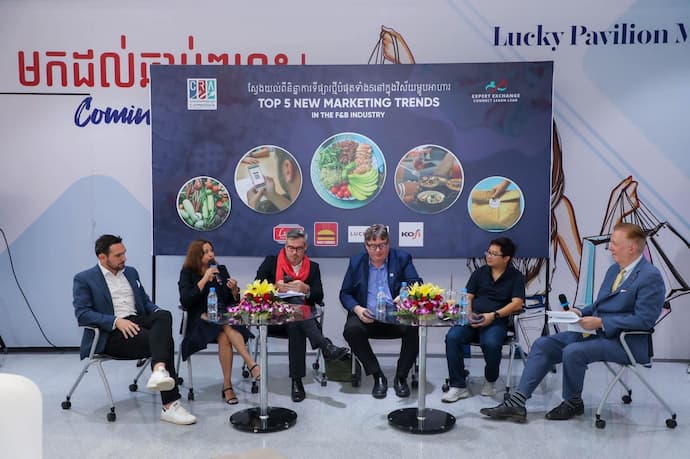 CRA – Top 5 Marketing Trends in the F&B Industry Panel Discussion
Anthony Galliano moderated a panel discussion with the five guests – watch below for more insights and tips in the F&B sector in Cambodia as the panel answers questions on:
What experiential dining is (and if Cambodian customers are demanding it)?
Perceptions of health food
Maintaining relationships with suppliers and providers
Concept Dining and marketing to the right customers
What are the top metrics to use?