B2B Cambodia finds out more about Cellcard (CamGSM Plc) Initial Public Offering (IPO) and speaks with the company's CEO Simon Perkins as well as SBI Royal Securities Plc Corporate Finance Manager Vorleak Men.
Updated 1st June 2023* See below for the change of registration dates.
CamGSM also known as Cellcard is part of the conglomerate of the Royal Group of Companies was launched in 1997, and is Cambodia's longest-serving and the only 100% Cambodian-owned mobile communications company.
The popular Cambodian telco has also marketed the listing as the biggest IPO in Cambodia and they recently conducted an IPO roadshow overseas in Taiwan and Hong Kong, and in Battambang, Siem Reap, and in Phnom Penh within Cambodia to help educate customers about the listing – anyone interested is eligible to invest in the stock, both Cellcard customers and non-customers.
Cambodian Telcos
The Cambodian mobile service industry has been very competitive, but the industry has seen some consolidation with the number of operators reduced from ten in 2012 to five in 2023.
By the end of 2022, there were nearly 20 million mobile phone subscribers in Cambodia, and the population is only around 16 million people.
Cellcard claims to have 4 million+ subscribers (18 per cent market share) and the Kingdom's telecom sector market revenue is expected to "grow at a compound growth rate of 2 21 over the next five years, with sim card penetration of more than 126 per cent," said Cellcard.
What to Know For Cellcard's IPO Listing
The subscription share price for Cellcard's IPO is KHR 2,270 (approximately USD $0.57), with a minimum subscription amount of KHR 400,000 (approximately USD $100).
The shareholders of Class A (Voting) will be guaranteed an annual dividend yield of 7% for 5 years. The current stock market Cap is USD $1.8 million and Cellcards's valuation is close to USD $1.2 billion.

Updated 1st June 2023* Cellcard has extended the period for registration from 31st May to 7th June 2023 – you will need to see their website for any changes on the timeline this has.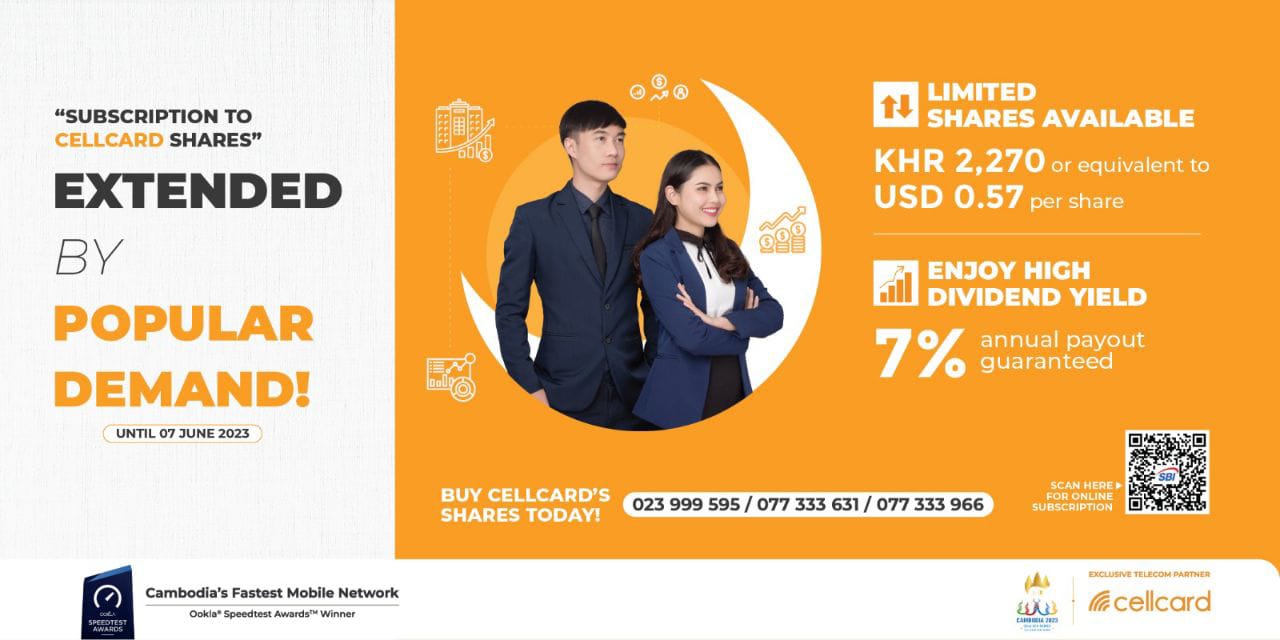 Interested investors have until 31st May 2023 to register.* Now 7th June 2023.
Date TBC – allotted investments will be made known to successful investors.
The opportunity to invest in the stock is open to everyone
Cellcard IPO listing is scheduled for 20th June 2023.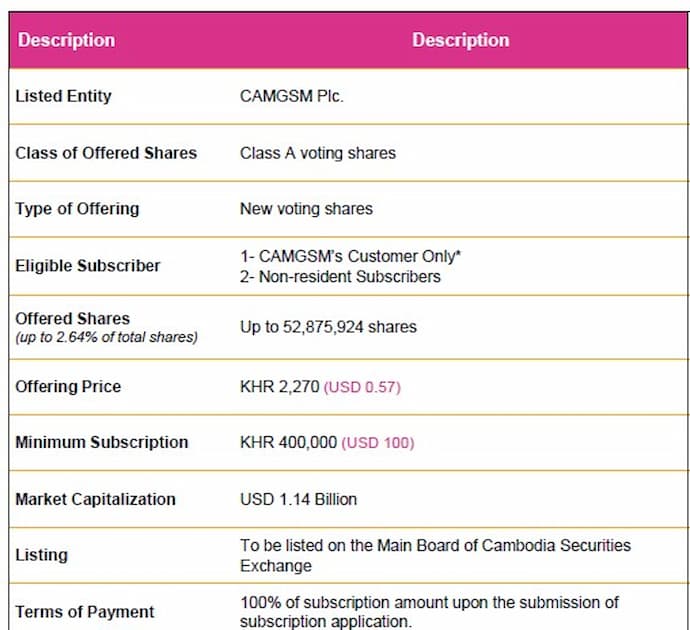 See the video below on how to subscribe to Cambodia's largest IPO listing as SBI Royal Securities Plc's Corporate Finance Manager Vorleak Men explains more and she says it is a "once in a lifetime opportunity", while Cellcard CEO Simon Perkins discusses the growth of the company and Cambodia.
He added: "We have seen the number of subscriptions for the IPO increase rapidly over the past few days as people understand more and have attended the roadshows. We have done roadshows internationally and we have interest from Southeast Asia. It's been a fantastic experience and we can see a lot of new shareholders which I think is a catalyst for the awareness and volume of business on CSX."
Interested investors can register online or visit the Cellcard website for more information
Cambodia Securities Exchange (CSX) Growth
CSX was launched in 2012 as a public enterprise with a 55 per cent stake held by the Cambodian government and the remaining shares held by the Korea Exchange.
CSX operates the securities market in Cambodia as well as payment and deposit centres and depositories in accordance with the Law on the Issuance and Trading of Non-Governmental Securities and its subsequent regulations.
In the interview earlier, we learned that the total valuation of CSX is $1.8 billion but Cellcard has a valuation of $1.2 billion, so it will significantly raise the market cap of CSX once the IPO is launched in mid-2023.
Officials at the Cambodia Securities Exchange (CSX) said in May 2023 that the number of trading accounts on CSX has been increasing.
The number of trading accounts on CSX reached an average of 40,000 in the first four months of 2023, and overall trade volume has seen a decreased trade of $300,000 per day. Hong Sok Hour, CEO of the Cambodia Securities Exchange said that the average trading account is expected to increase to 50,000 accounts by the end of 2023.
The CEO added: "Despite the global economic uncertainty, CSX is still on track for positive growth. The increasing number of trading accounts, even with small investment sizes, reflects the growing public interest in the stock market. We expect the trading volume to increase in the future," he said.
There were an average of 1,000 new CSX account openings per day in the first four months of 2023
CSX targets a daily trading volume of $100 million by 2030.
There are a total of 18 companies listed on CSX – 9 are equity firms and 9 are corporate bond firms.
The total capital raised from the CSX listings is USD $317 million.
Subscription to the Cellcard IPO will be until 31 May 2023 (*Extended until 7th June). Interested investors can subscribe via this form.
Website: www.cellcard.com.kh
Number: 023 999 595 / 077