Cambodia received its first shipment of COVID-19 vaccines in February 2021. We look at the latest news on what vaccines are due to be available in the Kingdom for Cambodians and foreigners in 2021.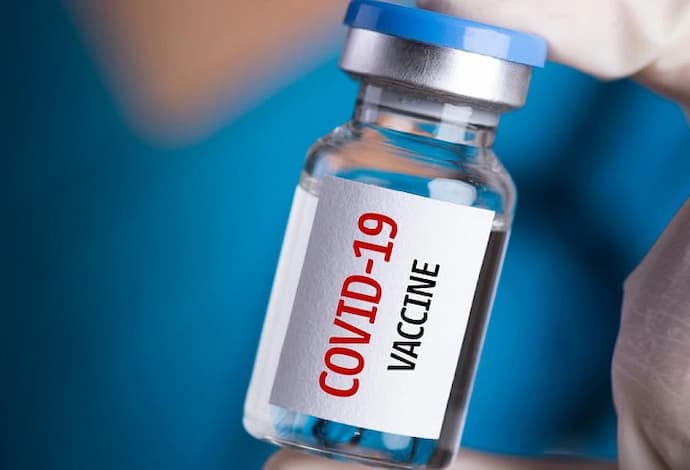 (We will update this article as more information is available – Latest Update 25 May 2021 – PLEASE DO NOT CONTACT US ABOUT THE PROCESS AND PLACE TO GET VACCINATED – CONTACT THE RELEVANT AUTHORITIES).
There have been different reports on what vaccines Cambodia will receive:
COVAX initiative: Seven million doses of the vaccines are hoped to be delivered in total. Cambodia received its first shipment of the AstraZeneca/SII vaccine (324,000 doses) on March 2, 2021. The vaccine Cambodia received through the COVAX facility is licenced by AstraZeneca to be produced in India, and it is called COVISHIELD.
China: One million donated doses of the Sinovac vaccine were initially promised and  600,000 were delivered by February 7. In addition, a donation of 700,000 doses of the Sinopharm vaccine was expected to arrive on March 31st. On March 19th, 1.5 million doses of purchased Sinovac were confirmed to arrive in the Kingdom on March 26, 2021 (also called CoronaVac, but produced by Sinovac).
India: One hundred thousand vaccines. (On February 22, 2021, it was announced that Cambodia would seek an additional 5 million vaccines from India.)
Australian government grant: Three million doses are available to be purchased with a grant.
Johnson & Johnson and Novavax: Cambodia confirmed in early March 2021, it would purchase these US vaccines.
Russia's Sputnik V: There unconfirmed reports the Russian made vaccine will also be purchased by Cambodia.
US Donation Request: In May 2021, the government confirmed it has asked the United States for a donation of four million doses of the AstraZeneca COVID-19 vaccine which the US is considering.
By April 11, 2021, Cambodia had vaccinated 1 million armed forces, civil servants, and civilians nationwide it was reported.
Schedule of vaccine arrivals to Cambodia:
in April 2021,  the Prime Minister released the following planned schedule of inbound vaccines to the Kingdom. The type of vaccine was not confirmed in the report by KT.
Cambodia aims to vaccinate 10 million people or 62 per cent of the population by mid-2022 and more than 95 per cent thereafter.
500,000 doses April 17 2021 (Sinovac Confirmed)
400,000 doses April 28 2021 (Sinopharm confirmed).
500K doses on May 11 2021 (Confirmed to be Sinovac)
500K doses on May 15 2021 (Confirmed by Khmer Times)
500K doses of Sinovac on May 16, 2021 (Confirmed by Khmer Times)
1 million doses on May 23 2023 (Reported here and confirmed)
3 million doses June 2021 (Cambodia has ordered Sinopharm and Sinovac which are due to be delivered in June)
2 million doses July 2021
1 million doses August 2021
In total, USD $57 million was raised by March 2021 from donations in the Kingdom by Cambodian businesses and business people to help authorities pay for the purchase of vaccines.
Japan confirmed on March 9th, 2021, that it will provide about USD $40 million grant aid through an international organisation to 25 countries in Asia and the Pacific. The list of countries includes Cambodia and the Khmer Times reports "the grant aid will be used to secure cold-storage facilities, transport vehicles and other equipment necessary for the stable delivery of vaccines."
Who will first receive the COVID-19 vaccines in Cambodia?
Cambodia is expected to receive 20 million doses of the COVID-19 vaccine. Eleven million doses are donations from friendly nations and partner organisations.
The first people to get the vaccinations in Cambodia, according to the government, include frontline health workers, teachers, soldiers, the premier's bodyguards, and officials working with the King.
Cambodia plans to vaccinate at least 10 million of its 16 million population with China's Sinopharm and Sinovac as well as the British-Swedish AstraZeneca.
On March 9 2021, The Ministry of Health said it will start AstraZeneca's Covid-19 COVISHIELD vaccinations for people aged 60 and over from March 10 in three priority areas on a voluntary basis and free of charge.
Phnom Penh
Kandal
Preah Sihanouk
The ministry temporarily suspended vaccinations on March 7 after overcrowding at the facilities conducting the vaccinations.
The Sinopharm vaccine, donated by China, continues to be given to people between the ages of 18 and 59.
On March 15th, 2021. Minister of Education Hang Chuon Narong asked schools to supply a list of teachers to the ministry so that the teachers can be vaccinated.
On March 29, Prime Minister Hun Sen announced a large-scale Covid-19 vaccination campaign which ambitiously hopes to administer one million doses per month.
Cambodia's National Vaccination Master Plan (NVMP) was released in April 2021.
How to register for COVID vaccines in Cambodia
The Ministry of Health announced the launch of a mobile app on March 4th 2021 "aimed at recording and managing COVID-19 vaccinations" reports the Khmer Times.
The first version of the mobile app is known as KhmerVacc and users to register to be vaccinated with the COVID-19 vaccine. The app is currently available in the Khmer language only.
The Health Ministry is waiting for approval from Google and Apple so that the app can be available on the Play Store and App Store. KhmerVacc can be accessed here cambodia-vaccine.gov.kh
In April further measures were announced for foreigners to get vaccinated.
Where can I get the vaccines in Cambodia?
More clarity is instruction will need to be provided as some confusion arose in early March with regards to who can get access to the vaccine, which type, and at what location.
We recommend you follow the official government channels as more locations are being added and the situation is changing.
Phnom Penh
The Calmette Hospital in Phnom Penh has been designated as a vaccination site. However, initially, it was said this is for the government's senior dignitaries, diplomats, UN officials, international financial institution representatives, and international organisations and NGOs.
Saturday 2:30pm until 4pm
Sunday and Monday CLOSED
Tuesday 8:30am-12pm and from 2:30pm-4pm
Sihanoukville
The Techo Sen Kamakor Primary and Secondary School are used for vaccines for high-risk people from March 7, 2021.
Kandal
One report indicated that provincial, municipal, county and district national hospitals in Kandal and Sihanoukville will offer vaccinations.
COVID-19 cases in Cambodia
By February 23 2021, Cambodia has had registered over 568 confirmed COVID-19 cases and no reported deaths from the pandemic.
The Phnom Penh Community Incident on February 20 had added nearly 100 extra positive cases.
Are vaccines Mandatory in Cambodia?
In early April 2021, the Cambodian government announced that "those with COVID-19 who evade medical treatment or attempt to do so, are liable to be sentenced to imprisonment for between 1 year to 5 years."
The Royal Cambodian government also issued a new sub-decree on mandatory vaccination against COVID-19 for certain professions such as the armed forces and civil servants in the Kingdom.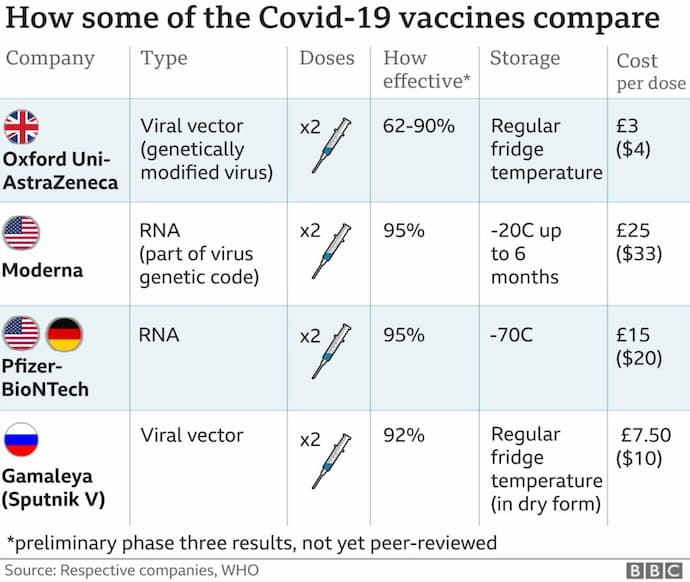 Chinese COVID-19 Vaccine – Sinopharm
On February 7, 2021, Cambodia Airports confirmed via press release that a plane from China delivered 600,000 doses of the Sinopharm's COVID-19 vaccine to Cambodia.
This first batch was a donation by the Chinese government and Cambodian Prime
Minister Hun Sen presided a ceremony to acknowledge the delivery. He said, "The Cambodian government owes gratitude to the Chinese government."
The nations prime minister was due to be the first person to receive the vaccine but had to change that plan after it was revealed Sinopharm is intended for those between the ages of 18-59.
The Phnom Penh Post reported that "Of the first 600,000 doses of the vaccine from China, half will be given to the military, and the other half to the Ministry of Health. Soldiers will be vaccinated first, then their families and those around them."
In total, it is believed China will donate one million doses of its coronavirus vaccine to the Kingdom.
Sinopharm has been ordered by Pakistan (88 million doses, Indonesia (60 million) and countries in the Middle East have ordered a combined 75 million doses.
Sinopharm vaccine: The dose needs to be received twice for maximum efficiency.
Total Number in Cambodia: 1 million vaccines (500,000 Cambodians)
After receiving a shot of Sinopharm the second dose must be taken within 2-4 weeks.
Indian COVID-19 vaccines
On February 6th 2021. India approved supply of 100,000 doses of COVID-19 vaccines to Cambodia, said the Indian embassy in Phnom Penh.
India's drug regulators approved the production of Covishield (the local name for the Oxford-AstraZeneca vaccine developed in the UK) and Covaxin, locally-made by pharma company Bharat Biotech.
India makes 60% of the world's vaccines and is home to many major manufacturers.
"The India Embassy in Phnom Penh is pleased to announce that the Government of India has approved the supply of one hundred thousand doses of COVID-19 vaccines to the Kingdom of Cambodia on an urgent basis" reported the Indian-based Business World.
The article confirmed the vaccines would be supplied by the Serum Institute of India. Other nations set to receive vaccines from India are Bhutan, Maldives, Mauritius, Bahrain, Nepal, Bangladesh, Myanmar, Seychelles and Sri Lanka.
It was not specified which vaccine Cambodia would receive as India has produced two COVID-19 vaccines.
On February 22, 2021, it was announced that Cambodia would seek an additional 5 million vaccines.
Covaxin: The two doses are given four weeks apart. The vaccine can be stored at 2C to 8C.
Covishield: The jab is administered in two doses given between four and 12 weeks apart. It can be safely stored at temperatures of 2C to 8C.
Total Number in Cambodia: One hundred thousand vaccines (50,000 Cambodians)
WHO COVAX Global Vaccine
The Cambodian government and the WHO (World Health Organisation) have agreed to roll out the distribution of COVID-19 vaccines in the Kingdom, hopefully in 2021.
WHO representative to Cambodia Dr Li Ailan said in December 2020, that "we expect vaccines to begin arriving in countries sometime in 2021. We hope a vaccine will be available in Cambodia early or mid next year, but the exact timing is not certain."
After receiving a shot of Astra Zeneca the second dose must be taken within 4-8 weeks.
Australian Grant – Cambodian COVID-19 Vaccines
On February 1st 20201, the Australian government confirmed it has provided a grant of USD $28 million for the rollout of COVID-19 vaccines approved by World Health Organisation (WHO) for 1.5 million Cambodians.
The grant will "be used to purchase vaccines for citizens, the package will also provide financing for their distribution and administration of the campaign, including monitoring vaccination safety and efficacy as well as ensuring the public has access to clear information about the vaccination process" said a press release.
Total Number in Cambodia: 1.5 million Cambodians will be vaccinated.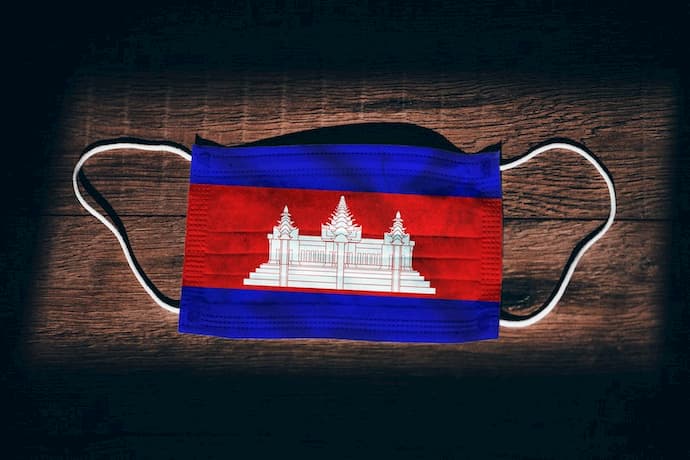 Will embassies in Cambodia provide COVID-19 vaccines?
So far, none of the foreign embassies in Cambodia has said they would provide COVID-19 vaccinations to its citizens living in the Kingdom. We have heard reports from expats living in Phnom Penh asking the Australian, British and American embassies but generally, they have been advised that only essential embassy staff may receive access to vaccines through the embassy.
However on  February 24, 2021, a circular from the Ministry of Foreign Affairs to diplomatic missions in Phnom Penh and the Office of the United Nations Resident Coordinator, confirmed foreigners "working" in Cambodia would have access to the vaccines.
"All foreign nationals who are currently residing and working in Cambodia can get vaccinated against COVID-19 at no charge in accordance with Cambodian COVID-19 vaccination plans".
It was not confirmed which vaccine it would be but foreigners living in Cambodia, but whether they are running a business, working for a company, retired, or stuck as a visitor, they will follow the same protocols as those implemented for Cambodians.
The Australian Embassy Phnom Penh announced on March 12, 2021:
"We understand this is an anxious time and many of you have questions about access to vaccines. This post seeks to answer some of these questions. The policy and practice regarding the rollout of COVID-19 vaccinations in Cambodia is the primary responsibility of the Royal Government of Cambodia.
Up to date information on Cambodia's vaccination plans can be found at https://www.facebook.com/MinistryofHealthofCambodia
We are also in close contact with authorities and will update you with new information as we receive it. There are currently two vaccines approved for use in Cambodia – Astra Zeneca and Sinopharm.
The Cambodian Government has announced that foreign nationals who are currently residing and working in Cambodia can get vaccinated against COVID-19 at no charge. Australian citizens who wish to register their interest can do so via https://cambodia-vaccine.gov.kh/login.
In April further measures were announced for foreigners to get vaccinated.
(This site is currently only in Khmer, but we understand that a mobile app for registration in English may be available soon.)
When you register, you may nominate your preferred vaccine (either Astra Zeneca or Sinopharm)."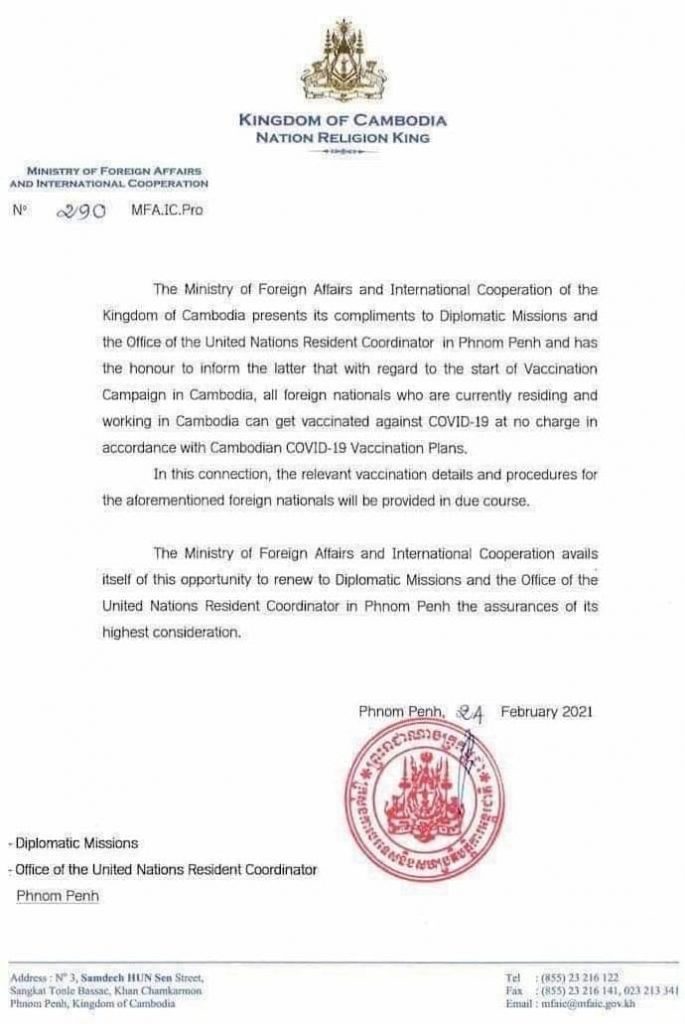 PCR Tests in Phnom Penh
The PCR COVID-19 test and certificate for travellers wishing to travel abroad will be done at Chak Angre Health Center in the capital. Testing hours are in the mornings from 7:30-12 PM daily.
You must bring a valid passport to get a test and certificate. Please call Prof. Chau Darapheak for more information on this service 012 939 441 or call hotline 115.