The new city map zones which were released on April 26 2021 by Phnom Penh municipal governor Khuong Sreng, details the red, yellow and dark yellow zones in Phnom Penh and the accompanying restrictions for each zone.
What are the colour zones?
The three zones announced in Phnom Penh are intended to control pandemic in the more endangered Red Zones, and maximum control of infections in Orange Zones (Dark Yellow) and Yellow Zones.
The curfew from 8 PM to 5 AM is still imposed in Phnom Penh. Travel is banned in red zones, but it partially permitted in dark yellow zones and is allowed in the yellow zones.
Red zones have already been in place in the capital, as well as Sihanoukville and in Banteay Meanchey province.
Red Zones
The red zones as of April 28 2021 are located in five districts in Phnom Penh including Tuol Kork, Dankgor, Meanchey, Russey Keo and Por Senchey.
Tuol Kork: Boeung Salang commune's villages 14, 16 and 17.
Dangkor: Praka village of Prey Sar commune and Mol, Thmey and Sambor villages in Dangkor commune.
Stung Meanchey: All four communes are red zones: Stung Meanchey I, Stung Meanchey II, Stung Meanchey III and Boeung Tompun I.
Russey Keo and Por Senchey districts: Tuol Sangke I commune and Chom Chao I.
No business activities are allowed including markets. Only Commerce Ministry markets and donations from the government are permitted.
On April 29 2021, some new small red zones were added or expanded – see here.
Orange-Dark Yellow Zones
Individuals are prohibited from leaving their homes except when:
Conducting necessary travel to do business or work in the private sector.
Travel to work at ministries or institutions.
Travelling to food stalls or pharmacies and for daily necessities that are authorised by the local authority, especially journalists' travel with identification documents and the company's letter.
Buying food, groceries and pharmaceuticals. (Up to three times a week.)
Medical reasons.
Exercise with two or fewer people.
For businesses, exemptions are for:
Markets, grocery stores and restaurants for delivery, as approved by authorities.
Pharmacies and other essential services, as approved by authorities.
Hotels and guesthouses, with up to 2 per cent staffing.
Public services and utilities, with up to 2 per cent staffing.
Factories producing medical equipment or food.
Other necessary work as approved by authorities.
Yellow Zones
The movement of people and all kinds of traffic are allowed to operate normally and all kinds of work, business and business activities are permitted with some exceptions in yellow zones reported the Khmer Times.
Individuals and businesses should still wear masks, maintain safe social distancing, spray sanitiser and wash hands with soap regularly.
However, schools, including public and private vocational schools, businesses, all kinds of entertainment, including clubs, karaoke, bars, restaurants, resorts and amusement parks, massage businesses, stores selling alcohol, cinemas, theatres, museums, gymnasiums and sports centres must still remain closed.
Gatherings are permitted for up to 10 people.
Larger funerals and gatherings for work are also allowed.
Phnom Penh District Colour Zones
Below is the list of the three zones in each district of Phnom Penh, according to the maps issued by Phnom Penh City Hall, however, we found this unofficial Google map of the zones to be the most useful in differentiating the borders of the zones in Phnom Penh.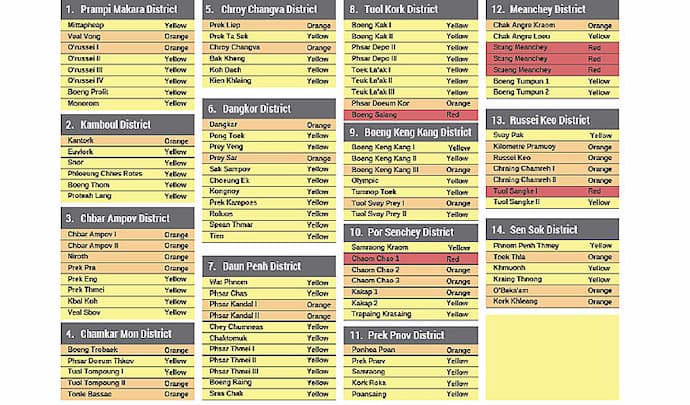 What Restrictions are in the Zones?
As these zones and the enforcement of the new restrictions in each of them is new, we advise caution and allow some time for clarity over what is allowed and will be enforced.
The Garment Manufacturers Association of Cambodia provided the below list of restrictions or each zone that should aid members of the public and businesses to assist their decision making.
Detailed restrictions can also be seen in this article from VOD Khmer.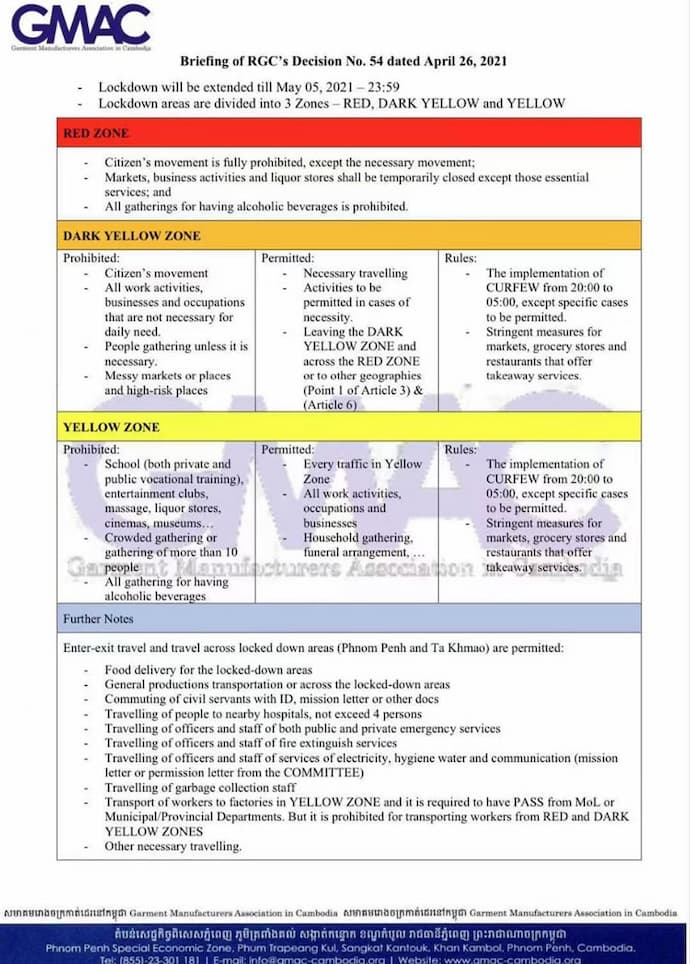 As with all of the current restrictions and changes due to the severity of the pandemic caused by the Feb 20 Community Incident, the situation remains fluid and you should keep track of official announcements from the ministries and government.