Thought Leadership Article Presented by Fincy
Written by Zwan Ross Lee, CEO of Fincy App and GBCI Ventures PLC.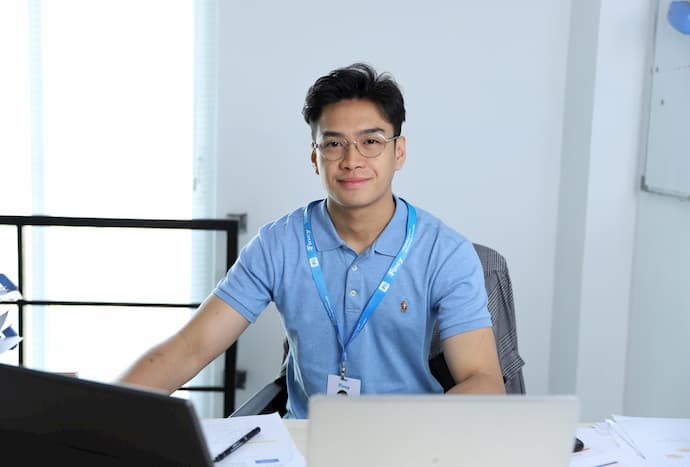 Technological innovation continues to be the primary catalyst for rapid advancement in banking, and mobile & digital banking in Cambodia. The fast-changing Cambodian lifestyles driven by higher standards and quality of living is accelerating the need for highly functional mobile financial apps that deliver more value to users.
Many of these advancements are prominently seen in the payments space, which has experienced dramatic change, especially as more sophisticated digital solutions become more mainstream.
One particular company that is driving much of this change, Fincy, one of Southeast Asia's leading and most innovative Fintech companies, quickly rose to become the standard for mobile payments in Cambodia. The company is raising the standards in digital banking and mobile payments and has cast a clear vision for the future of digital banking and mobile payments in Cambodia and across Southeast Asia.
Fincy has long been committed to providing its customers with the most convenient and efficient means by which they control and manage their daily financial decisions such as offline payments, bill payments, payroll, social messaging, memberships and friend (pier to pier) transfers.
Through the breadth of financial products and services offered through the Fincy mobile wallet, Fincy mobile wallet offers users more flexibility with their longer-term money management and financial decisions. Due to the rapidly growing demand for quality
and reliable mobile financial services, and the reliability of Fincy's mobile wallet, the company has expanded and deepened its presence across Phnom Penh, Siem Reap, and Sihanoukville.
Fincy is a leader in the integration of finance with technology and develops powerful financial access tools, which allow users to take command of how they manage their financial resources.
Fincy secured a license 8 months before launching operations in Cambodia
Fincy met stringent standards of security, reliability, and financial strength and secured the necessary licenses with Cambodia's central bank, the National Bank of Cambodia. Users are assured of not only the most powerful mobile payments application, but they also have every assurance of its robust backend technology security in order to protect their accounts, data, and financial assets.
Cambodia's banking and the financial sector continues to develop at an accelerating pace. As more and more Cambodians understand how banking is a part of their lives, Fincy demonstrated to the regulator that asset protection, growth, and security are at the core of Fincy's business. Fincy's commitment to Cambodia is to provide the best technology, most secure systems, and most reliable platform through which more Cambodians can confidently handle daily transactions and invest their money for the future.
Fincy expansion one year after setup – Both in Phnom Penh and other Cambodian provinces
One year on since its entry into the Cambodian market, Fincy's growth rate has surpassed expectations, setting in motion earlier than expected expansion plans in local markets, including Siem Reap and Sihanoukville.
Known as a highly trustworthy brand, users recognise the value in the Fincy app and are increasingly standardising its use in their daily lives. The Fincy app is a highly functional and reliable digital wallet that provides:
seamless financial transactions
deposits
withdrawals
payments
transfers
payroll functions
in-app chat functions.
These are all built on top of a secure and transparent distributed ledger technology. As a result, in practical everyday terms, Fincy provides users with everything they need in a mobile wallet in the palm of their hands.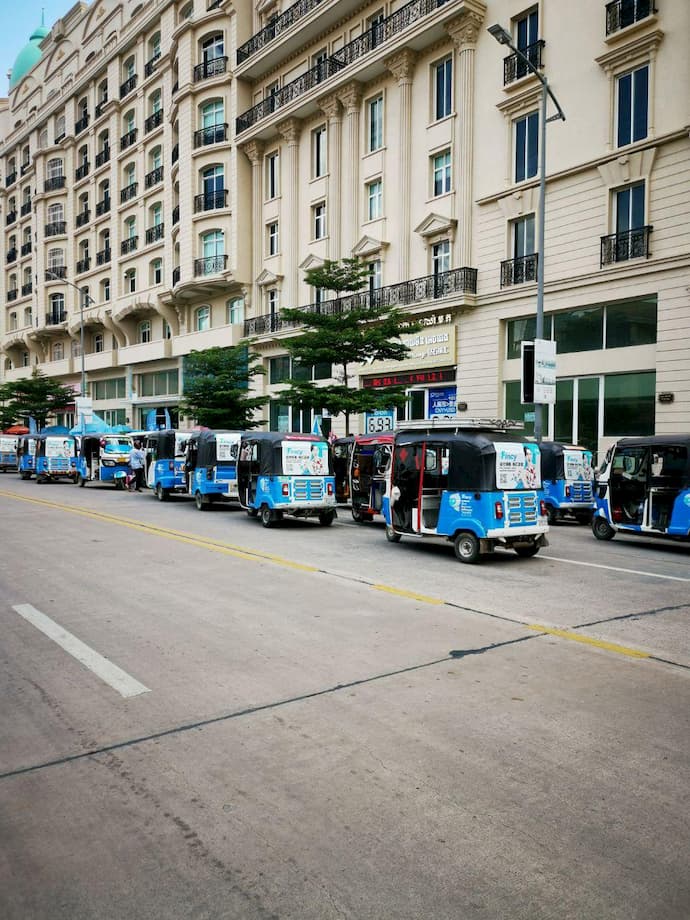 Healthy growth and turnover
Long before Fincy entered Cambodia, it carefully studied the needs, dynamics, and trends of the local market. While Fincy has experience in other Southeast Asian markets, each market's unique qualities are taken into account in order to develop effective and sustainable growth plans. Proven and effective methodologies were then integrated into the market, so as to build on the existing market synergies and drive growth.
Implemented with impact and effect, the company's trio (Chairman, CEO and COO) committed to achieving ambitious revenue growth targets, as well as merchant and user growth targets.
In the first year of operations in Cambodia, Fincy reported that it greatly exceeded targets. Merchant and agent growth rate was averaging 20 per cent growth month-on-month, app downloads were at 15 per cent growth month-on-month.
Strong results across the major KPIs is indicative of a company with a clear vision and strong experience.
Fincy Merchants – 800 going on 900
Across Cambodia, the adoption rate of Fincy's mobile wallet is increasing. Fincy offers users far beyond and above merely a digital version of a wallet.
The Fincy mobile wallet is a powerful financial access tool, which allows users to take command of how they manage their financial resources, and more and more users see the value. There is a digital revolution underway in Cambodia, and Fincy is driving it's advancement.
Attracted by the compelling usability and functionality of the app, Fincy's user base continues to grow, which to date is greater than 100,000. This growing user base is driving strong demand for merchants who accept Fincy.
In line with the user base growth trend, is that more merchants are accepting mobile payments and making it easier to make purchases. Merchants want to remain competitive and recognise that partnering with a strong and trusted brand, Fincy, offers their businesses unique benefits to help them grow and develop their businesses, which translates into increased revenues.
Fincy provides its merchants with the most trusted name in mobile wallets and payments, the most marketing and promotional support, and increased visibility. Driven by Fincy''s strong trusted brand, reliable and secure systems, Fincy merchant network has surpassed 700 in just its first twelve months of operations in Cambodia. This record growth rate is testament to the trust more businesses place in their relationship with Cambodia and Southeast Asia's leading mobile payments provider.
Fincy is here to ensure businesses succeed.
Approaching 100 local employees in Cambodia
Fincy continues to attract more users and merchants. In order to ensure it delivers the strongest and most reliable support to its growing merchant base, Fincy expanded its presence in Phnom Penh and added an office in Sihanoukville, growing to 50 local employees.
As growth continues and more offices are opened, Fincy will employ 50 additional local staff. Fincy's commitment to Cambodia reaches well beyond delivering the best mobile wallet technology. Consistent with its values, Fincy provides good well-paying jobs and exciting opportunities for ambitious professionals and allows them to flourish in their careers.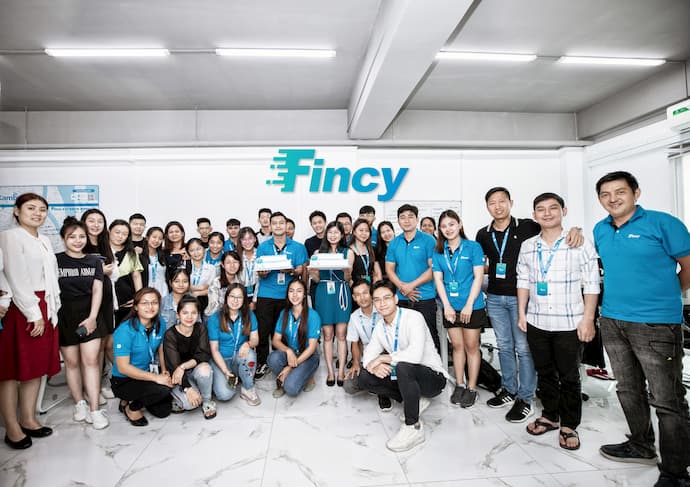 Fincy's CSR campaign
While Fincy is a young company, ingrained in its corporate DNA is an ethos of giving back. The company's corporate values reflect its commitment to the local markets it serves, and a commitment to build communities where economic prosperity extends to as many people as possible.
Just as in every other market Fincy operates, Cambodia has its unique set of needs. Where Fincy can fill gaps, provide needed services and financial resources, the company demonstrates its commitment by partnering with the community, identifying
the most effective ways to support, and creating a responsive plan to deliver.
'I Love Cambodia' campaign
Consistent with those values, in May of 2020, Fincy launched the first of many planned corporate social responsibility (CSR) campaigns, entitled "I Love Cambodia".
The campaign was one way for the company to show that it wants to give back in tangible ways, especially to those who do not have the privileges others enjoy. The purpose of the "I Love Cambodia" campaign was to strengthen SMEs through the commitment of $250,000, which provided targeted and strategic financial support to 200 SMEs so as to minimize the negative impact from the COVID crisis and ensure that SMEs were able to continue to provide needed services to their communities.
The financial support went to help SMEs update and improve their marketing initiatives and strengthen digital marketing efforts to attract more English and Chinese speaking customers.
The economic toll of COVID on the economy is serious, and it has devastated many businesses. Many of the SMEs rely on tourism, which is traditionally a thriving and vibrant area in Cambodia. Border closures and the sharp drop in tourists forced many SMEs into a challenging time, and they struggled to support their operations.
Fincy intends to develop a long-term relationship with Cambodia and its people.
You can also read Zwan Ross Lee's article on "Growing Fintech In A Growing Cambodia".
About Fincy
Fincy is a financial technology (fintech) company, fully licensed in Cambodia and is funded by GBCI Ventures, based in Singapore. GBCI is a leading venture capital fund and a venture builder in Asia.
Fincy launched operations in Cambodia in Q4 2019 and with their Fincy app, you can exchange foreign currency including Cambodia, Thailand, China, Myanmar, U.S and the Philippines, complete online payments, payroll and transfers. Fincy also offers contactless payments through its digital wallet.