Established in 2021 during the pandemic, American Hardwood Flooring was founded by Géraldine (Gery) Adolh in Cambodia to become the first distributor of ultra-premium engineered Hardwood flooring produced in the Kingdom. 
We spoke with Gery to find out about some of the challenges in promoting luxury premium products in the Cambodian market, sustainability, biomass aspirations, and her role with the AmCham Women's Committee.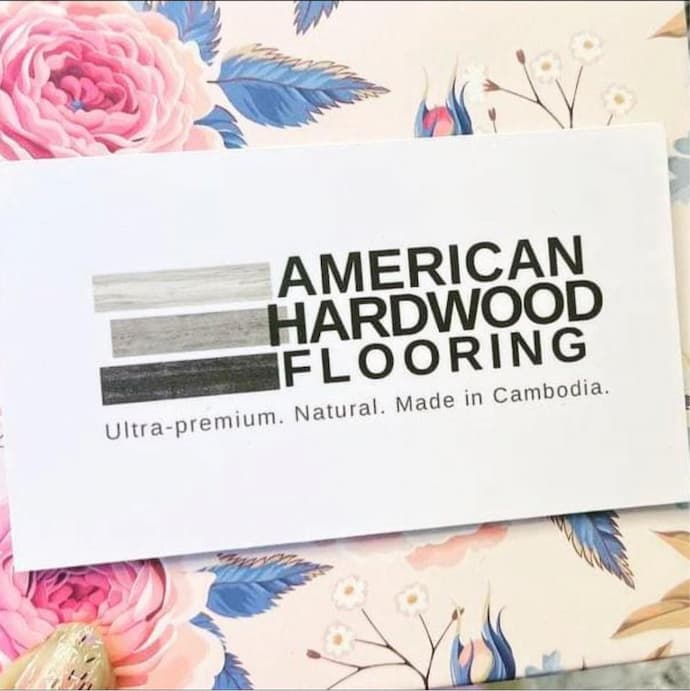 American Hardwood Flooring in Cambodia
Can you please explain the background of your company American Hardwood?
American Hardwood Flooring is a Cambodian-registered company, owned by myself, and we only do business locally. We are a distributor of flooring in the Cambodian market but In the future, we could expand.
The factory is located in Sihanoukville but is American, and mostly produces and exports to the US (95%) with the rest going to Europe and Australia. 
I have no ties to the factory itself or the American structure but they are the largest producer and reseller for flooring so it's a conglomerate of companies. 
We use their website as a reference (LM Flooring) of what flooring is available to my customers and I can best understand the types of products and styles my clients know and want. There are over 150 styles!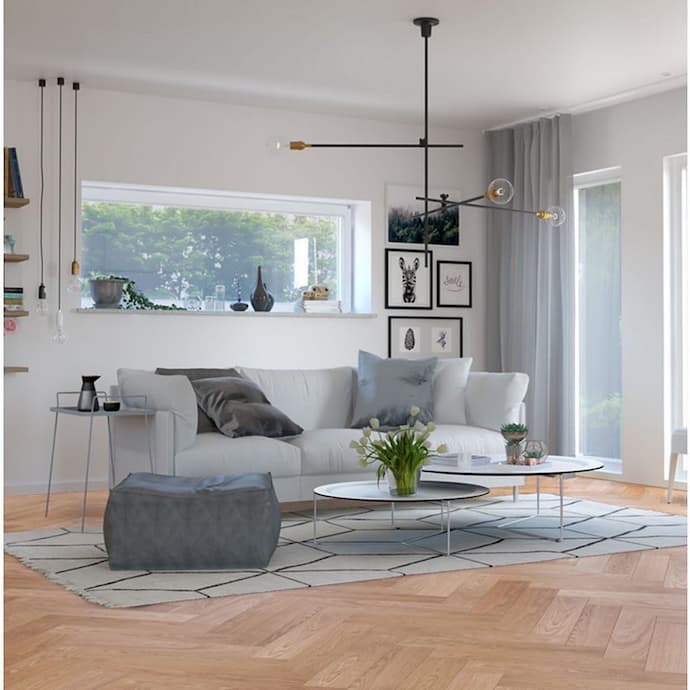 What Initially was the reason you came to Cambodia and why did you start American Hardwood Flooring?
My family got a job in Cambodia, so we moved here just before COVID-19 started. I had no idea of course when I started this business in 2020 and then the pandemic started – well we know how that impacted things. 
But for the idea, at the time, it was a matter of assessing the market, and realising as part of the AmCham Construction Group and CCIF Construction Group, by listening to the developers and conversations –  I asked where is the wood? In the United States, high-quality wood flooring is commonly used in homes, hotels, and developments – but here, I found it interesting that there was a lack of it being used in development projects and especially high-quality wood products.
I had a contact at the factory and we started discussing the type of wood they use, the authorised wood that's harvested – to see if I could offer high-quality wood that was sustainable, licensed in accordance with Cambodian regulations, and help the market use products that were of better quality and meet demands.
Do many customers ask you about the sustainability of the products used?
American Hardwood Flooring offers local developers and homeowners certified and sustainable products.
Some customers do ask where the wood comes from. In these construction projects, the plywood that is used underneath and the Acacia is sourced locally, while the Eucalyptus is not sourced locally but the factory works with suppliers that use resources that are authorised and harvested sustainably. It's in the pipeline to try and source this locally.
The top veneer is based on where the wood is sourced from – so the maple is from the United States, China or Japan, while oak is from northeast Europe, and red oak is from the US etc. 
Most customers ask about specific colour ranges, or for the wood to not be easily scratched, and of course to look great. Some customers don't appreciate that natural wood has natural shapes and designs and variations in colours. But this is part of my role to help educate them about this natural wood compared to plastic floor ranges.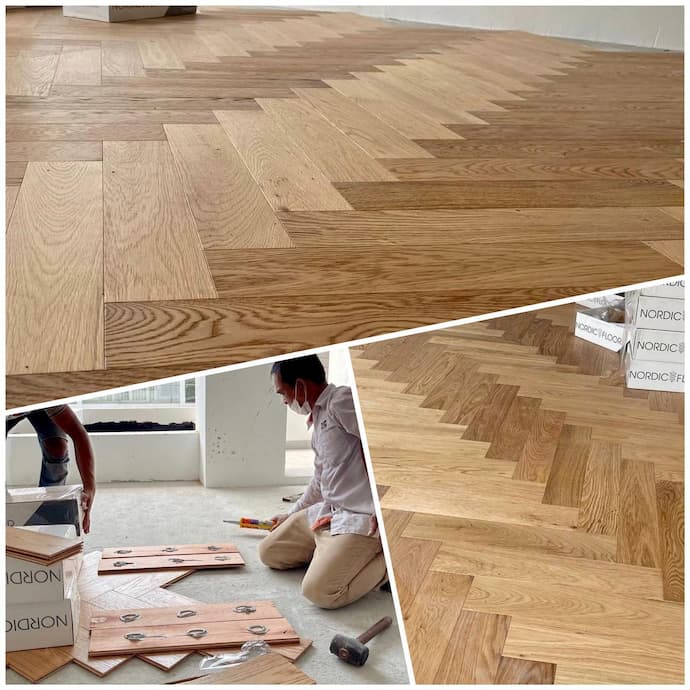 Who are your customers currently?
I am still broadening my network and working with architects to let them know I have this brand locally and encourage them to propose using these natural wooden collections for future projects. 
My most recent two projects were private homeowners who wanted installations in their homes in Phnom Penh. The flooring was used in a villa in the south of Phnom Penh, and another project was a three-bedroom penthouse under construction in Toul Kork.
Ideally, we would like to work with bigger developers, condos, and hotels too as they are best suited to these types of floors. My orders with the factory also need to be a minimum quantity, so yes, ideally, I would target developers and architects. 
The Cambodian B2B space
How do you get your name and brand out there, as it is increasingly competitive in Cambodia and in this industry?
I network with the Business Chambers I'm involved with and others. My goal was to present to architects too but I found there was some pushback with concerns over termites here. 
Of course, I can't guarantee they won't be a factor – but it's no different to any wooden products one finds in their home (beds, furniture etc) 
(Editors note- it's also an odd concern, as many Khmer homes do have wood – especially the ornate and carved wooden chairs, tables, beds etc popular in the Kingdom.)
What I also discovered is that Cambodians don't like wooden flooring due to their experiences in old houses with the creaky sounds reminding them of ghosts. So customer requests include the planks being glued down to minimise the sound – which is very interesting to discover.
That is interesting and also useful to have that local knowledge?
Yes exactly, it's a learning process for me too. I don't know if the market in Cambodia is ready for these luxury and high-end products but I heard modern houses are opting for light flooring and wooden flooring.
So is the country there yet? It is more expensive – but for some customers, the expense is not an issue. They see neighbours with real hardwood and engineered hardwood and they want to match what they have. Once it's installed you can't see any difference between the two sometimes – there is an education process for me and for the customers.
I have another good year of challenges before the entity is established better I think.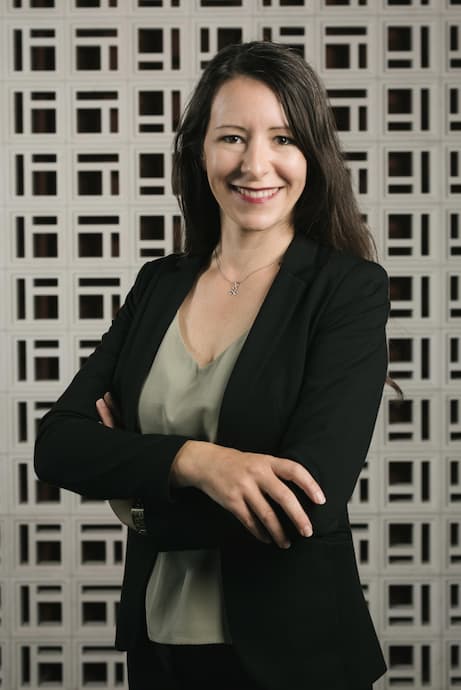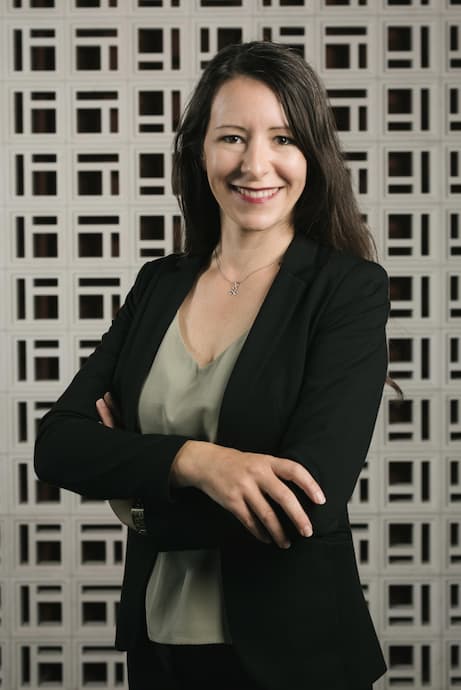 Diversification and Biomass in Cambodia
Coming out of the pandemic, what are the main goals you have?
Well, I need to survive another 2-to 3 years and grow the business. It's a luxury product so there might be fewer sales but greater margins.
I need to meet with the big developers but they often don't attend the same networking events, maybe just the Real Estate Awards shows. I think at these events I can meet and find more large scale developers with greater projects.
I think it's also important to diversify and I have an interest in biomass (using for example, plant-based material used as fuel to produce heat or electricity) The factory I get the wood from produces sawdust in the manufacturing of the flooring and it's a waste product. In Cambodia there is a real need for biomass – so that is a market space I'm hoping to enter and connect with people locally in the biomass industry.
There is potential with biomass and we need to assess the volume, quality, process and needs, and maybe I can be the link between the factory and the customers.
Working with the AmCham Women's Committee
The final question – can you tell us a little more about that and what you do in your role with the  AmCham Women's Committee?
The AmCham Women's Committee was established as women here in Cambodia are very visible and have the opportunities to become business leaders or heads of business. Whereas there are business groups where men are 'buddies' and share contacts over a drink –  this is normal. For women, it's not the same. So this is a platform for women to meet and benefit from networking, women act differently from men and it can be challenging as we are parents, we are business owners –  so it's more challenging to find connections. 
I joined as the Vice-Chair and we are developing ideas. We held an event where a panel of speakers discussed how to empower women in business. At another upcoming event, it's focused on health and fitness. And fitness at home is a movement that's really taking off, not only overseas but in Cambodia as well.
AmCham says the American Chamber of Commerce Women's Committee engages in a variety of other activities to foster an inclusive environment that supports women-owned and women-run businesses.
You can reach American Hardwood Flooring here: