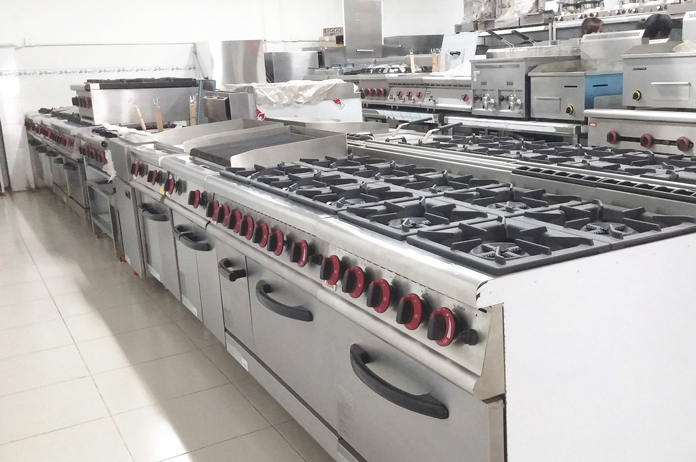 With the Cambodian economy developing at breakneck velocity, the thriving catering industry in the Kingdom has experienced an acute increase in demand for high-end kitchen equipment. Guang Hong Kitchen Equipment Group, a Chinese manufacturer of equipment for commercial kitchens, has stepped in to feed that demand.
Guang Hong Kitchen Equipment Group—established in China in 1990—boasts 24 years of experience in the production of commercial stainless steel kitchen equipment. The company enjoys a leading position in the Chinese kitchen equipment industry. They also have a large international presence, with offices in numerous countries, and products that can be purchased in a plethora of markets around the world; they include Chinese and Western kitchen equipment, food machinery, refrigeration, baking equipment, as well as customised stainless steel equipment.
The Cambodian experience
In 1999, the Chinese kitchen supplies giant set up office in Cambodia, bringing professional services in the sector up to par with global standards, and becoming the first supplier of complete solutions for commercial kitchens, including kitchen design, equipment supply, installation, equipment testing, maintenance and service.
The original Cambodian office consisted of two departments: Guang Hong Iron Group and Guang Hong Stainless Steel Kitchen Equipment Factory. In 2011, a second branch office opened—Kwong Tai Hotel Supplies Centre—in response to heightened market demand. This office was subsequently expanded and rebranded. It became the Guang Hong Kitchen Equipment, a gigantic exhibition hall spread over an area of 600 sqm, and offering an enhanced selection of product categories to meet growing and changing customer demands.
The original Guang Hong Iron Group was transformed into the Guang Hong Kitchen Equipment Outlet, boasting an area of approximately 200 sqm. This department is currently planning the launch of a series of specialised products that will help entrepreneurs in the hospitality sector achieve their business ambitions.
The company's warehouse capacity has also been expanded, with a total area that now exceeds 2,000 sqm.
Why Guang Hong?
Since it began operations in the Kingdom, Guang Hong has been providing an excellent level of service to Cambodian restaurants and hotels; a service based on superior production equipment and great customer service, pre and post-sale.
Guang Hong works with a range of China-authorized economic operators and premium brands, covering all commercial kitchen equipment and most hotel supplies with both economical and high-end products for customers of all needs.
The company has already created professional kitchens for a number of leading enterprises, being fully responsible for project design, marketing, production, installation and after-sales service. Their customers can be found in Phnom Penh, Siem Reap, Kampong Som, and other parts of the country.
Customer service is also of utmost importance for Guang Hong. To ensure that users in Cambodia can fully enjoy a level of service that matches international standards, the kitchen supplies group has established an advanced after-sales service department. Staffed by Chinese professional maintenance technicians, the service department assist with delivery, debugging and installation, training, maintenance and other services customers may require.
As a leading enterprise with a long history in the kitchen equipment industry, Guang Hong has already made a name for itself in the Cambodian market, bringing in products that stand out and a customer service that is hard to match. The Chinese company remains committed to upping standards in the Cambodian market, as it continues expanding its portfolio by introducing innovative products of superior quality.