B2B Cambodia caught up with Jonathan Goldsmid CCO & CEO of Cambodia IAAC (International Airport Advertising Corporation) which is the exclusive advertising partner of Cambodia Airports.
If you have passed through the Phnom Penh International Airport in 2023, you would have noticed a series of upgrades as the capital was readying for an influx of tourists for the 2023 Southeast Asian Games (SEA Games) in May 2023 and ASEAN Para Games in June.
IAAC has spent a million dollars on transforming the advertising estate at the busiest airport in Cambodia. They also plan to roll out more changes as part of the Digital Arrivals Network which connects advertisers with passengers at the current Phnom Penh, Siem Reap and Sihanouk airports.
Goldsmid told us "IAAC is the specialist advertising part of a holding company that partners with airports globally to help them drive maximum income from the by driving revenues through retail, F&B, duty-free shopping etc. " He adds that they are a 360-degree service that offers the design, manufacturing, and installation of advertising space and sells it to brands but also maintains them.
Reaching Brands and Consumers
IAAC installed a LED digital screen totalling 140sqm positioned at eye level to attract the attention of vehicles exiting the Phnom Penh International Airport, while inside the passenger terminal, 12 super large format LED digital screens have been placed on the baggage carousels to capture the attention of potential buyers with a series of high-quality advertisements.
Goldsmid says that the passengers wait up to 15 minutes on average for their bags and are now exposed to high-quality adverts from premium brands on leading technology while adding that the outdoor screen is "one of the largest digital advertising screens in Phnom Penh which is high quality and high impact".
IAAC claim this is the first-ever super-premium, integrated digital ad programme at Phnom Penh International Airport and will profile B2B and B2C brands. Brands from various sectors including property development, telco, food delivery, hotels and tourist attractions have been promoting their products and services to potential customers from the moment they step onto Cambodian soil.
Goldsmid said on his personal LinkedIn page that "brands are afforded advertiser category exclusivity, ensuring their message is one of the very last to be seen by arriving passengers before they disperse once outside the airport."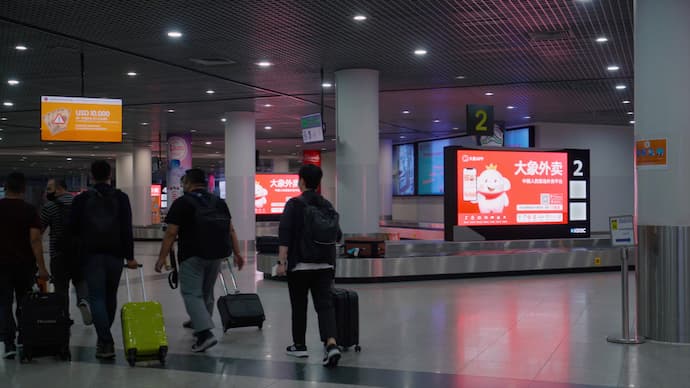 Driving Revenues at Cambodia Airports
Asked how IAAC secured the tender for the deal, Goldsmid is adamant on two key points. The first one is financial but also the business plan they presented to Cambodia Airports "showed that the revenue they could generate was above and beyond what they themselves could achieve."
IAAC has committed capital expenditure on ensuring the latest technology has been installed but is also making advertising in Cambodia a benchmark in Southeast Asia.
In generating commercial revenue, pre-pandemic 2019 tourist levels (and in particular airport passenger levels) were at a peak in Cambodia. But he says that although the same numbers won't be reached in 2023, "we have already exceeded revenue this year compared to 2019 even though passenger numbers are not at the same level yet."
He said that the quality of content and technology are important but the type of audience that you can reach at the airports include high profile business people and decision makers and they are able to reach them with real impact.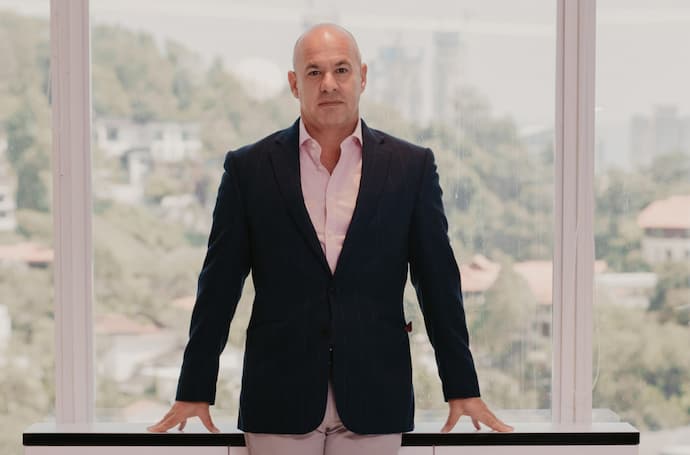 Ease of Business in Cambodia and Opportunities
On the growth of Cambodia, the IAAC Cambodia CEO said; "What excites me about Cambdoja from a tourism perspective is that it punches well above its weight in terms of its proposition to travellers. It is less discovered by tourists so it means there is more growth potential….It has everything to offer everybody."
Goldsmid is equally bullish and optimistic for foreign investors saying that "it's been one of the easiest countries to set up a business which is great from a government perspective who are helping foreign investors come in and start a business. The future is bright for Cambodia."
The latest data on tourism numbers to Cambodia according to the Ministry of Tourism suggest that a total of 481,582 international visitors flew into Cambodia in Q1 2023. This represents a 5.5-fold year-on-year increase compared to 2022 but still 37.07 per cent of 2019.