B2B Cambodia discussed the changes to Knai Bang Chatt with its Founder and CEO Jef Moons, as the coastal area of Kep undergoes changes and sees continuing investment to transform parts of it into a destination area for tourism.
What is Knai Bang Chatt?
The luxury resort of Knai Bang Chatt is already well-known among Cambodian holidaymakers and expats, but Jef Moons described the popular Kep resort as "an 18-room barefoot luxury resort, we are a culinary beach destination with multiple restaurants and activities and offer high-end service and privacy."
Although the resort has undergone changes over recent years, most notably along its seaside dining areas, Moons says, "The beachfront and sailing club need to become a destination where we can also host corporate events and weddings etc."
He also told us that the area is now transformed and is part of "Kep West", an exciting new culinary beach destination, one with multiple restaurants, sports activities, excursions on land & sea and wonderful Knai Bang Chatt lodging facilities.
"For me, the new Knai Bang Chatt resort is even more private and offers even better views as today – we not only connect to the sea but also to dunes, greenery and beautiful beachfront architecture."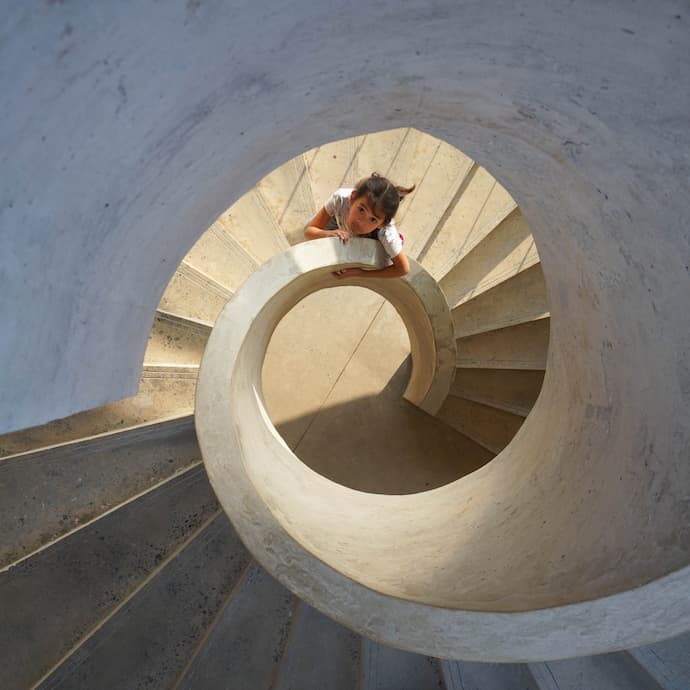 In terms of experiences, guests and customers come for privacy, dining, and sport and they are establishing the Royal Kep Yacht Club (RKYC) which attracts a new crowd and families. "Creating a real sailing community for Kep is a wonderful extra not only for us but also for Kep. The aim is to promote sailing and water sports and to offer members great benefits," he added.
Within the area, excursions include the Kep National Park, Phnom Kampong Trach Caves, the nearby nature reserve with cranes, and of course the nearby town of Kampot.
Moons adds that if you are looking to "rejuvenate and looking for a higher-end experience, we welcome you to Kep."
Dining at Knai Bang Chatt
"When I eat at The Strand Restaurant overlooking our 217-meter beach development I really feel exceptional," said Moons.
The resort prides itself on growing and sourcing food and beverage products. "You don't have to be the best student, but you have to be correct", added Moons.
Knai Bang Chatt for 8 months a year uses produce from its organic gardens and they mostly source other organic food but are quick to point out that using preferred suppliers is important to ensure the supply chain and quality of the product is what they require.
The dining restaurant includes; The Strand, the Sailing Club Restaurant, The Café-Grande, The Crab & Co, and The Deck. Jef Moons says he wants Crab & Co to become the exceptional dining experience for Kep, where customers can pair food with a large selection of premium wines. Some of his dining selections include:
The Strand – My favourites are the burrata or grilled octopus as a starter, and for a main dish I would opt for a seabass, but for the meat lovers go for the Harvey+5 rib eye.
Café Grande – Here we offer more easy-going food, I would suggest our famous crab cakes or maybe the black seafood spaghetti.
Crab & Co – The new menu is ready to be served and we will officially open the restaurant on June 25 2023. We will offer great crabs and seafood as well as high-quality steaks. I would definitely try out the larger Mud Crabs or Coconut Crabs as these dishes are new for Kep.
The Deck – I suggest ordering some tapas of your choice.
The Sailing Club Restaurant – We first will concentrate on our beachfront and resort dining experiences – later in 2023 we will reopen our famous Sailing Club restaurant.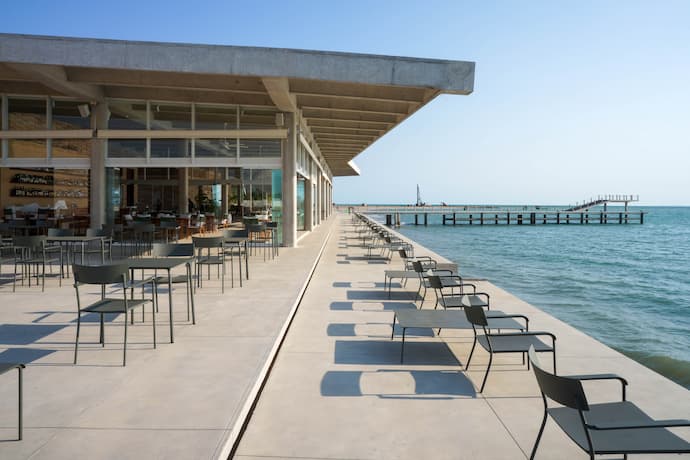 Sustainability Is Part Of Their DNA
Sustainability is part of Knai Bang Chatt's DNA, says Moons. "We always like to create something new. The mentality today is that people measure their impact, people don't just book the 'traditional' travel experiences".
Across the resort, they try to reduce waste by 80% and measure their energy consumption. "It's a holistic approach," says Moons and their philosophy is to "operate with respect to what was given to you."
He also warns businesses who are making the changes to be more sustainable to "please not promote themselves as sustainable when they only offer a bamboo straw. This is pure greenwashing."
He adds: "At Knai Bang Chatt, we are internationally certified sustainable (by GG2050) and we work on 480 KPIs. We made the change from a linear to a circular operation and by doing so, we decreased our waste streams by 80% (Refusing – Reusing – Recycle – Repurpose – Composting).
Solar, waste & performance management is included in their certification program – "We fully operate with respect to global standards that cover the green principles and offer ethical & sustainable tourism."
Moons says they hope to work with and train "other hotels and restaurants, and that we can create an audited green standard for Cambodia, one based on the ASEAN Green Standards. We are now in the process of applying for grants and this is to make this next chapter possible."
Post-Pandemic Recovery and SEA Games 2023 Impact
The venue was part of the SEA Games and athletes and organisers as well as international media stayed and dined at Knai Bang Chatt. However, overall the SEA Games had only a minor impact on Kep.
"For Kep, the SEA games didn't result in a massive change but we were promoted as part of the games and we were absolutely proud that Kep Province was chosen and our beachfront venue "The Wave" was venue used to host the athletes and organisers and more than 300 people enjoyed our wonderful sunsets and great food."
Moons acknowledge that they mostly service local Cambodians and expats and that international tourism has not returned to the levels seen pre-pandemic.
"As international tourism is not yet back, today we mostly serve Cambodian people and expats. We will follow the market changes and adapt our operation whenever needed. For now, there is really not much difference between high and low season as our local market is serving us daily."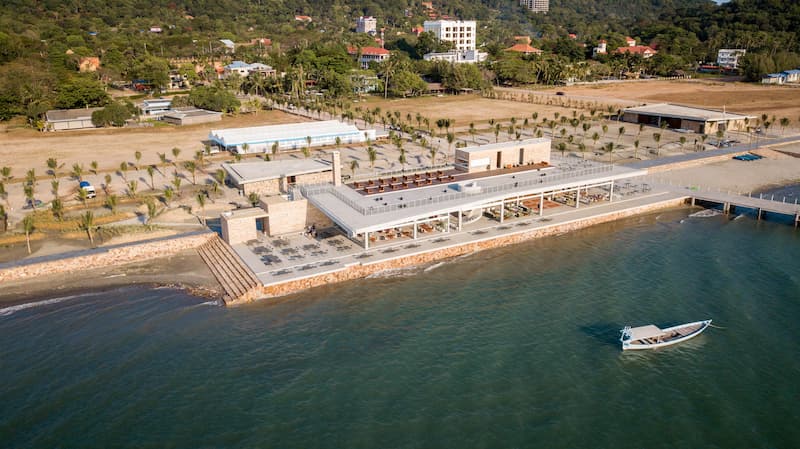 Kep Development
Moons is aware that the government is looking for massive investment into the area and that transport links will benefit the region. "We have Road Number 3 finished, and Roads 31 and 33 are being refurbished. So I can say all roads lead to Kep. I also know that cycling and walking lanes along the coast will improve our infrastructure. So far, so good."
In addition, the southern water corridor is being opened up and the local ports will offer direct routes to Phú Quốc (Vietnam). Kep National Park has also seen investment while the islands off the coast are seeing development which signals a new chapter for Kep.
The tourism port between Kep & Kampot is being developed ($18 million).
Koh Tbal Island development ($17 million).
$130 million development on Koh Tonsay (Rabbit Island).
$18.5 million development on 3 islands off the coast.
"The new masterplan for Kep is nearly finished and new developments could see the area transform into high-end in the west of Kep as prominent people and high-end developers are based in the area. I think Kep will be developed in a beautiful way for a different market.
Our side of Kep will definitely remain quiet, relaxing, more private and higher end. Knai Bang Chatt has the advantage of having direct beach access. High-end development is the way to move forward."