All employees in Cambodia are meant to undergo medical health checkups. While foreign workers are required to do so annually to renew their work permits, Cambodian employees are also expected to have medical check-ups according to the Cambodian Labour Law.
Cambodian Employees Medical Check-ups 2021
Prakas 429
DFDL recently released updated information for Cambodian employees which follows the Ministry of Labour and Vocational Training (MoLVT) Prakas 429/20 issued on 31 December 2020.
The Prakas is related to the Medical Check-ups for Cambodian Employees in which "Cambodian employees covered under Article 1 of the Labour Law must undergo physical health check-ups at the​ Labour Medical Department of the MLVT or any healthcare facilities that are duly recognized by the Ministry of Health (MOH) and collaborating partners of the Labour Medical Department of the MLVT."
The MLVT will issue medical check-up certificates via its Labour Medical Department which records Cambodian Cambodian employees nationwide to "determine the types, ranges and prevalence of​​ occupational diseases."
Employees must undergo medical check-ups once every two years except for those in certain categories or professions that require special medical check-ups. The costs for medical check-ups are to be borne by the employer.
Prakas 429 also allows Cambodian employees to undergo medical check-ups at any healthcare facility that is duly recognized by the MOH and collaborating partners of the Labour Medical Department of the MLVT.
It is the employer's responsibility to request certification of the medical check-up certificates from employees the MLVT's Labour Medical Department which can be completed via the online system by attaching an employee's medical check-up results (valid for no more than six months).
However, it is vital employee medical check-up results are kept strictly confidential.
Medical check-ups are also required when a Cambodian employee moves into a new role or profession in which the working conditions are different or the employee changes to a new workplace.
Cambodian employees are required to bring the following documents to their medical checkup must bring the following documents:
Copy of the​ Cambodian employee's employment certificate issued by the employer.
Copy of his or her Cambodian National ID card or Birth Certificate or Family Record Book.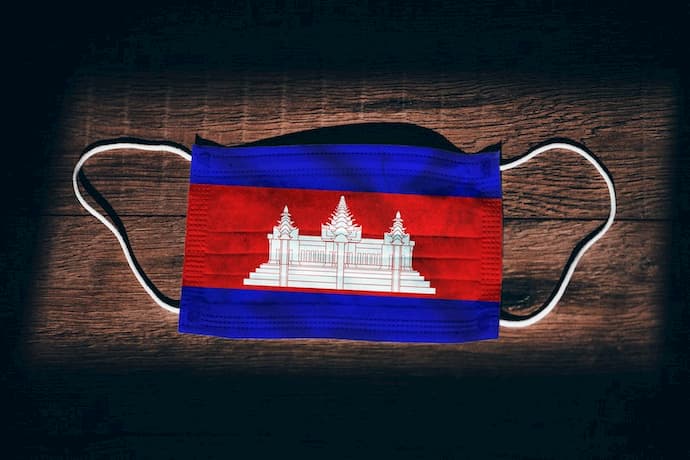 What fines can employers face?
DFDL claims that failing to ensure medical check-ups are completed "may subject relevant employers to a fine of up to KHR 10.08 million (approximately USD $2,520) from the MLVT and/or up to KHR 14.4 million (approximately USD $3,600) by a competent court.
The non-compliant enterprise may also be exposed to additional sanctions under the Labour Law, including imprisonment terms from one to five years.
We would like to thank DFDL for the information on the Prakas for medical check-ups.
Foreign Medical Check-Ups – Work Permits 2021
Foreigners are required to complete their Health Check at the Ministry of Labour for work permit renewals or with a recognised clinic-agent of the Ministry.
An online account by one foreign worker trying to complete their health check in Phnom Penh in January 2021 on the Cambodia Visa and Work Permit group noted the following changes in 2021:
The physical space at the Phnom Penh Ministry of Labour has been redesigned with numbered counter desks to line up.
The following will be measured: height & weight, then foreigners can go to the Counters (#17-20) closest to the Payment Counter.
Staff now use an online system (thought to be linked with the FWCMS online system, with a camera to take a) to input applicants information.
Then you are required to complete finger prick, heart rate, payment etc.
Information is checked to confirm the work/company matches what's on the system.
The official period for renewal of a work permit is between January and March each year. We detail all information in our article on Obtaining a Work Permit in Cambodia.