The 2023 Mekong Tourism Forum (MTF 2023), which is hosted by the Ministry of Tourism of Cambodia and co-organised by the Mekong Tourism Coordinating Office, will take place from 25-27 April 2023 in Sihanoukville.
The Mekong Tourism Forum was first held in 1996 and the annual government-led event is "dedicated to the tourism industry in the Greater Mekong Subregion (GMS)."
In 2023, MTF will address the theme "Rethinking for Resilience and Digitalisation" and is set to see tourism Ministers, tourism leaders, NTOs, NGOs and private sector representatives, attend to discuss post-COVID tourism in the Greater Mekong Subregion (GMS).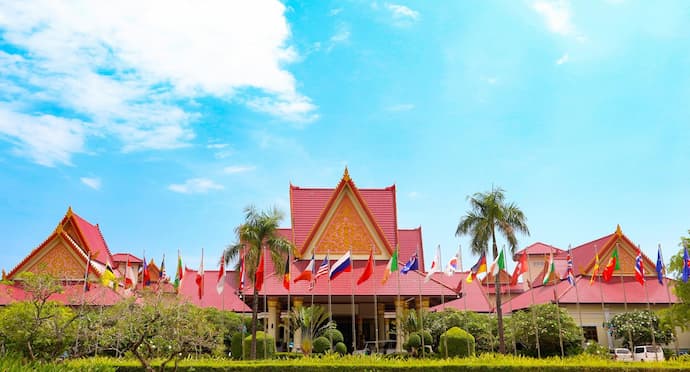 The GSM comprises Cambodia, Yunnan and Guangxi provinces in China, Lao PDR, Myanmar, Thailand, and Vietnam – an estimated 150 international delegates are expected to attend the MTF 2023, which is free to join for leaders of the travel industry.
H.E. Dr. Thong Khong, Minister of Tourism for Cambodia added "The post-COVID-19 tourism landscape now provides clear opportunities for us to take stock and rethink tourism for the better."
Both H.E Dr. Khong and H.E. Mr. KouchChamroeun (The Governor of Preah Sihanouk Province) are confirmed to attend.
The organisers say the conference programme has "been designed to address job creation, gender equality, food safety and hygiene, digital transformation and a more geographically dispersed tourism approach, so that the benefits of the travel industry spread beyond over-touristed hotspots."
Thong Rathasak, Tourism Ministry's Director General of Tourism Development and International Cooperation said this week that they were 80 per cent ready to successfully host the Mekong Tourism Forum 2023.
Mr Peter Semone, the Chairman of the Pacific Asia Travel Association, will be the keynote speaker at the 2023 forum in the capital of Preah Sihanouk province with the topic "Rethinking Tourism – A Pathway For Building Back Better And Stronger".
Key Themes – 2023 Mekong Tourism Forum
There are key ideas/themes and several speakers and panels will discuss the central discussion points for MTF 2023:
Developing local food production networks with a focus on safety and hygiene, while reducing food waste  – Mr Luu Meng "Rethinking the Food System – A Level To Protect The Planet"
Using new digital technology to boost tourism startups and small- and medium-sized businesses – Panel on "Smart Tourism and Smart Destination via Digitalisation" moderated by Mr Ben-Jie Lim, Group Head of Delivery, SuperApp, AirAsia.
Improving training so that tourism workers have the skills to adapt – Panel debate on advancing human capital led by Mr Peter Semone "Advancing Human Capital…Advancing Industry Resilience".
Advancing equality of opportunity and fair treatment for women in the private and public sectors of tourism – Ms Veronica Mendizabal Jaffre (Asian Development Bank) will lead the panel session on "Women's Empowerment –  The Centee Stage Of Tourism Recovery" in tourism in the region.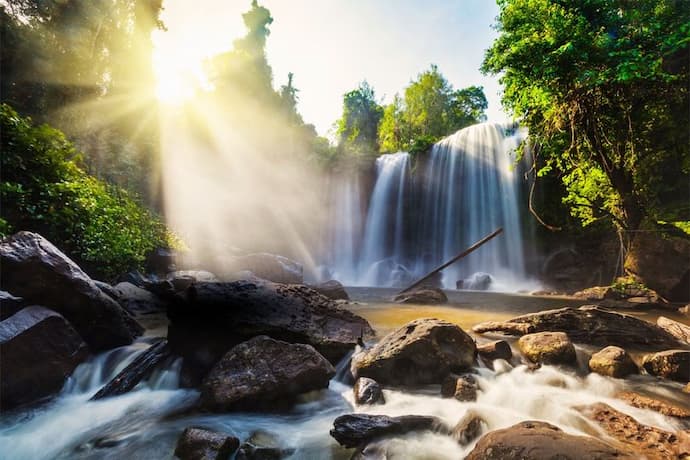 MTF 2023 – Sustainable Tourism Exhibit
The MTF 2023 will also host a Sustainable Tourism Exhibit which will run from 25-26 April with more than 20 exhibitors who will showcase responsible and sustainable tourism, community-based tourism, and local community products.
According to MoT, there are currently 86 ecotourism destinations in Cambodia.
How To Join MTF 2023?
Registration is available through the new Mekong Tourism Coordinating Office website and closes on 18 April 2023 or when places are fully booked, whichever comes first.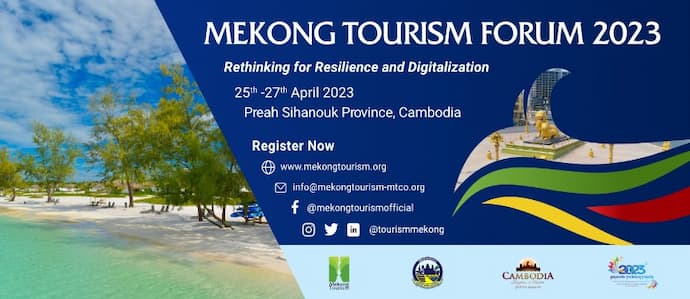 What Initiatives Does Cambodia Have to Revive Tourism Post-COVID?
On the 11th National Clean City Day 2023 (held on 27th February 2023), Prime Minister Hun Sen said tourism remains a key pillar for the national economy and urged "all stakeholders to pay high attention and do their best to boost the country's tourism sector.
Local tourism operators and the government are promoting the "Visit Cambodia Year 2023" campaign, under the slogan "Every Day is A Wonder". The campaign plans to showcase the Kingdom's tourism potential through a host of local events in 2023.
There is another campaign called "Cambodia – Kingdom of Wonder, Feel the Warmth" which will run simultaneously and is based on four pillars:
Heritage and culture
Eco-tourism
Coastal tourism
Khmer identity
It does pose the question if there are too many campaigns running at once.
Other key initiatives include:
With the return of international tourism – the government has set a target of 4 million international visitors in 2023 and an accumulative total of domestic travellers of 15 million.
Tourism campaigns aligned with the promotion of the hosting of the Southeast Asian (SEA) Games in May 2023 and the ASEAN Para Games in June 2023.
National airline Cambodia Angkor Air is using the "Visit Cambodia Year 2023" logo in its advertisements and other communications. Other airlines have been asked to place the insignia on any aircraft flying into the Kingdom.
The Ministry of Tourism (MoT) has encouraged local tour operators to promote tour packages to community-based ecotourism destinations in Cambodia such as in Preah Vihear, Kratie and Steung Treng provinces.