Electric vehicles offer a sustainable environmental transport solution, and OYIKA is lowering the barriers to electric motorbike (e-motorbike) adoption in Cambodia with its battery share service.
OYIKA is a Singapore venture-funded company which started working on a battery share concept for e-motorbikes in 2018. In 2019, OYIKA arrived in Cambodia and launched a service in the capital of Phnom Penh. The company is headed by its President, Carl Wong, and it plans to expand throughout the Kingdom and in SEA.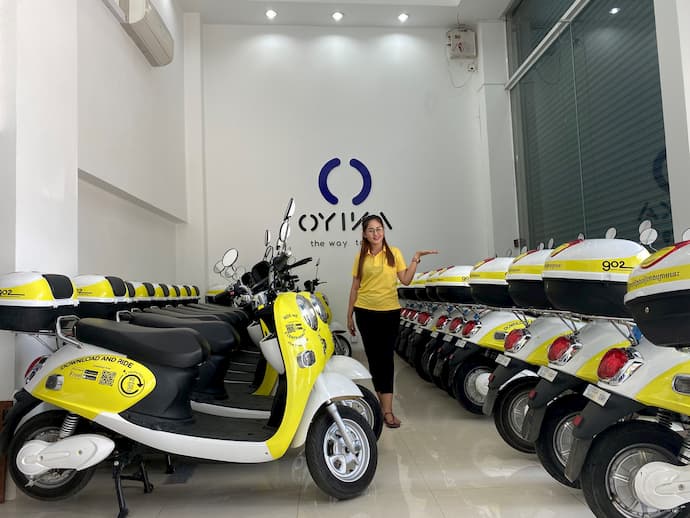 e-motorbikes in Cambodia
There is now a great urgency to switch to vehicles that are less harmful to the environment and that do not endanger human health says OYIKA.
According to a research study conducted in Switzerland and published by the American Chemical Society's journal Environmental Science & Technology on January 1, 2006, motorbikes collectively emit 16 times more hydrocarbons, three times more carbon monoxide and a "disproportionately high" amount of other air pollutants compared to passenger cars. The hydrocarbons emitted by these two-wheeled vehicles have been linked to global warming and are suspected to be carcinogenic, thereby endangering human health.
OYIKA offers a battery share concept and allows an e-motorbike rider to swap their leased depleted battery for a fully charged one at a swap station. So instead of topping up petrol at a kiosk when the vehicle runs out of fuel, the rider is now topping up on stored power. Battery share, therefore, replaces petrol and thus it is also cheaper.
OYIKA claims its battery share solution solves the issues of driver anxiety, battery degradation and upfront capital costs which also act as barriers to the adoption of electric vehicles.
The Singaporean company claims there are more than 5 million registered vehicles in Cambodia, 85% of these are motorbikes, and less than 0.1% of them are electric.
In 2019, 640,183 vehicles were registered in the Kingdom, according to the Ministry of Public Works and Transport, and 531,269 were motorbikes. The introduction of e-motorbikes is therefore the fastest means of reducing vehicle emissions.
An e-motorbike can also be cheaper than a traditional internal combustion engine (ICE) motorbikes if the concept of battery share was introduced i.e. without needing the rider to bear the upfront cost of an e-motorbike battery, which can be 50% or more of the total vehicle cost.
Not only can an e-motorbike be less expensive without the need for government subsidies, but it may also even compete with subsidised petrol fuel, as in the case of Indonesia.
OYIKA in Cambodia
OYIKA works with local leading e-motorbike brands in Cambodia and transforms their motorbikes into smart bikes by bundling them with OYIKA's portable smart batteries, a network of charging stations and a mobile app. OYIKA also helps to promote the local e motorbike industry and its partners' bikes.
OYIKA also offers battery swap bundled with its partners' e-motorbikes on a pay-as-you-go basis for short trips, daily rents, by the week, and by the month. It is a like prepaid mobile phone plan but with a phone provided for use.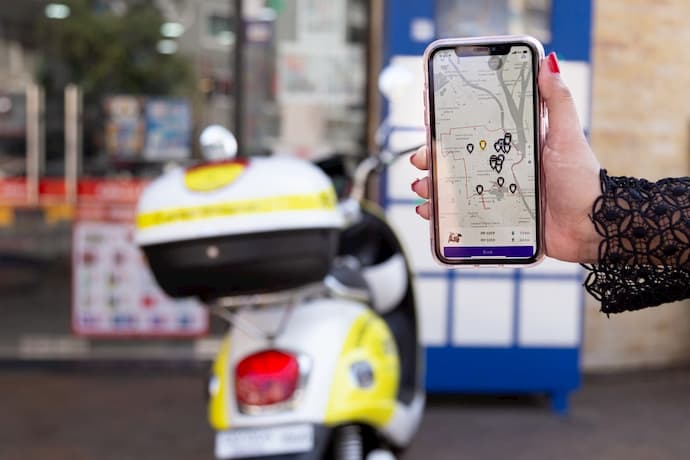 "We started with 10 swap stations in Phnom Penh in July 2019 and offered riders a subscription plan of $69USD a month which came with an e-motorbike and battery swap plan, enough to travel 1500km a month," says OYIKA President, Carl Wong.
The pilot service in Phnom Penh had 100 bikes and 20 swapping stations in-country.
"But honestly, it didn't go too well. Because people love their ICE motorbikes and are uncertain about e-motorbikes. So, we launched Go2, a ridesharing service, which is essentially a no-contract, no-down-payment, no-deposit e-motorbike on a pay-as-you-go basis. We launched it in May this year (2020) and the take-up has been so positive, we intend to increase the fleet substantially next year!
"A typical ride is about 75 cents for a self-driven 6km journey and people can pick up a bike wherever it's available and drop it off anywhere at the end of their trip. Essentially, rideshare combined with battery share further reduces the barriers to e-motorbike adoption. It also exposes more people to e-motorbikes."
Oyika received a grant from the United Nations Development Programme (UNDP) to expand its rideshare trial in Phnom Penh, as a validation of its initiative and hopes to extend this to rural Cambodia.
Carl adds, "There is no public transport servicing rural communities. So, e-motorbike sharing offers affordable transport to rural communities without the cost of ownership. It also benefits women and vulnerable individuals without reliable access to personal transport."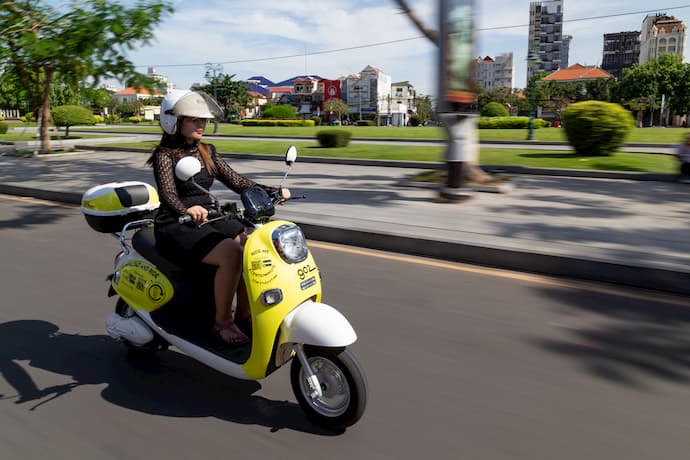 Users are also able to access the OYIKA Smart App to locate swap stations, and reserve batteries.
Bringing rideshare to rural Cambodia invariably introduces battery share to the rest of the country as well claims OYIKA. Rural communities may operate a battery swap station and the company is going to make it affordable to start such a business. While one may not get the chance to own a petrol kiosk, they can certainly get an opportunity to operate a battery swap station through OYIKA.
On the OYIKA website, the company says it plans on rolling out their services in Sihanoukville and Siem Reap soon. They also have plans to expand their launch in Vietnam and Indonesia.