Raffles Grand Hotel d'Angkor, the 90-year-old luxury hotel in Siem Reap, once again was named as Travel + Leisure World's '500 Best Hotels' earning the prestigious distinction for a second-straight year.
The iconic hotel is situated in the temple town, on the doorstep of the most popular tourist attraction in Cambodia, the Angkor Archaeological Park which is home to the famous Angkor Wat.
Travel + Leisure readers voted in the magazine's annual "World's Best Awards," selected Raffles Grand Hotel d'Angkor for a second-straight year after earning the distinction in 2022 and General Manager Joseph Colina said "We're seeing excitement in Siem Reap like we haven't seen in years—and this honour is a reflection of that in a way. Our guests have told us that not only are Angkor Wat and other ancient sites here part of their bucket list, but so is a stay at Raffles Grand Hotel d'Angkor, which has its own storied past and timeless elegance."
Raffles Grand Hotel d'Angkor originally opened in 1932 and was originally built as a rest stop for archaeologists and adventurers seeking to explore the ancient kingdom of Angkor Wat. Today the site is one of the world's most extraordinary and popular UNESCO World Heritage Sites.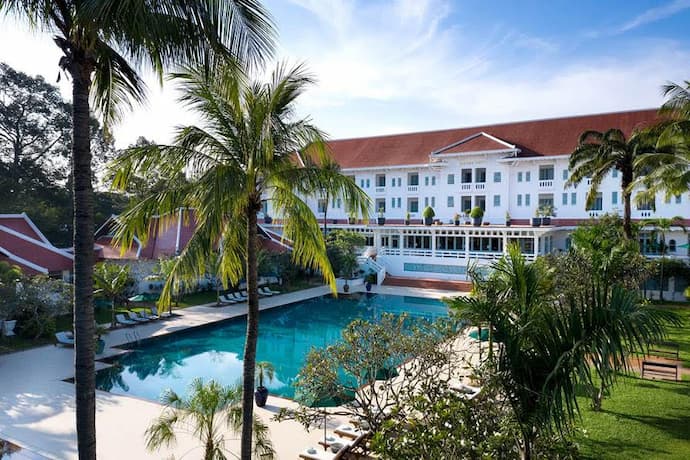 Angkor Enterprise announced that post-COVID there has been a return of visitors and a total of 298,998 standard tickets for Siem Reap province's Angkor Archaeological Park were sold to foreign visitors in the first four months of 2023. Visitors can obtain one-day, three-day and seven-day passes.
The uptick in visitors since the same time in 2022 is significant (800 per cent and 937.34 per cent year-on-year increases in terms of the quantity and value of tickets sold) but there is some way to go to return to the record highs of 2018.
Raffles Grand Hotel d'Angkor recently underwent extensive renovation and pandemic-related closure that lasted nearly three years before reopening its doors in June 2022.
Nearly all of the hotel's 119 guest rooms and suites were fully refurbished, including all-new Italian tiling and fixtures in the bathrooms. The vintage ambience of The Elephant Bar remains.
The hotel has also launched the Khmer fine-dining restaurant 1932 and opened the doors of the Raffles Marquee, an elegant events space overlooking a lush green lawn.