With the Realestate.com.kh EXPO 2022 coming up this weekend, we look at some of the best developers' deals up for grabs this year, the ideal holiday developments and the excellent range of seminars.
The Real Estate EXPO 2022 will bring together developers from across Cambodia and around the world. Cambodia's property market rebounding attendees visiting the EXPO from 2-3 July 2022 at the Premier Centre Sen Sok in the capital, will have the chance to see the latest developments in the most in-demand up-and-coming areas throughout the Kingdom – only at the Real Estate EXPO 2022!
In addition to the amazing developments in Phnom Penh (which you can read about in our EXPO Guide here), properties in Kampong Speu, Kampot, Sihanoukville, and Siem Reap will be on display.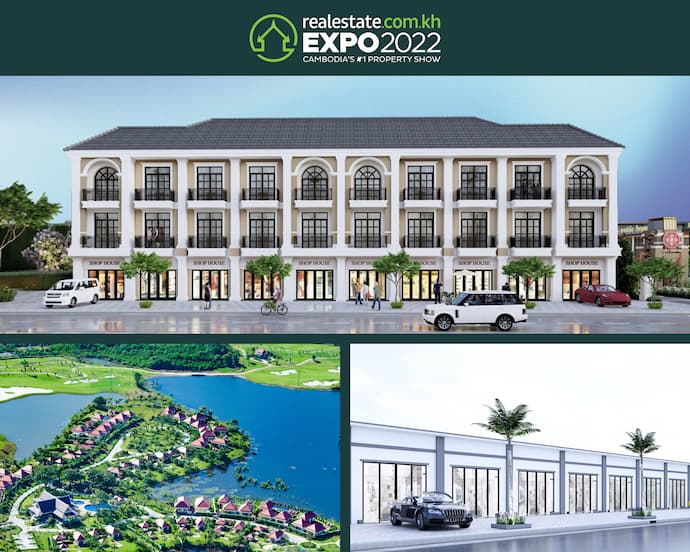 EXPO 2022 – Regional Developers Showcase Developments
Leading property developers from around Cambodia will be in Phnom Penh for the Real Estate EXPO 2022 to deliver exclusive deals and sneak peeks into what's under development in the Kingdom bright to you by realestate.com.kh – the leading online property platform in Cambodia.
KH Land, one of the most established local names in Cambodia's real estate, is already making waves with its new project in Kampong Speu reportedly going to be offered at only $16,990 per unit. But KH Land isn't the only regional developer giving EXPO attendees great deals!
Other developers and regional developments who will also be joining the two-day event are:
Borey Cheyoudom (Kampong Speu)
Golf Harmony and Oasis Harmony (Kampot)
Borey Lorn City Lotussea (Sihanoukville)
Platinum Coast (Sihanoukville)
Star Bay (Sihanoukville)
Coastal City (Koh Kong)
Angkor Grace Residence & Wellness Resort (Siem Reap)
Developers will have representatives to showcase their projects at the Premier Centre Sen Sok from on both days of the EXPO 2022 from 9 AM until 6 PM.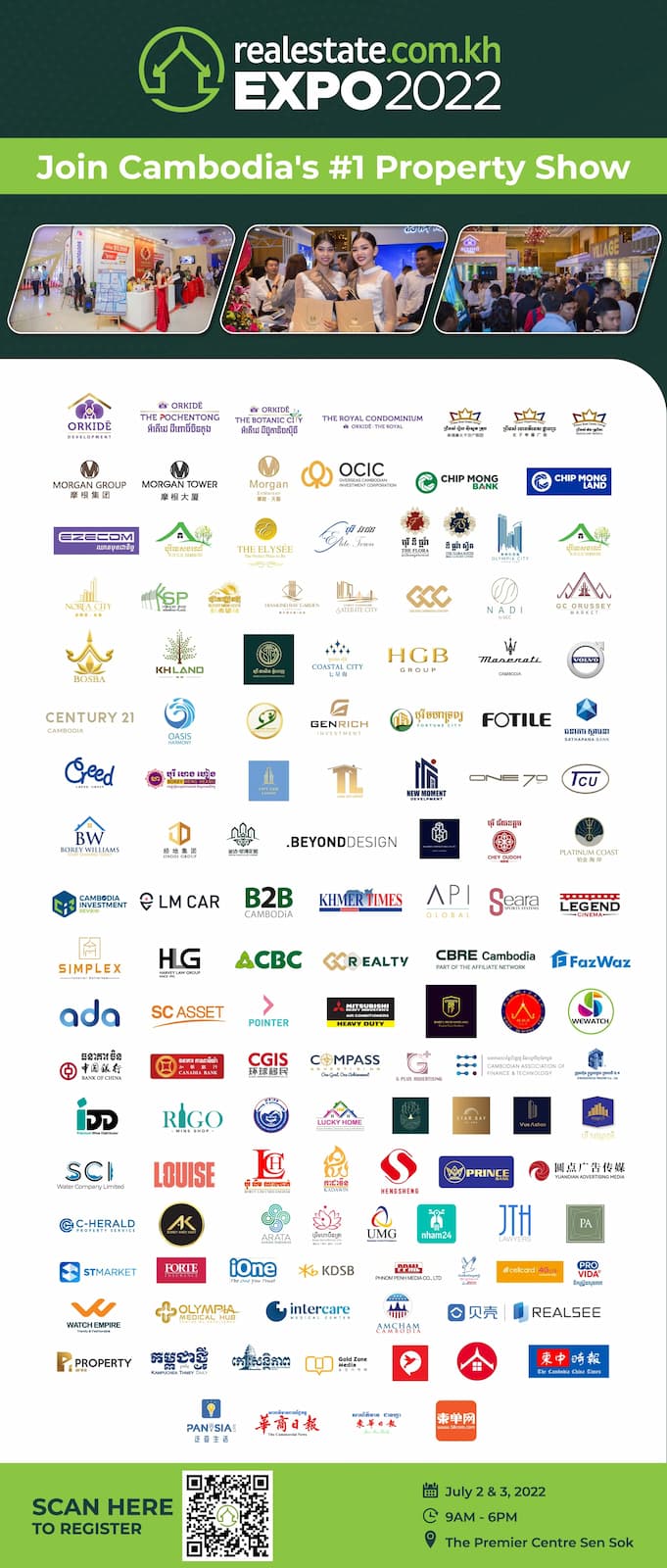 Key exhibitors for the Cambodia EXPO 2022 include:
Orkide Group
Prince Real Estate Group
Chip Mong Group
Overseas Cambodian Investment Corporation (OCIC)
EZECOM
HGB Group
Century 21 Cambodia
If you plan to attend, you will have the chance to directly speak and ask questions to developers, get exclusive discounts and prizes, to be in the ideal situation to compare and select your dream project during the event!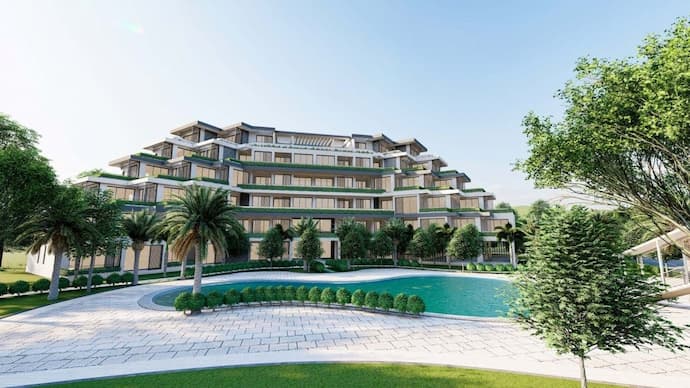 Cambodia Holiday Homes – Expo 2022
Cambodia is seeing more developments which utilise and preserve the environment in key holiday hotspots. Leading developers target these holiday getaways and the best deals at EXPO 2022 include some of these listed below:
Golf Harmony – A Luxury Holiday Villa development in Phary Village, Prey Thnong Commune, Teuk Chhou District, Kampot town, based in the Kampot valley and surrounded by a green lush forest.
Oasis Harmony – 72-holiday villas that allow for a luxury lifestyle in Kampot in an exclusive neighbourhood with high-class amenities such as horse riding.
Platinum Coast – Located in Sihanoukville, this is a holiday getaway with seaside amenities as its highlight.
Star Bay Cambodia – A modern seaside development in the fast-growing city of Sihanoukville.
Coastal City – Covering an area of 248 hectares of land which will eventually include an ecological park and two lakes, the development has green spaces, natural ecology, and pristine beaches.
See more details on Realestate.com.kh
Real Estate Seminars from Industry Experts – EXPO 2022
In addition to securing your dream home at the EXPO 2022, there be incredibly informative property and real estate seminars running over the two days.
One of Realestate.com.kh's missions is to educate property buyers, and they will be hosting a series of seminars showcasing the opportunities – present and upcoming – in the Cambodian property market.
Several notable speakers from the Cambodian market as well as international consultancy firms will be sharing insights and top property tips.
Speakers already confirmed for the EXPO 2022 are:
Mr. Ith Hero, Director of Statistics, National Bank of Cambodia
Mr. Oeur Sothearoath, Chief​ Executive Officer, CBC
Mr. Lawrence Lennon, Managing Director, CBRE Cambodia
Mr. Chrek Soknim, President of the Cambodia Valuers And Estate Agents Association (CVEA)
Ms. Mom Sothavatey, Country Manager, Fazwaz Cambodia
Mr. Seraj Sutton, COO & Director, Century 21 Cambodia
Mr. Kang Nin, Director and Partner, Golden Cambodia Realty
Mr. Chu Zexu 褚泽旭, General Manager, Morgan Group
Ms. Ry Navy, Head of Sales Division, OCIC
Mr. Ngoey Thy, Assistant to CEO, KH Land
Don't miss out on their expert insights to help you secure your dream home and your next life-changing investment!
Find Your Dream Home At Cambodia EXPO 2022
Realestate.com.kh is proud to bring back Real Estate EXPO 2022 to help Cambodian property buyers connect with the best property developers in the country.
You can't afford to miss out in 2022 as the country's real estate market is set to bounce back strong and the EXPO 2022 is an ideal showcase for property buyers to the best deals on the best homes in Cambodia.