The Realestate.com.kh EXPO 2022 will be held from 2-3 July 2022 at the Premier Centre Sen Sok in Phnom Penh and the offline mega-event promises to showcase the leading property and real estate deals in Cambodia and essential home service discounts.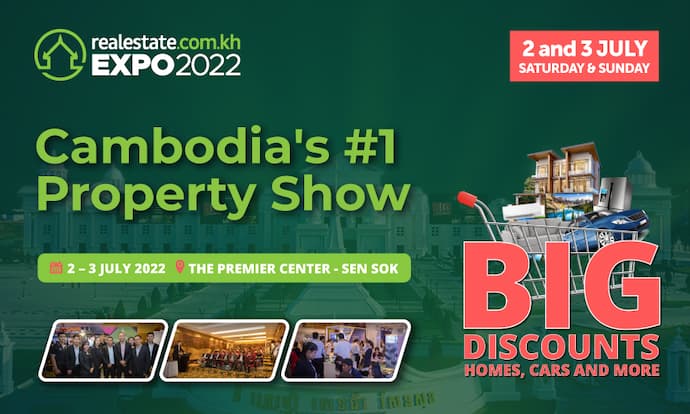 The Real Estate EXPO 2022 is organised by Realestate.com.kh and will promote real estate and related industries in the Kingdom while offering exclusive partner deals and essential related services to the growing Cambodian market – all in one place.
The Real Estate EXPO was conceived by Realestate.com.kh's founder Moek Chenda and the company's CEO Thomas O'Sullivan "with the vision of creating an event where buyers can secure some of the best deals in real estate, attend free property seminars and enjoy a great day out with the whole family by visiting some of the attractions such as the latest in property technology, car test drive areas, and kids entertainment zone."
CEO, Thomas O'Sullivan, said at the recent media event for the EXPO 2022 "We have not been able to do an offline event of this scale since our record-breaking events in 2019, whilst not surprising we have really been overwhelmed with the response from both exhibitors joining the expo, as well as very good signs from attendees with 5000+ people already signed up to attend the event."
"Ultimately, our goal is to give buyers and Cambodian families an opportunity to get the best deals in real estate of the year, and to create an experience where they can have a great day out together.
By adding attractions and activities such as seminars from the leaders in the property industry, kids play areas, cars, an extensive food & beverage and more allows us to not only put on the biggest and best property expo but to create a great day out for the whole family" said O'Sullivan.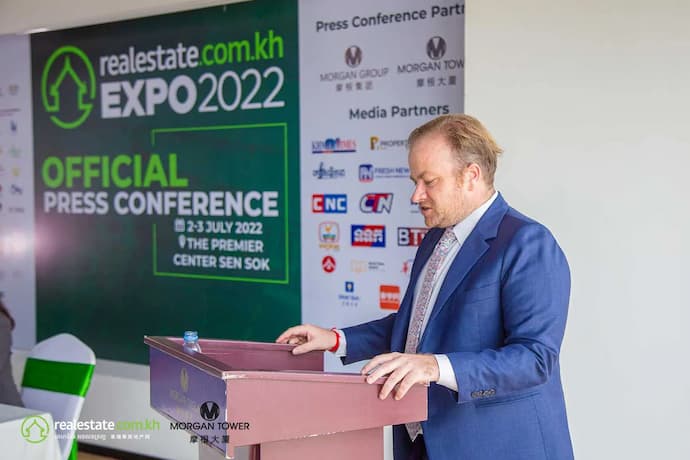 Who is confirmed to be at the EXPO 2022?
Some of the confirmed developments will be property developers and developments such as:
Orkide Development,
Prince Real Estate
Overseas Cambodia Investment Corporation (OCIC)
Morgan Group
Creed Group
Chip Mong Land
Borey The Flora
Golden Cambodia Century
Borey Kasen
Borey Bosba
Borey Arey Ksat
Coastal City
And many more!
"Realestate.com.kh's EXPO events have always drawn audiences from around the Kingdom and beyond, making the EXPO 2022 the perfect avenue for us to deliver the value of Orkide projects to home seekers," said Mr. Sopheaktra Krouch, Assistant COO of Orkide Development during the EXPO 2022 Press Conference.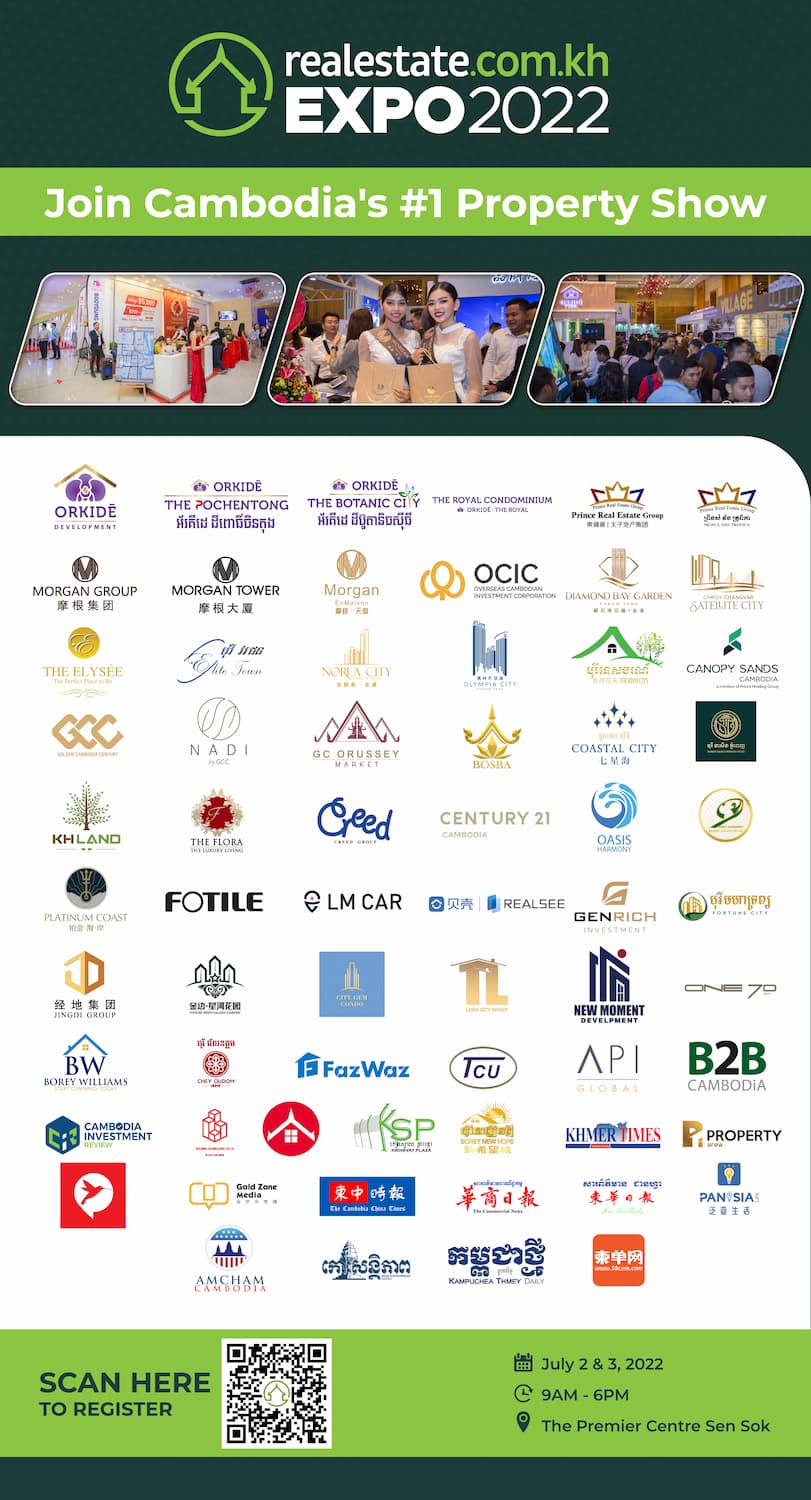 Property developers and exhibitors will be offering a variety of buyer incentives and huge discounts.
Leading real estate agencies in Cambodia will be attending:
CBRE Cambodia
Cambodia Properties Limited
GC Realty
Pointer Property
Property investment specialists Fazwaz Cambodia
What promotions are there for attendees?
Buyers are able to secure some of the best deals from the leading boreys, developers, and agents at the EXPO 2022.
In addition, Cambodia's leading banks and insurance companies will also be exhibiting and running special loan offers and coverage promotions the home and other property needs.
Attendees will also be entered into an exclusive EXPO 2022 draw to win some of the biggest prizes ever seen. Prizes include jewellery from Princess Alanka, watches from Watch Empire, sport equipment from Seara Sports Systems, movie tickets from Legend Cinema, appliances from Fotile &Mitsubishi and many more exciting prizes to be announced!
There will also be lucky buyer prizes (show-only) including property & cars!
When is the Realestate.com.kh EXPO 2022
The Real Estate EXPO 2022 will be held at the Premier Centre Sen Sok from July 2-3 2022 (Saturday and Sunday) from 9:00 am until 6:00 pm on both days.
The venue is located in the fast-urbanising district of Sen Sok and directly in front of AEON Mall 2 – the largest purpose-built shopping mall in Cambodia.
Stay tuned for more updates on realestate.com.kh and B2B Cambodia leading up to the event for announcements on even more exhibitors, attractions, activations, project launches, and exclusive seminar sessions.
B2B Cambodia is a proud sponsor of Realestate.com.kh EXPO 2022.
The event is completely free to attend – you can sign up for express entry to avoid the queues on the day.
Realestate.com.kh EXPO 2022 Major sponsors & key supporters
The Khmer Times, Cambodian Investment Management, Princess Alanka, B2B Cambodia, Watch Empire, Mitsubishi Heavy Industries, Panasialife, Gold Zone Media, Seara Sports Systems, Fotile, and LM Car.
Realestate.com.kh EXPO 2022 Exhibitors
Orkide Development: Orkide The Botanic City, Orkide The Pochentong, Orkide The Royal Condominium, Morgan Group: Morgan Tower, Morgan EnMaison, Overseas Cambodian Investment Corporation (OCIC), Chip Mong Land, Prince Real Estate Group, Creed Cambodia, Canopy Sands, Borey Kasen Phnom Penh, Borey Bosba, Borey Williams, Genrich Investment, Credit Bureau of Cambodia, Chroy Changva Satellite City, Norea City, Borey Heng Heang, The Elysee, Elite Town 3, Olympia City, Borey New Hope, Kien Svay Plaza, Tourism City, Diamond Bay Garden, Golden Cambodia Century (GCC): Borey Nadi, GC Orussey Market, Borey The Flora, KH Land, Platinum Coast, Golden Cambodia Realty, Phnom Penh Galaxy Garden, Coastal City, Century 21 Cambodia, Oasis Harmony, Golf Harmony, City Gem, Borey Lorn City, Fortune City, Borey Arey Ksat, Borey Chey Oudom, One 70, LM Car, Fotile, JTH Lawyers, API Global, TCU Polys Enterprise, Harvey Law Group, Beike Realsee, FazWaz, Buildmax International, Sathapana Bank, Cellcard, Yuan Dian Advertising Media
Realestate.com.kh EXPO 2022 Media partners
Khmer Times,  B2B Cambodia, AmCham, ADA, Cambodia Investment Review, Property Area Asia, Gold Zone Media, The Cambodia China Times, Thmey Thmey, Enjoy Cambodia, Business Cambodia, FreshNews, Koh Santepheap Daily, Kampuchea Thmey Daily, ThmeyThmey, CNC, BTV, PNN, Hang Meas, CTV, TVK, CTN, Jianhua daily, Cambodia China Times, PanasiaLife