Realestate.com.kh have confirmed the dates for the Cambodia Home & Lifestyle EXPO 2023. The biggest property and lifestyle show is set to take place from 12-13 August at the Koh Pich Exhibition Centre in the capital of Phnom Penh.
Cambodia's largest online classifieds portal has invited all to attend the Expo, which they say will see "Cambodia's leading experts gathered at the same time, at the same place". The Expo will showcase the finest properties, developers, banks, and insurance providers in Cambodia
The Koh Pich Exhibition Center will be the venue for the EXPO 2023 offering ample space, and easily accessible roads directly adjacent to AEON Mall Phnom Penh, one of the most popular shopping malls in the capital.
The Cambodia Home & Lifestyle EXPO 2023 is a standout on the industry's calendar of events, attracting a range of professionals as well as middle-class and wealthier property seekers, and surprise celebrity appearances!
The EXPO is ideal for Cambodians and foreign property investors.

What to Expect – The Cambodia Home & Lifestyle EXPO 2023
The EXPO is ideal for a first-time homebuyer, or if you are exploring an investment opportunity in the Kingdom.
Cambodian property developers such as Prince Real Estate Group, Morgan Group, Orkide Development, Dragon Land, Borey Bosba, Leedon Heights, KH Land, and many more will be at the will be at Realestate.com.kh's Home & Lifestyle EXPO 2023.
Some of the best property deals available in the market will be available from developers, and agents exclusively at the event.
In addition, the nation's leading banks and insurance companies will be running special loan offers and coverages for all property needs.
Attendees can expect the following over the course of the two-day event:
– Face-to-face meetings with property developers and agents
– Exclusive discounts and deals on properties
– Best deals from banks and insurance providers
– FREE goodies from leading lifestyle brands
Realestate.com.kh's Home & Lifestyle EXPO 2023 is family-friendly and engaging activities will be running as well as full range of food and beverages.
In 2022, the Real Estate EXPO 2022 recorded $30 million in sales and had 12,000+ attendees!
You can register to attend or book a booth to become an exhibitor now – Sign-up to gain express entry at the event as well as updates on who will be joining the Real Estate Home & Lifestyle EXPO 2023.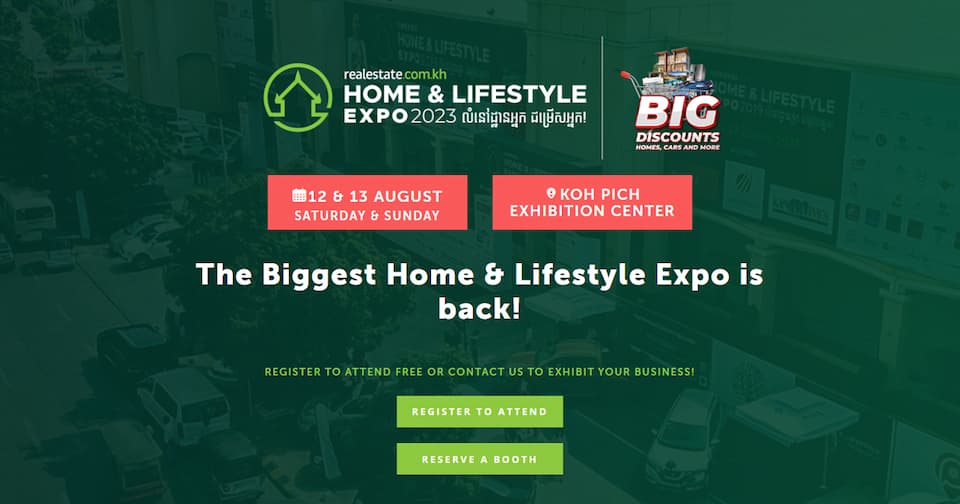 𝐑𝐞𝐚𝐥𝐞𝐬𝐭𝐚𝐭𝐞.𝐜𝐨𝐦.𝐤𝐡's 𝐄𝐱𝐜𝐥𝐮𝐬𝐢𝐯𝐞 𝐏𝐫𝐨𝐩𝐞𝐫𝐭𝐲 𝐒𝐡𝐨𝐰𝐜𝐚𝐬𝐞 – June 2023
From June 16-17, 2023 Realestate.com.kh will also be running an Exclusive Property Showcase with a curated selection of some of the most in-demand projects on the Cambodian property market.
There will be special offers and they say "the best under market value resale properties" available to those who register to attend – This exclusive Cambodian property event is limited to 100 people.
The participating projects and resale properties will be announced Tuesday 6th of June, 2023.