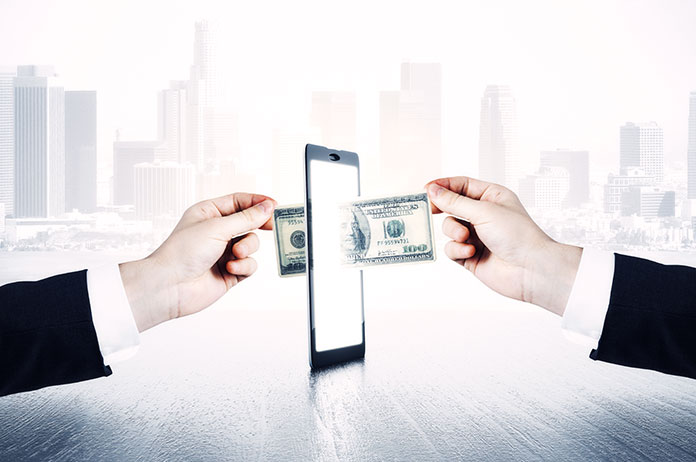 In place of formal bank accounts, many Cambodians rely on alternative payment systems to transfer money and pay utilities. Given that 94 percent of the population owns a cellphone, according to a December 2016 Asia Foundation/USAID study, and 80 percent lives in the countryside, it is easy to see how mobile banking has leapfrogged formal banking in the Kingdom.
Smart transfers
"We need to admit that there is a very slim number of people holding a bank account in Cambodia. Awareness, affordability, but also limited reach of banks and requirements such as minimum amount on an account are major barriers for 'normal people' to have bank accounts in Cambodia," says Thomas Hundt, CEO of Smart Axiata, Cambodia's largest mobile operator.
Smart offers a mobile wallet, SmartLuy, which allow subscribers to pay bills and transfer money using a simple keypad system – USSD code – that does not require the use of a smartphone, although an app is now available, SmartLuy App. Transactions can also be made over a Smart agent's mobile phone for subscribers without SmartLuy wallet and non-Smart subscribers. EDC payments are only 25 cents (for amounts up to $50), or 50 cents for amounts above $50. 
Hundt says that Smart is hoping to expand its payment system going forward. "The mobile money market offers significant opportunities ahead, especially around payments: internet payments and utility payments. The mobile money players so far in the market focus heavily on money transfer, especially on agents based over the counter. SmartLuy will focus on payments and will build its ecosystem around this," Hundt says.
Kiosk services
SmartLuy and others will have to contend, however, with highly popular WING, a mobile payment system launched by ANZ Bank in 2009 and now part of the Royal Group of Companies. Recognisable by its ubiquitous lime green and blue signs, WING has over a million users, but the majority of them are unsubscribed: the company told Reuters last year that they had 50,000 subscribers. The service can also be used to pay utility bills and transfer money between individuals using their cell phone number and a single-issue pin. Transactions cost $1.50 (6,000 riel) for amounts up to $500, and $2.50 up for amounts up to $1000.
ABA's smartphone disruption
Two Cambodian banks are hoping to shake up Cambodian mobile banking with their new full-scale smartphone apps. A year ago, ABA Bank officially released ABA Mobile, its new mobile banking app for iOS and Android. The app already has more than 20,000 active users who are enjoying many snazzy features and experiencing a new way of banking, says Zokhir Rasulov, Chief Marketing Officer at ABA Bank. It allows customers to check their account balance, make instant money transfers between accounts, pay bills and utilities. In addition, the app sends notifications when a transaction takes place.
The ABA Mobile app also offers cardless withdrawal, or "E-Cash" as the bank calls it, at ATMs. "Sometimes you may forget your wallet and card at home, and you run out of cash. If you have your phone and you are using our mobile app you can initiate the transaction of sending money from your account to any ABA Bank ATM or even you can send to someone else," explains Rasulov.
Clients can use their ABA Bank app to generate a one-time use PIN number, which is sent via SMS to their phone. It can also be sent to the phone of a friend or family for 50 cents (2,000 riel), and then used to withdraw a predetermined amount of cash from an ABA Bank ATM. The recipient, crucially, does not have to have a bank account with ABA Bank, but are able to withdraw money at an ABA ATM across the Kingdom.
Maybank goes cardless
Maybank launched a new mobile banking app last week, according to Cynthia Liaw, CEO of Maybank Cambodia, although it has provided customers with an online banking platform since 2012. This service allows Maybank customers to check their account balance, print statements, pay bills, and send wire transfers. The portal also allows businesses to process their payroll, receive direct debits, and perform other services.
One of the most exciting features available on Maybank's website is its cardless withdrawals system, which like the ABA-system, allows customers to send or withdraw money from an ATM using their mobile phone. Features focused on mobile phones like this are the future of mobile banking, according to Liaw. "The big opportunity in e-banking is mobile payments and transfers for micro-payments," she says.
Offering popular mobile banking features with the security and encryption of a full-scale app means ABA Bank and Maybank may present a real challenge for WING, SmartLuy and similar payment/transfer systems. However, both banks will be challenged by Cambodia's unbanked economic culture and will need to convince a new generation of customers of the advantages of having a bank account.