Boasting a strategic location in the heart of Siem Reap city, surrounded by multiple 5-star hotels and located only 10 minutes from the one and only world UNESCO heritage site, the Angkor Wat temple, Angkor Grace Residence and Wellness Resort is an upscale contemporary family-friendly haven in the vibrant city centre.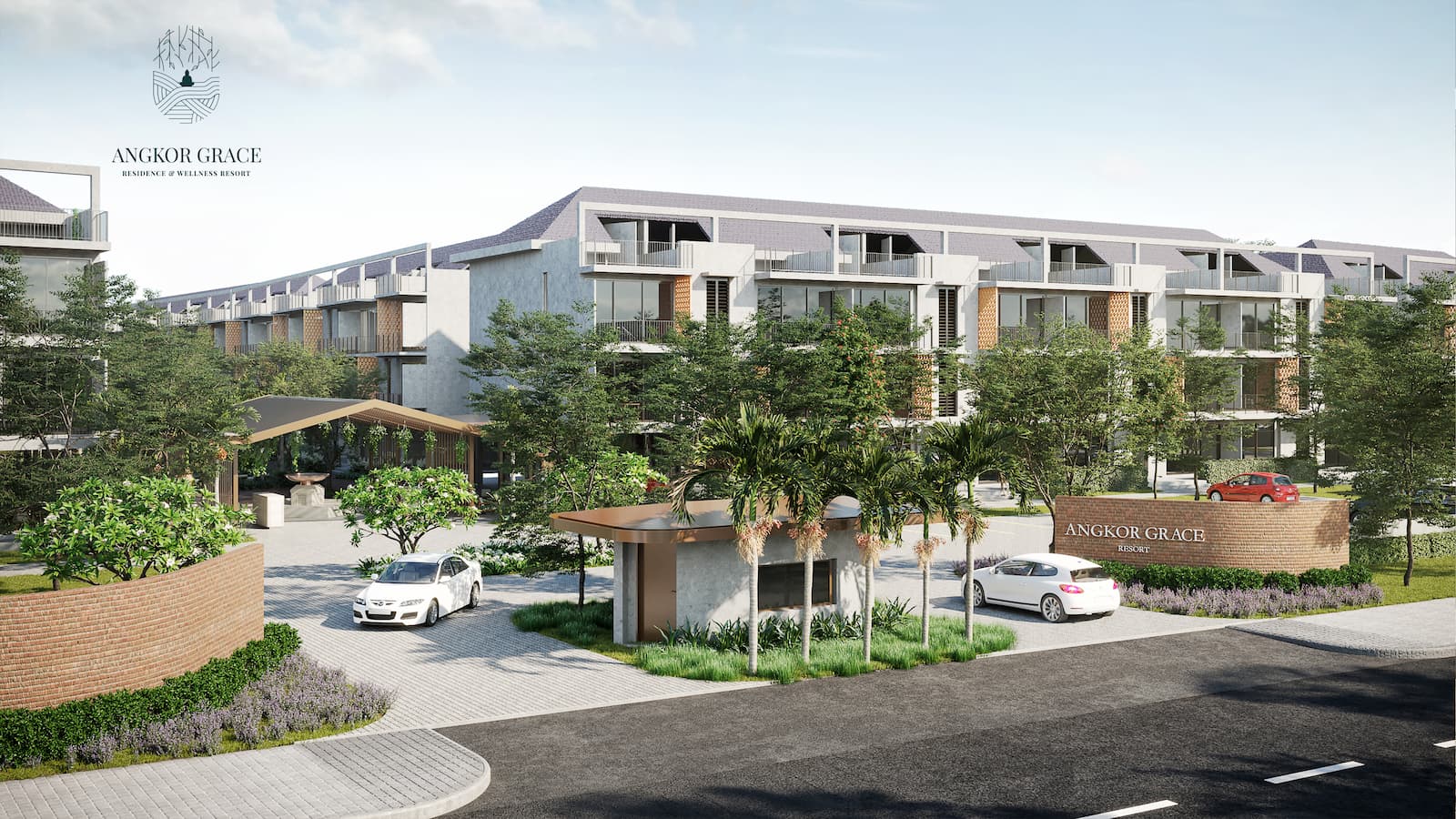 The project's eco-friendly architectural design fuses both Angkor heritage and contemporary design which is greatly inspired by the city it is situated in, Siem Reap, a city known for its status as a must-see destination in the world. Essentially, Angkor Grace Resort is a place to reconnect to the pace of nature while at the same time providing all the modern comfort and luxuries that make living a pleasure.
With the upcoming completion of the project, trust and comfort for investors and future tenants are fully guaranteed and secure. This is mostly attributed to the fact that the brainchild behind this eco-friendly project is none other than the same developers behind past successful and award-winning projects such as the 240 Phnom Penh and The Peninsula Private Residences.
The 240 Phnom Penh is a high-end condominium with complete adherence to the United States of America's safety guidelines and since its grand opening in 2016, the project has been widely recognized for having an active secondary market and for constantly providing its tenants high resale value, high occupancy rate and high rental yield. Nestled in the 240 Phnom Penh itself, is the heavily expatriate patronized Enso Café, offering contemporary Australian cuisine with superb hospitality service.
The Peninsula Private Residences, on the other hand, has made a name for itself when the project won 2 major awards at the 2019 Cambodia Asia Property Awards, namely, Best Interior Design and Best Architectural Design. With over 80% of the units sold to an array of multinational clientele, the Peninsula Private Residences boasts a unique blend of a private residence, varied facilities and hospitality-inspired services.
Offering a majestic view of the Mekong River and Tonle Sap River, and conveniently located just 5 minutes to the city's Central Business District, this family-friendly project is essentially the finest landmark at the gateway of Chroy Changvar district.
As 70% of the construction for the project has already been completed, utilising only the best materials such as Belgium imported windows glazing similar to the ones used in the 240 Phnom Penh, it is worth mentioning that Angkor Grace Resort is jointly produced by many reputable and esteemed parties.
With an impressive portfolio of past projects such as Siem Reap Airport, 5-star luxury hotel like Anantara Angkor Resort & Spa and 5-star resort such as Alila Villas in Koh Russey, BSN Construction Company, the company responsible for constructing Angkor Grace Resort is a local trusted construction and engineering company formed by a dynamic group of Cambodian businessmen building a reputation based on integrity and responsibility to provide the highest level of satisfaction in land development, commercial, civil and industrial construction.
As for the architectural design, Angkor Grace Resort sought the prowess of Bloom Architecture, a boutique architecture studio with branches based in Phnom Penh, Cambodia and Bangkok, Thailand. The studio's speciality is in combining its expertise in Khmer identity with proven international methods to create buildings that are innovative, inspirational and anchored in cultural heritage. Notably, Bloom Architecture provided its expertise to the luxury hotel, Amber Kampot and the iconic boutique hotel, FCC Angkor by Avani by perfectly combining their unique approach with a luxurious setting, inspired by Cambodia's ancient forests with a taste of modern minimalism.
With a competitive package comprising of a 10 years leaseback program with an annual return of 7% for the first 5 years and 8% for the next 5 years, Angkor Grace Resort also provides 14 days complimentary stay annually with full usage of the amenities by the project. This is especially beneficial to business travellers who visit Siem Reap multiple times in a year. Additionally, should a loan be necessary, interested buyers can opt for a loan arrangement of up to 80%. As the units are fully fitted, upgrading to a fully furnished unit will be possible with just an additional $10,000 comprising of high-quality furniture, international appliances and aesthetic interior design.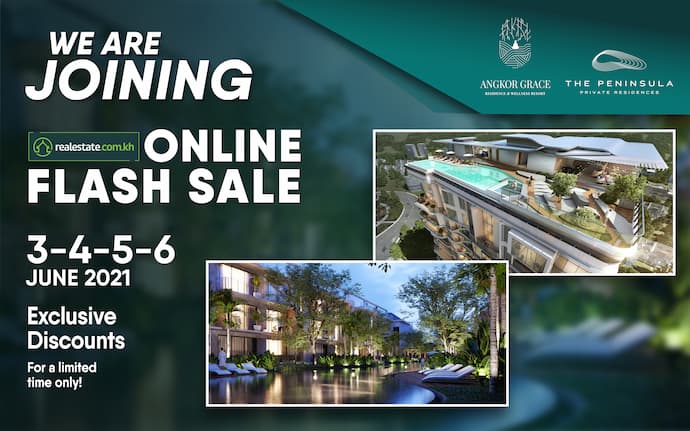 Last but not least, it is with our deepest pleasure to announce that Angkor Grace Resort and The Peninsula Private Residences, will be participating in the ONLINE FLASH SALE event organized by realestate.com.kh from the 3rd to the 6th of June 2021, offering exclusive discounts for a limited number of units only.
For those looking to own an affordable resort lifestyle or an investment with solid returns, find out more about the project by visiting the Facebook page or contacting +855 092 161 743.
This is supplied & sponsored content.