In March 2022, WeWatch signed an MoU with Cellcard in a boost to improve the regional content available from the Cambodian telco – which recently was named among the top 10 most improved global 274 telecom operators. B2B Cambodia spoke with WeWatch CEO and founder Sarah (Xiaohua) Wang to hear about the deal and why it is important for them to expand in the local market.
WeWatch & Cellcard MoU – Cambodia
As part of the agreement, Cellcard will be able to bolster its streaming entertainment portfolio in the Kingdom. The press release from the two companies confirmed that the duo had partnered "after a number of ad-hoc engagements between the two brands in the past year" and were instrumental in collecting relevant customer insights that will now drive upcoming initiatives.
Cellcard CEO Simon Perkins added "How our customers consume information and entertainment is drastically changing and the demands for content is growing at an accelerated pace. The partnership with WeWatch supports our intention of expanding and differentiating our content offering and providing our customers access to an extensive portfolio of content coming from world-class creators in the region.
With WeWatch's extensive portfolio of high-quality content, we aim to enhance our customers' viewing experience and raise the standards of video entertainment."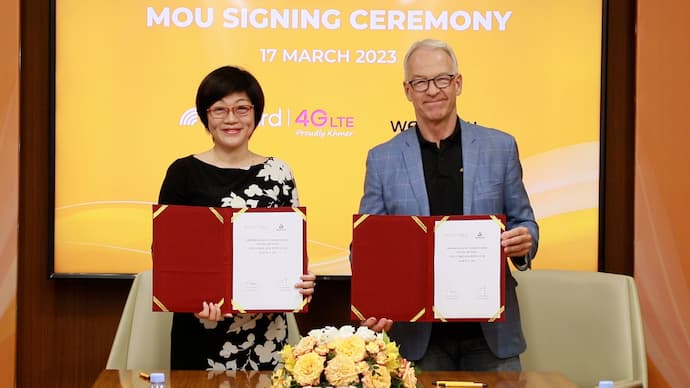 WeWatch will provide Cellcard subscribers with more content but also differentiated content through mobile devices. WeWatch CEO, Sarah Wang said "Working with Cellcard in the past has given us good insights into Cellcard's customers' entertainment needs. With our vast partnership and content portfolio, we are confident that we can supply Cellcard with a winning service that opens customers to a whole new world of high-quality content." 
Cellcard also signed on as the 32nd SEA GAMES and 12th ASEAN PARA GAMES' Exclusive Telecom Partner.
Cellcard won the Ookla Speedtest Award Report for Cambodia 2023 as Cambodia's Fastest Mobile Network.
WeWatch – What Will They Be Offering in Cambodia?
Watch the full video interview here
CEO and founder Sarah (Xiaohua) Wang told us that WeWatch is a next-generation TV service provider and the only Google TV partner in Cambodia. The platform consists of thousands of on-demand movies and series, as well as hundreds of exclusive games.
On why it was important to enter the partnership with Cellcard, she told us "Cellcard has a long history of delivering Cambodian focussed technologies and services. We are aligned with providing high-quality service and technologies to Cambodia."
The services are available on mobile devices and can be cast to TVs at home. WeWatch provides legitimate content from regional and international channels and for the first time will be offering channels such as CNN and Cartoon Network in Cambodia (legally). AXN, Anime Channels (Animax) and other entertainment channels are included, as well as many Asian channels popular among Cambodian viewers. International films will be offered with Khmer subtitles (or translated) too.
"We have seen that local users want high-quality and high-demand services. We are a tech-leading company and will continue to invest in tech and innovation – this is the foundation of providing sustainable services" said the CEO. Sarah Wang added they will also continue to look at other partners.
"Most important for WeWatch, is the localisation and to bring world-class entertainment to Cambodia. We also have developed local leadership and internship programmes with Cambodian universities as we want to support higher education."
Promotions for Cellcard and WeWatch will launch in April 2023.