Digital Asia: Crafting Responsive Trade Policies Conference 2021
09/09/2021 @ 3:00 pm

-

4:30 pm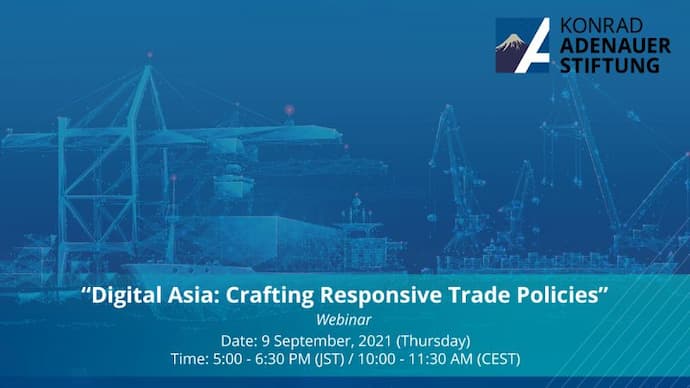 Digital Asia: Crafting Responsive Trade Policies conference 2021 has been organised by Konrad-Adenauer-Stiftung (KAS) and will take place on 9 September.
The online conference will present multi-perspective analyses on the developments of digital trade in the Asian region, and discuss multi-level (i.e., national, regional, multilateral) policy solutions to key issues and challenges.
The event organsiers said: "The exponential growth of the digital economy in Asia is driving large numbers of firms and consumers online. Digital ecosystems, regional platforms, 5G technology, digital financial services and payments are key trends that feature prominently in "new generation trade agreements" in Asia.
Trade agreements such as the Comprehensive and Progressive Trans-Pacific Partnership (CPTPP), the Regional Comprehensive Economic Partnership (RCEP), the Digital Economic Partnership Agreement (DEPA), among others, are trying to create a multilateral framework to tackle these critical issues. However, national governments in the region are still struggling to manage and regulate these trends. The results often lead to contentious issues, including inconsistent data policy, digital taxation and consumer protection rules.
Date: Thursday, 9 September 2021
Time: 5-6:30 PM JST/4-5:30 PM SGT/10-11:30 AM CEST
You can register here.