EuroCham Forum B2B ASEAN on Energy, Construction and Infrastructure
20/05/2021 @ 1:30 pm

-

5:30 pm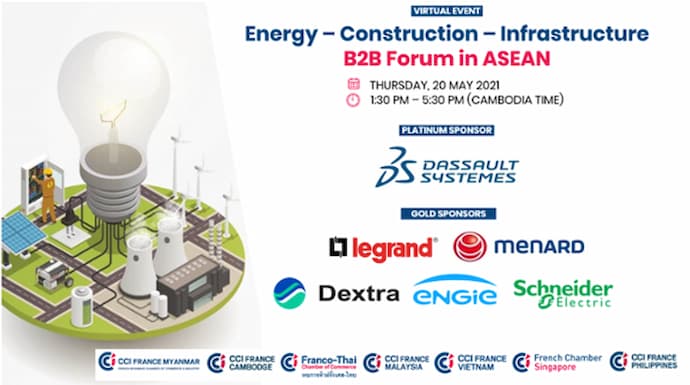 EuroCham presents the virtual "B2B Forum in ASEAN" focusing on Energy, Infrastructure and Construction. The online forum is hosted by the French chambers of commerce in ASEAN network (Singapore, Malaysia, Myanmar, Vietnam, Cambodia, Thailand, Philippines) on 20th May 2021 at 1:30 PM (Cambodia time).
The organisers say that "ASEAN presents a variety of needs in terms of infrastructure with Smart City solutions in supercities as well as basic infrastructure coverage needed in developing countries. With 650 million inhabitants, equivalent to 9% of the world's population, and a large young, urban and connected population, ASEAN attracts an increasing number of companies to respond to the needs of the public and private sectors investors in construction, equipment, distributors of components, engineering offices and architecture."
The forum will include a panel discussion on the topics and question the path ahead.
Interested participants can register here.