NICC Startup Technology Conference 2022
20/08/2022 @ 8:00 am

-

3:00 pm

The National Incubation Center of Cambodia (NICC) is hosting the Startup Technology Sharing Conference on August 20, 2022, at the RUPP Auditorium from 8:00 AM – 3:00 PM.
NICC was established for purpose of supporting Cambodian startups by providing training, Research and Technology Innovation, Information, and Communication and it aims to be a centre of excellence to incubate Cambodian young entrepreneurs to launch, grow and scale their businesses.
The Startup Technology Conference aims to promote ICT-related startups and provide them with an opportunity to show their products/services to prospective partners, clients, and investors.
Attendees will have a taste of the potential growth of the state of the Cambodian startup ecosystem in the ICT sector.
The keynote speaker has been confirmed as Mr. Thul Rithy, head of Selendra products.  and he will discuss the  Selena Blockchain and Blockchain adoption.
Keynote Speaker presentation Q & A Session with Participants: 9:45~10:45 AM & 2:00~3:00 PM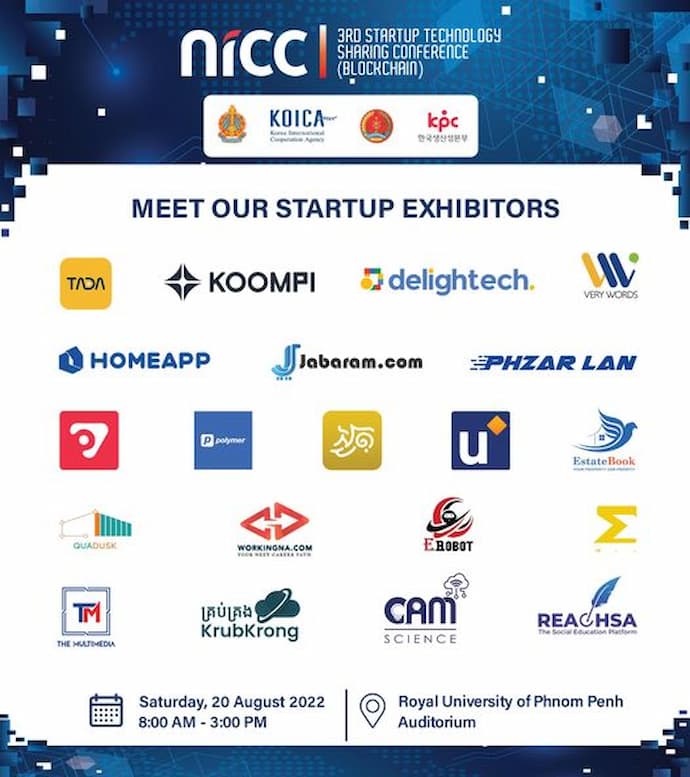 Benefits of participating in the conference:
Gain business and technology knowledge from the professional guest speakers
Learn about 20 new business startups.
Get an opportunity to build networks with startup-ers, investors, accelerators, and many other participants.
Attendees also have a chance to win prizes from a lucky draw
1st Grand Prize: 1 Samsung Galaxy Tab A8
2nd Grand Prize: 2 Samsung Galaxy Watch 4 BT
Starbucks Vouchers and Cosmetics Rewards
The registration form needs to be completed online.