The Sustainable Building Seminar 2023 – Cambodia
September 5 @ 8:30 am

-

1:30 pm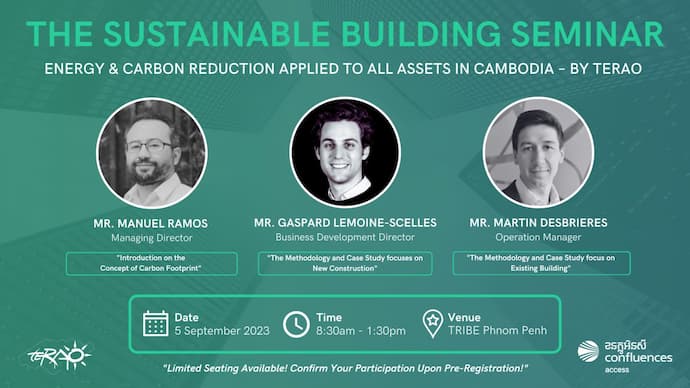 The Sustainable Building Seminar will be held on September 5th, 2023 in Phnom Penh to discuss how companies make their facilities more sustainable and reduce their environmental footprint in the context of Cambodia.
The event will be hosted by TERAO Asia, and experts will discuss sustainability, compliance and the economic and social benefits for companies.
Topics such as climatic conditions, access to technologies, the energy market, and financing will all be in the spotlight.
The event organisers say "Sustainability is a growing concern for governments, corporations, and the civil society. Leading economies in Asia such as Cambodia have announced ambitious carbon neutrality targets and Climate Change action plans. At the corporate level, more and more corporations – large companies as well as SMEs – have strengthened their corporate social responsibility guidelines by setting up clear improvement goals towards sustainability.
 Cambodia – The Sustainable Building Seminar 2023 Agenda
8:30 – 9:00 – Registration & Welcoming
9:00 – 10:15 – Presentations:
Introduction to the 'Concept of Carbon Footprint' by Mr. Manuel Ramos
– 'Cambodian Sustainability Context' by (External Speaker)
– 'The Methodology and Case Study Focus on New Construction' – by Mr. Gaspard Lemoine-Scelles
10:15  – 10:45 – Round table with 3 guests
10:45  – 11:15 – Coffee break
11:15  – 12:00 – Presentation – 'The Methodology and case study focus on Existing Building' – by Mr. Martin Desbrieres