ABC's Exceptional Pledge Campaign raised $100K to support People In Need and support Cambodia's economic recovery.
Over six weeks, beginning 15 November 2021, ABC called on Cambodians to make an exceptional pledge to practice COVID-19 safety behaviours. These safety behaviours constitute a critical element to curb COVID-19 and support economic recovery.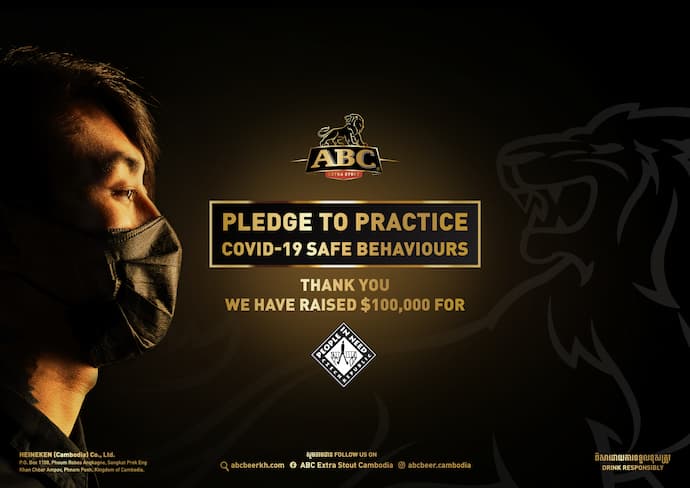 For every pledge made, $1 was donated to People in Need (PIN), an international organisation based in the Czech Republic with humanitarian aid operations in over 30 countries, including Cambodia. The campaign reached its goal of $100,000 thanks to the support of our fellow Cambodians nationwide.
"We are happy to see people coming together to support ABC's Exceptional Pledge campaign and PIN. COVID-19 has had an adverse impact on many, and with this initiative, we hope to help people and businesses bounce back. It is important to remember that we pledged to practice COVID-19 safe behaviours. This is still crucial as we continue to navigate and recover from this pandemic together," said Loic de Laubriere, Marketing Director of HEINEKEN Cambodia.
A large portion of the funds raised will be directed to PIN's Technical and Vocational Education (TVET) program in Cambodia, which helps create employment opportunities for marginalised citizens and improve their standards of living. PIN will also channel the funds to support small and medium-sized enterprises in the Kingdom as they look to recover from the pandemic-induced economic slowdown.
"This campaign is an excellent initiative that showcases a successful partnership for a good cause by bringing different stakeholders together to promote COVID-19 safe behaviours and to support Cambodia's economic recovery," said PIN's Country Director, Lukas Laube.
This press release was supplied.