The Asian Development Bank (ADP) expects Cambodia's economy to grow by 5.3 per cent in 2022 and 6.5 per cent in 2023, it announced at its April Asia-Pacific Development Outlook 2022.
Cambodian economic growth 2022-2023
The ADB forecasts strong merchandise exports and foreign direct investment inflows, which will help the Cambodian economy grow.
"Cambodia's growth rebounded to an estimated 3 per cent in 2021 after a contraction of 3.1 per cent in 2020. The government has implemented policies to mitigate the negative impact of COVID-19 on businesses and people's incomes and to support economic recovery. Widespread vaccination against COVID-19 has enabled the country to reopen its borders for trade and tourism, leading to positive economic prospects for this year and 2023," said ADB acting country director Anthony Gill.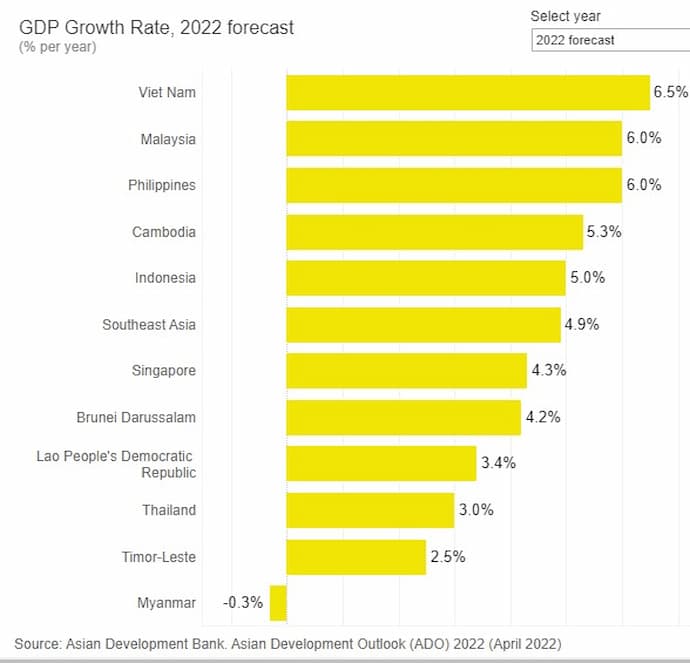 Industry output is expected to grow by 8.1 per cent in 2022 and 9.1 per cent in 2023, underpinned by the implementation of the Garments, Footwear, and Travel Goods Development Strategy to raise competitiveness in this segment.
Goods and services exports are forecast to grow in 2022 and 2023 on strong external demand for Cambodian products supported and the recovery of the tourism sector.
In addition, the report said: "The economy rebounded faster than expected in 2021 due mainly to a strong recovery in light manufacturing. The current account deficit widened as the imbalance in goods trade rose, but the deficit is expected to narrow this year and next. Growth will accelerate in 2022 and 2023 as economic activity continues to pick up and return to normal. The main policy challenge is sustaining the rapid increase in light manufacturing in areas other than garments for a more resilient and diversified economy."
The ADB is implementing $2.3 billion of investment projects in Cambodia currently and ADB's lending pipeline for 2022–2025 includes $1.44 billion of concessional lending and $37 million in grants to support the Kingdom's economic development and recovery from the COVID-19 pandemic.
The Phnom Penh Post added that Royal Academy of Cambodia economic researcher Ky Sereyvath forecasts Cambodia's economy might "grow slower" than ADB's projection and predicts GDP growth at around 3 per cent.
Asian Economic Growth – ADO 2022
At the launch of the ADB Asia-Pacific Development Outlook 2022 (ADO 2022), they suggested the GDP growth in developing Asia is expected to stay strong, at 5.2% in 2022 and 5.3% in 2023.
In general, they forecast regional growth will be supported by a "robust recovery in domestic demand in economies that are continuing to catch up with their pre-pandemic trend, particularly in South Asia."
Regional growth in South Asia is predicted to be as follows:
2022 – 7.0% South Asia
2023 – 7.4% South Asia
2022 – 4.7% East Asia
2023 – 4.5% East Asia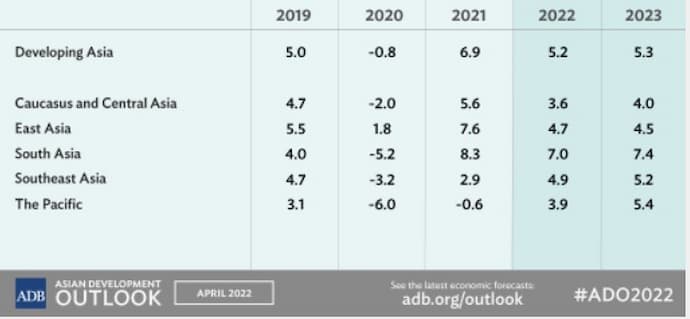 Growth rates in the other subregions are expected to return to their pre-pandemic averages either in 2022 or 2023.