A number of financial reports have been released for the Kingdom of Cambodia for the first half of 2020. We review the latest data from the NBC on taxes, trade and more.
National Bank of Cambodia (NBC)
The Phnom Penh Post reported that the NBC said in its semi-annual report: "the Kingdom's economic growth stagnated in the first half (of 2020) amid the COVID-19 blows to the global economy and forecast that gross domestic product (GDP) would contract 1.9 per cent this year."
This week, the National Bank of Cambodia (NBC) reported that "financial leasing credit has increased 42.6 per cent to around $330.3 million with 110,479 accounts in the first half of 2020" reports the Khmer Times.
The total assets in the financial leasing sector increased to 40.5% reaching a total of $398.4 million. The main source of funds of the leasing credit providers was from investors funds, which increased up to 33.8 per cent to reach $125.5 million.
NBC also said that the Cambodian banking system is "stable because the banking and finance institutions have developed. Capital and liquidity in banking and MFIs are at a good level."
In the first half of 2020 in Cambodia:
Total assets of the Cambodian banking and financial institutions increased by 17.4 per cent to $54.1 billion.
Cambodian credit increased 19.6 per cent to $34.4 billion.
Deposits increased by $30.5 billion.
The Cambodian tourism sector was the worst affected of all major economic sectors in 2020.
The Cambodian manufacturing sector shrunk by 11 per cent year-on-year.
The export manufacturing industry dropped 12.5 per cent between Jan-June 2020.
Cambodian agricultural output increased by 21.7 per cent year-on-year.
Freshwater and seawater fisheries yield decreased.
Fish and shrimp production in aquaculture farms saw "huge gains".
National Bank of Cambodia (NBC) governor Chea Chanto said: "Cambodia's economy is expected to grow negatively in 2020, at the lowest rate since 1995."
Cambodia Tax Collection 2020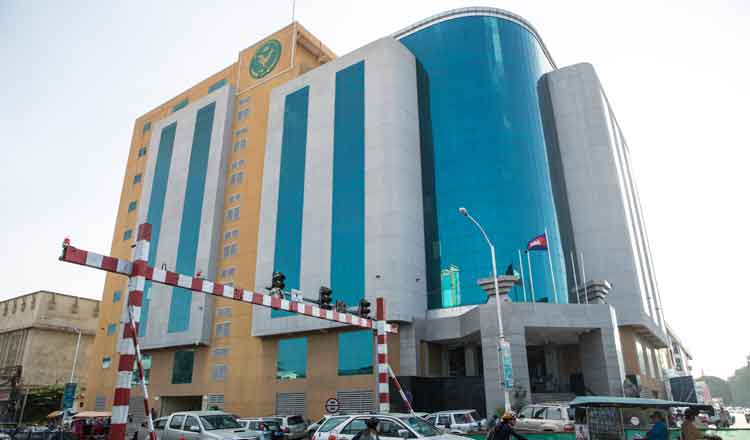 The Cambodian General Department of Taxation (GDT) collected 6,820.48 billion Riels (approximately USD $1,684 million) in tax revenue in the first half of 2020. This represents a 12% increase compared to the same period in 2019.
According to a press release, the increase in tax revenue derived from two main sources:
Value Added Tax (VAT) increased by 4.8% to 1,385.06 billion Riel ($336 million).
Income Tax increased by 23% to 2,710.18 billion Riel ($657 million).
This year the GDT aims to introduce key measures such as "strengthening the management of tax returns, reinforcing the implementation of management and control, and enhancing its e-filing system."
In addition, the GDT will:
Improve tax collection practices.
Strengthen audits.
Enhance the implementation of the collection of property taxes, unused land taxes and road taxes.
Improve the handling of companies' requests to temporary suspend or resume business activities.
The Cambodian Government has targeted to collect 11,543 billion Riel ($2,885 million) in tax revenue in 2020. The total collected in 2019 was $2,819 million.
The Cambodian Withholding Tax Rates (WHT) were also updated for 2020.
Cambodia's garment exports January – June 2020
Cambodia exported garment products (which include clothes, footwear, and travel goods) with a total value of $3.78 billion between January and June 2020. This represents a decrease of 5.4% compared to the same period in 2019.
In a further breakdown, the garment exports were down 10%, while footwear (2%) and travel goods (8%) increased in exports.
The data was released by Heng Sour, Spokesperson of the Ministry of Labour and Vocational Training. The ministry of labour said as of June 2020, 450 factories suspended production in the garment, footwear and travelling bag sector, and 83 factories were formally closed.
Ken Loo, secretary-general of the Garment Manufacturers Association in Cambodia (GMAC), said "the general decline was because of the suspension of factories and fewer purchasing orders" according to a report in Fibre2Fashion.com
In 2019, Cambodia exported a total of $9.3 billion worth of garment products, footwear and travel goods according to the Ministry of Industry, Science, Technology, and Innovation.
Cambodian consumer inflation rate 2020
Cambodia recorded a consumer inflation rate of 2.5% in the first half of 2020. This was due to the slow rise in food prices, slipping petrol rates and stabilisation of local currency against the US dollar, the NBC said.
In the first half of 2020, Cambodia saw:
Increase in prices for foodstuffs of 4%.
Petrol-related goods and services saw a 3.5% decrease.
The NBC predicts that inflation will remain at 2.5 per cent for the remainder of 2020 in Cambodia.