Cambodia increased its total solar-power generation to 150MW (megawatts) after a 60 MW solar farm owned by SchneiTec Renewable Co Ltd. was added to the national grid.
The Kingdom's third solar power station came online on the 10th April 2020 in Kampong Chhnang province, according to Electricite du Cambodge (EDC) and confirmed by the Ministry of Mines and Energy spokesman and Director-General, Victor Jona.
The solar farm is owned by a SchneiTec Renewable Co Ltd which is a joint venture of Chinese and local Cambodian companies. The solar farm is located in Toek Phos district after SchneiTec Renewable Co Ltd was awarded a contract by the Cambodian government on a "build-own-operate" (BOO) basis.
EDC has agreed to purchase the power generated by the station under a long-term agreement with the consumer tariff price yet to be set, reports the Khmer Times.
Cambodia's Solar Power Plants
Apart from the Kampong Chhnang plant, Cambodia has two other operational PV parks (photovoltaic power stations) in 2020 with capacities of 10 MW and 80 MW, respectively.
The first operational solar power station is located in Svay Rieng province and generates 10 mW of power to the national grid. The Singaporean company Sunseap controls this PV park.
The second solar power plant 80 MW facility, is a collaboration between JinkoSolar and SchneiTec, and is located in Kampong Speu province. The protect allegedly involved the production of more than $58 million worth of 60-megawatt solar-panels and is located on 200ha adjacent to National Road 51, in Kampong Speu' s Oudong district.
In 2019, the Royal Cambodian government gave the approval for the construction of four solar power plants to generate a total of 140 mW to the national grid. In late 2019, Keo Ratanak, director-general of Electricity Authority of Cambodia (EDC), said the Cambodian government was planning to increase investments in solar energy investment by 12% in 2019, and by 20% over the next three years (until 2022).
The fourth and final plant under the agreement is underway and is a 60 MW project, also based in Kampong Chhnang province. Thai-based private equity firm Prime Road Alternative Company Ltd has the contract for this fourth plant.
Victor Jona said, "We expect that the four solar facilities will be generating power to the grid by early 2021."
German companies had also shown an interest in Cambodia's clean energy sector following a conference on solar power held in Phnom Penh in 2019. The Cambodian government had unveiled a goal of having 20 per cent of locally-produced energy come from solar farms.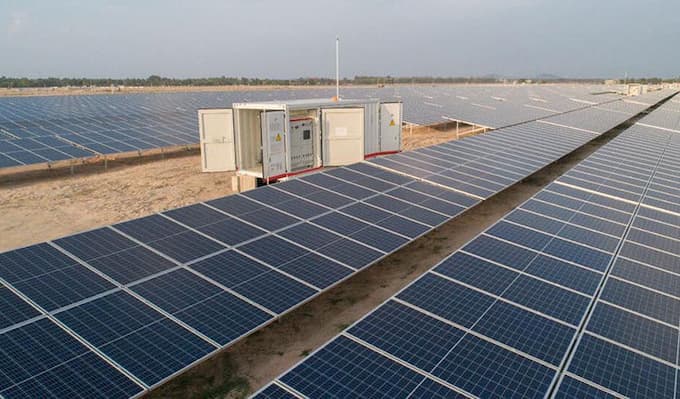 Cambodia's Energy Output
In 2018, Cambodia's total energy output equalled 2,175 MW. The breakdown was as follows:
Hydropower accounted for 1,330 MW, or about 62%.
Fossil fuels-based generation accounted for 780 MW, or about 36%.
In late 2018, according to the Phnom Penh Post, the Cambodian government laid out the goal for all villages in Cambodia to have access to electricity by 2020, and for at least 90 per cent of households nationwide to be connected to the grid by 2030.
In an effort to meet the growing demand for electricity, Cambodia approved the new PV projects, with a goal of avoiding blackouts during the annual dry season (November-May).