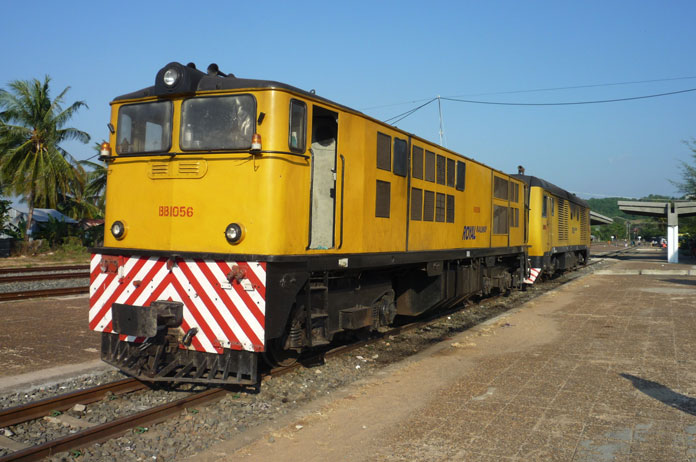 Nearly a month after the Royal Group and two major China-based railway engineering companies signed a joint venture agreement to upgrade the rail system, the parties met Public Works and Transport Minister Sun Chanthol to discuss investment opportunities.
Lu Peng, chairman of China Railway Construction Corporation (CRCC) expressed his company's commitment to engage in helping Cambodia develop its public works and transport sector. The other Chinese company is Sino Great Wall International Engineering.
Chanthol suggested Lu work with the Royal Group on a feasibility study on ways to improve the railways and to submit their proposal after the studies. He noted the important role infrastructure connectivity played in hastening economic growth.
Ministry undersecretary of state Ly Borin said CRCC and Royal Group representatives told the minister that after signing an agreement at Beijing, the companies were planning to build a new national rail system and rehabilitate the old lines.
"Currently, the Chinese companies and Cambodian counterpart have yet to submit to us the study proposal and exact date for their study on the new national rail system," said Borin. "They will develop, but to what extent we don't know," he added. 
On May 17, an agreement was reached by the Royal Group and the Chinese companies. The joint venture will refurbish the rail link from Phnom Penh to the Thai border and upgrade the rail expressway from Phnom Penh to Sihanoukville. There will be new lines from Phnom Penh to Siem Reap and from Phnom Penh to the Vietnam border.
Cambodia has a rail service from Phnom Penh to Preah Sihanouk province under the control of Toll Royal Railway, a private company in the Royal Group. "We hope in the agreement between Royal Group and their Chinese counterparts they will rehabilitate the lines and increase the rail speed to about 80 to 100km/h," added Borin.