Cambodia has maintained its position as the leading bicycle exporter to the EU (European Union), with more than 1.5 million global bicycles exported by the end of the third quarter of 2020 from the Kingdom.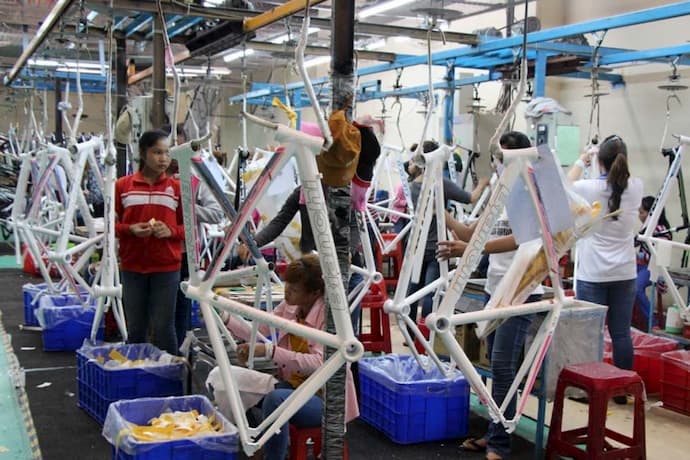 Bicycle Exports buoyed by COVID-19
The range of of 'lockdowns' worldwide has increased demand for bicycles as people are restricted in what they can do, especially with gyms being shut.
The need and desire for exercise have spurred global bicycle sales in 2020 as people seek ways to stay active and healthy as well as avoiding public transport in some countries, due to the pandemic.
The Khmer Times incorrectly reported that the sales in 2020 propelled Cambodia as the number one exporter of bicycles to the EU, but the SEA nation has been a frontrunner since 2017.
In total Cambodia exports to 28 countries in the European Union. The total top bicycle exports from Cambodia up to Q3 2020 were:
United States: 500,000
Germany: 360,000
United Kingdom: 270,000
Belgium: 150,000
A World Bank report confirmed the Kingdom's position as the leading exporter of bicycles to the EU market.
By mid-2020, Cambodian bicycle exports totalled $241.7 million. Thus far (end of Q3 2020) the exports have generated USD $400 million in revenue.
In previous years the total bicycle exports reached $412.5 million in 2019 and $331 million in 2018.
Cambodia is the leading EU bicycle exporter
In 2017, Cambodia became the largest bicycle supplier to the European Union (EU). There are a number of bicycle manufacturers in Cambodia, in particular from Taiwan and the USA:
Trek Bicycle
Ken International
Atlantic Cycle
Smart Tech
Worldtec Cycles
Bicycles were not among the products affected by the partial withdrawal of the EU's Everything But Arms trade deal in 2020. This exempts the bicycle manufacturer shipments from the EU's 14% import duty, but they do still pay duties of 6% for electric bicycles.
However, in 2019, the Cambodian Ministry of Commerce said bicycles manufactured in the Kingdom of Cambodia would need to comprise of a minimum of 40 per cent local components to qualify for duty-free status in the EU.