After many years of delays and speculation, the Thailand – Cambodia ASEAN freight Rail Link finally opened for cargo services on the 26th of July 2023.
Royal Railway Cambodia, part of The Royal Group of Companies, oversaw a ceremony which was attended by dignitaries from Thailand and Cambodia to launch the cargo rail link which is hoped to expand to passenger services in the future and link up with the greater ASEAN rail network planned as part of the China Belt & Road project.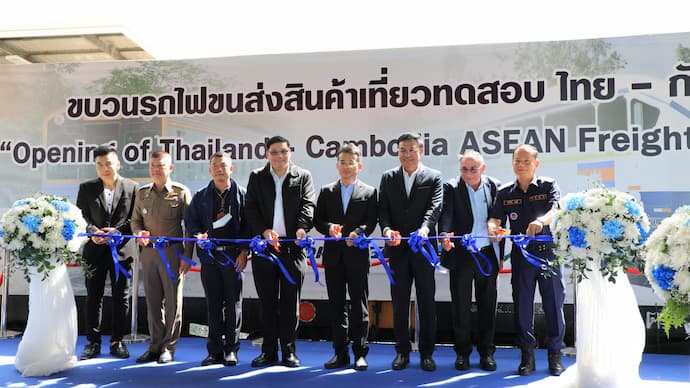 In 2022, the Chinese government again urged for a rail link between Phnom Penh, Bangkok and Vientiane, Laos, from which a high-speed rail link has already been constructed into China.
The newly opened Thai-Cambodia railway link is a collaboration between Royal Railway Plc and Thai firm Global Multimodal Logistics Co Ltd.
The launch saw the Map Ta Phut Port at Klong Luek border railway station, Sa Kaeo Province, finally connected to the Poipet station which is already connected to Phnom Penh and all the way to Sihanoukville.
From a regional and Cambodian perspective, this means that the SAP which is the largest port in the Kingdom could see cargo transport into the region and vice versa. The rail link could increase the efficiency of freight transport and logistics networks in the region.
According to information on the Cambodia Trains & Railways FB group, which offers excellent updates on the carriages, rail lines and passenger services active in Cambodia, the first successful freight train from Cambodia to Thailand and back, an SRT loco hauled the trial freight train which travelled from Maptapud to Phnom Penh with the return completed and the Klong Leuk & Poipet Station Masters handing over the return of SRT wagons at Klong Leuk Station.
Although this is a start, Vasim Sorya, Under-Secretary of State and Spokesman of the Ministry of Public Works and Transport (MPWT) told the Khmer Times that the rail link would proceed on a case-by-case basis, and the operation is still in a trial mode.
Rail Network – Cambodia
The current passenger rail network allows customers to travel from Poipet to Phnom Penh and south past Takeo, Kampot and Sihanoukville.
There have been many conceptual and discussed expansions of the domestic train network to link with regional lines and hubs (such as Vietnam and Thailand) and studies have also been conducted on urban transit rails as well as light rail networks to connect the new airports under development in Siem Reap and in Phnom Penh.