The Cambodia Young Entrepreneur Awards 2022 has started accepting applications starting and will do so until the 16th of September 2022.
The CYE Awards launched its first ever initiative in 2015 under the cooperation between the Young Entrepreneur Association of Cambodia (YEAC) and Junior Chamber International (JCI Cambodia).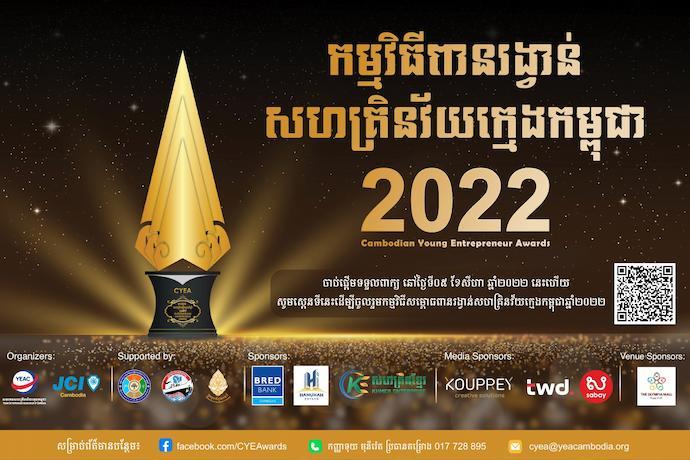 The Cambodia Young Entrepreneur Award aims to "promote entrepreneurship in Cambodia by acknowledging and giving recognition to the most inspiring entrepreneur as well as leveraging and supporting young entrepreneurs in Cambodia on the international stage."
The Young Entrepreneurs Association of Cambodia and Junior Chamber International Cambodia is under the presidency of Mrs Tekreth Kamrang, Secretary of State at the Ministry of Commerce who said that this platform aims to share knowledge, and experience, and expand the network between entrepreneurs.
Mrs Tekreth Kamrang also highlighted the Cambodia Digital Economy and Society Policy 2021-2035 which hopes to diversify Cambodia's businesses to local, regional and international markets.
The organisers encourage all small and medium enterprises (SME) to apply online and more details on the selection criteria can be seen here.
There will be 5 awards given to five different entrepreneurs, including:
Outstanding entrepreneur award: Most outstanding and creative innovations, achievements and inspiration to other entrepreneurs who are looking for role models to follow.
Women entrepreneur award: Aimes at the younger female entrepreneur who runs her business with exceptional creativity, innovations achievements and inspires other young women to lead the business.
Social entrepreneur award: For younger entrepreneurs who have a sustainable business that solves the social problem and has a major impact on improving a social issue.
Information technology entrepreneur award: For young entrepreneurs who are creative, innovative, developing or applying high-tech solutions to inspire and influence other entrepreneurs in the business arena.
Inclusive Business Readiness Award: The Inclusive Business Readiness Award is for a business that fulfils the most IB Readiness Assessment criteria to apply for official IB Accreditation.