The ability to apply for the E-Type Visa, which is primarily aimed at short-term travellers to Cambodia, has been made available for online application from all countries which should help inbound tourism and make it more accessible. 
The E-Type Visa has a 3-month validity and 30-day allowable stay and during the pandemic was only applicable online for countries with a Cambodian embassy or consulate within their territories so it limited the number of visitors who could access the visa.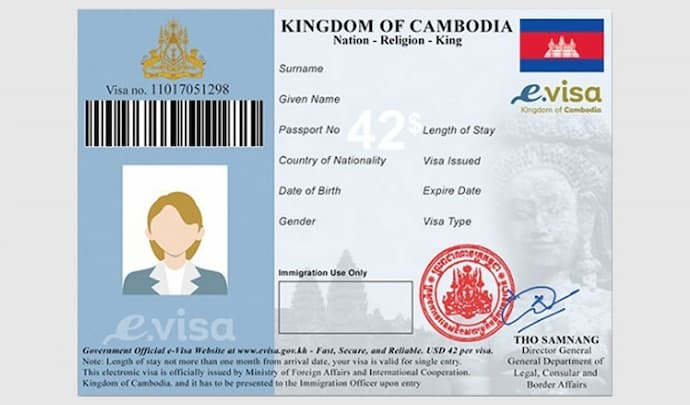 How much is the Cambodian E-Type Tourist Visa in 2023?
The website says the single tourist entry visa can be paid for online using leading credit cards or WeChat and takes up to three days to process. The online fee for the E-Type Visa is USD $35 + a $7 processing fee.
Although this visa is slightly more expensive than a visa on arrival at the airport, in the past it has been favoured to cut down on waiting times on arrival and also save space in a passport as it won't take a full page, as once the application is approved, the e-Visa certificate will be emailed or it can be downloaded from the website.
What is required for an E-Type Visa?
Applicants will require the following to apply for the Cambodian E-Type Visa online:
Supporting documents such as a letter of invitation, letter of employment, letter of sponsorship, letter of Labour contract, investment project, or patent certificate.
Applicant's passport must be valid for six months or more at the time of entry into Cambodia
Recent passport-size photo in digital format (JPEG or PNG format)
Valid means of payment such as a credit card.

Health Insurance * not marked as a mandatory field
Cambodian Tourism 2023
The Cambodian government plans to implement the 'Year of Cambodia 2023' which is expected to attract at least four million international tourists and about 15 million domestic tourists claim the ministries via the Khmer Times. The SEA Games is one of the key attractions this year.
China's resumption of outbound tourism and its change in COVID policy in January 2023 should have a big impact on visitors to the Kingdom in 2023.
Tourism Minister Thong Khon anticipates 4.6 million air passengers will arrive in Cambodia in 2023, with Chinese visitors expected to make up one million of the total estimate.
Cambodia Airports saw passenger traffic increase to 2.4 million passengers in 2022 as of the end of 2022, there were 27 international airlines with flights in and out of the Kingdom.
Phnom Penh airport received 1.97 million passengers in 2022, followed by Siem Reap with 372,000, and Sihanoukville with 39,000.
Cambodia expects the tourism sector to generate approximately USD $4 billion in 2023.