The latest edition of the International Living's 2021 Annual Global Retirement Index ranks Cambodia as one of the most affordable destinations to retire and one of the best countries to retire overall.
International Living executive editor Jennifer Stevens said: "While people consider a retirement overseas for lots of reasons: the adventure, the chance to explore a new place and maybe learn a new language, the travel opportunities, and so on — the idea of lowering their cost of living while improving their quality of life plays an outsized role for many."
"Even before the pandemic, most people had not saved enough for retirement. The extensive job loss we're seeing is going to exacerbate that situation further. But a move to one of the best-value destinations overseas— even if it's merely for a year or two—can dramatically lower retirees' everyday costs, lowering stress levels, too."
Cambodia and neighbouring Vietnam were the two top-ranked countries in the Mekong region on the latest list.
What were the criteria for the Annual Global Retirement Index?
The core criteria for selecting the cheapest destination is based on a USD $1,800 budget for a couple.
Factors that are included are: Housing, Benefits & Discounts, Visas & Residence, Fitting In/Entertainment, Development, Climate, Healthcare, Governance, Opportunity and Cost of Living.
International Living says" The Retirement Index is the most comprehensive and in-depth survey of its kind. It's the best way we know of to sift through the wealth of opportunity the world offers, bring some order, and help you pinpoint the best destination for you.
Our index is informed by hundreds of opinions and real-life experiences—information—compiled by our trusted sources in the best retirement destinations across the globe. We think of it as a tool for you, our reader. A way for you to quickly compare and contrast your best options and begin to narrow down your choices."
Five countries with the best cost of living category
Vietnam
Sri Lanka
Bolivia
Cambodia
Ecuador
TTR Weekly said of Cambodia "Resident expatriates can get by on as little as USD $1,355 a month living in the main cities and towns of Cambodia. It's possible to understand how when a housekeeper charges USD $35 a month to come in once a week and a cell phone bill might come to less than USD $10 a month for unlimited calls, messages, and internet.
Prices for apartments with western amenities in the heart of Phnom Penh start at less than USD $300 per month; spend around USD $600, and you'll be living in a comfortable, middle-class place with all the conveniences you need and maybe a few extras, too".
You can find out more about Buying a retirement property in Cambodia here.
Overall Annual Global Retirement Index 2021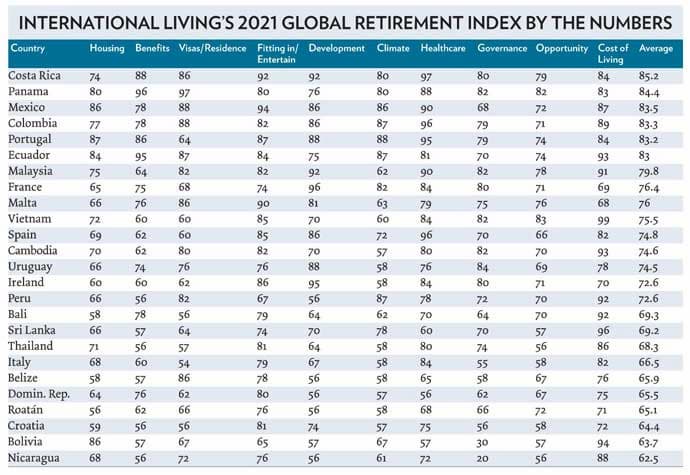 In the overall global ranking, Costa Rice was placed #1 with a score of 85.2 and Cambodia came #12 with 74.6
Costa Rica
Panama
Mexico
Columbia
Portugal
Ecuador
Malaysia
France
Malta
Vietnam
Spain
Cambodia
You can see the latest trends in property sale and rental prices on Realestate.com.kh
Retirement Visas in Cambodia
In mid-2020, the Cambodian ministry working group was drafting a new law on immigration to manage foreigners in the SEA country. The introduction of the FPCS also better tracks foreigner data in the Kingdom.
Up until 2020 when the COVID-19 pandemic hit, a Retirement Visa (ER) required absolutely no documentation from the retiree. However, if immigration officials catch an ER holder working in Cambodia, considerable fines and potentially jail time and deportation are to be imposed.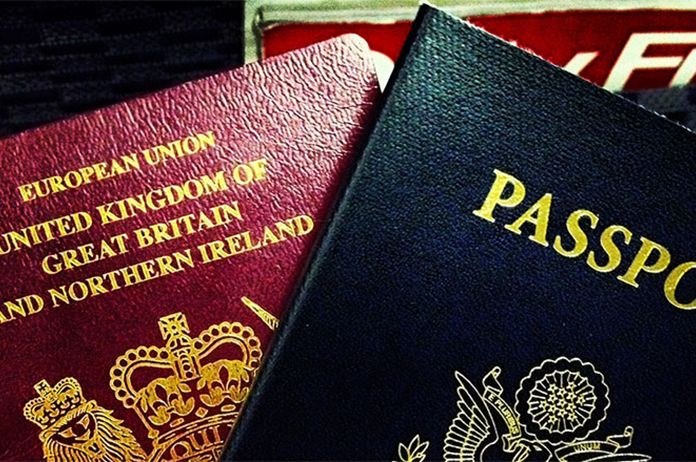 In Thailand, for example, the government issued almost 80,000 retirement visas in 2018. Foreigners seeking retired visas must show a deposit of 800,000 (USD$25,000) baht in a Thai bank or have a monthly income of 65,000 baht (USD$2,000).
Those kinds of requirements for retirees don't exist in Cambodia in 2021.
We advise you to follow the Ministry of Foreign Affairs' website for updates on conditions of entry to Cambodia. Alternatively, join the Cambodia Visa and Work Permit Group which is run by volunteer expats in Cambodia but is a great resource.