Three hundred and fifty Cambodian women have graduated from the "Business Network Strengthening program" which is funded by the United States Agency for International Development's (USAID) Women Entrepreneurs Act (WE Act) Project, and implemented by Support Her Enterprise (SHE) Investments. 
The project supports young women entrepreneurs in Phnom Penh, Siem Reap, Kampong Cham, Kampot, and Battambang to grow their micro-sized businesses. 
Most women own micro-businesses in Cambodia, and female entrepreneurs face many challenges in running their businesses but the lack of financing sources is the top issue.
SHE said that through the knowledge they have developed, they plan to introduce a component to engage more of the team in the entrepreneur's journey by volunteering as technical experts. With the WE Act project, they claim to be the first gender-focused and culturally-tailored entrepreneurship support organisation for Khmer women.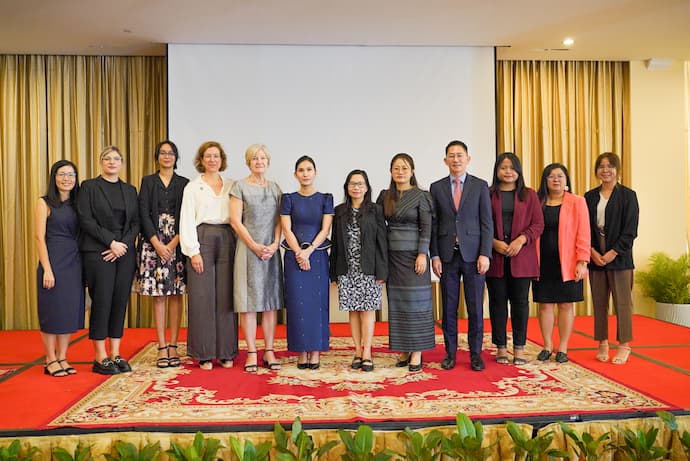 "We are proud to have supported a large number of young women entrepreneurs through our WE Act program and SHE Investments," said Ms. Rebecca Black, USAID/Cambodia Acting Mission Director. 
"Women entrepreneurs play a vital role in enriching the civic and political life of democratic societies not only by owning and growing their businesses but also by working together through business associations to influence policy."
More than 160 young women entrepreneurs, representatives from NGO partners, the Ministries of Women Affairs and Economy and Finance, and the National Bank of Cambodia attended the graduation event in September 2022. 
Her Excellency Koung Sorita, Undersecretary of State of the Ministry of Women Affairs, and Ms. Rebecca Black handed certificates to the successful graduates. 
The Business Network Strengthening program for Young Women Entrepreneurs is a three-year project implemented by SHE Investments with financial support from USAID through the WE Act Project, managed by Pact Cambodia. 
Through the program there were 113 Incubator Program Graduates, 171 FL graduates, 66 COVID19 recovery mini-grants graduates and SHE Investments organised:
6 incubators

10 Financial literacy programs

2 mini-grants 
"The young women entrepreneurs who participated in this project have built a greater sense of confidence and ownership of their businesses in what has been an extremely difficult time due to the impact of COVID-19," said Ms. Keisha Gani, Acting Country Manager and Head of Operation at SHE Investments. 
The training, networking events, and other resources provided to them throughout this project will not only strengthen this community of women who continue to grow their business, but also lead to social, economic, and environmental impact." 
Women-owned MSMEs (WMSMEs) are defined in terms of access to finance and the condition that women entrepreneurs who own a micro-business can seek financial support or investment without discrimination. In addition, they need collateral support and a low-interest rate from banks and financial institutions to allow them to scale up their business and maintain its operation during difficult financial problems.
The Women Entrepreneurs Act (WE Act) project has been funded by USAID since August 2018 to empower young women entrepreneurs to fulfil their full potential as entrepreneurs and succeed in their business and constructively participate in society.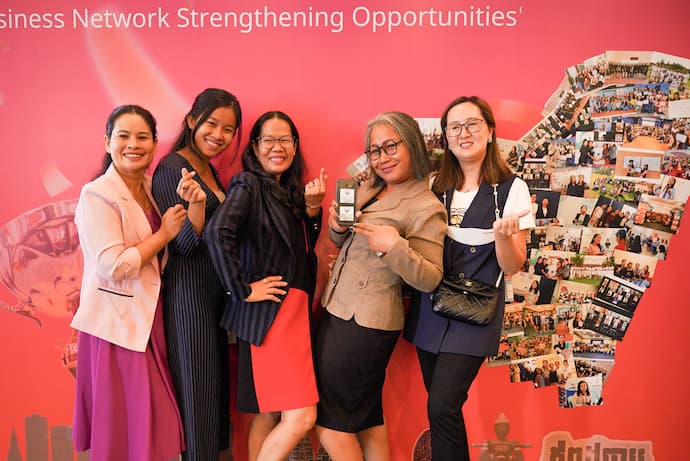 SHE Investments – Cambodia

SHE supports women micro-small entrepreneurs to "scale their businesses through Cambodia's first and only gender-focused and culturally tailored business incubator and accelerator programs." 
The organisation has doubled in team size over three years and has supported more than 600 female entrepreneurs. They also presented a preview of their strategic plan for 2023-25 as SHE towards its 10-year anniversary. Some of their key goals are:
Break down the barriers to finance – Mobilise USD $1m

to women's businesses 

Unlock digital potential – 100% of SHE graduates have integrated technology into their business