The Asian Development Bank (ADB) has revised down the expected GDP for the Kingdom of Cambodia and expects the SEA nation to reach 1.9 per cent in 2021.
Previously, the ADP had in April 2021, anticipated a 4 per cent growth in Cambodia this year, but the ongoing impact of the pandemic forced them to decrease the growth forecast.
The Phnom Penh Post reported that ADB country director for Cambodia Sunniya Durrani-Jamal said "the lockdown and temporary shutdown of factories affected production in the garment, travel products and footwear sectors earlier this year, adding that the lingering epidemic is affecting local services and demand."
Although Cambodia has had an effective vaccination campaign, with no positive change to inbound tourism, which remains one of the key economic pillars in the Kingdom, the GDP will see less growth.
Jamal added that "Further reforms are also needed to attract investment in high-quality infrastructure, including digital infrastructure. Reforms to improve the performance of public functions are also fundamental to improving the country's international competitiveness" reported the PP Post.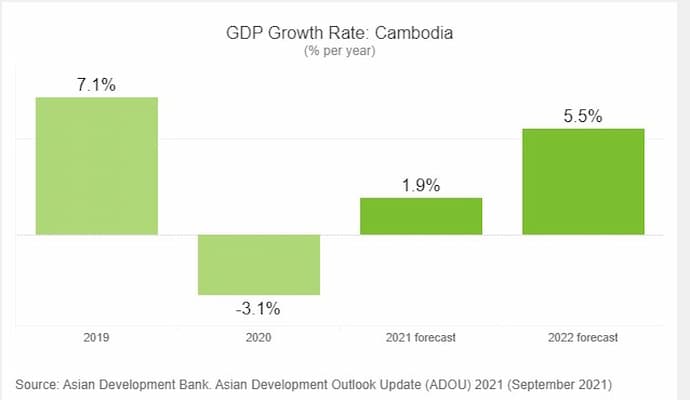 ADB 2021 Predictions: Cambodia
The agricultural sector is expected to grow by 1.5 per cent.
The services sector is anticipated to decline by 0.6 per cent
Industrial growth is projected at 5.3 per cent
A 2.9 percent rate of inflation is expected
In the week of September 20th, Cambodian Prime Minister Hun Sen announced the government expected a 2.5 per cent growth outlook for 2021.
The ADB does expect Cambodia to achieve a 5.5 per cent GDP in 2022 while inflation will be 2.7 per cent.
SEA GDP Expectations
The ADB said that the economic growth in Southeast Asia is beginning to lag behind other parts of the region due to the struggles with outbreaks of the COVID-19, the sluggish rollout of COVID-19 vaccines as well as ongoing lockdowns and restrictions.
"Southeast Asia will recover at a much slower pace than earlier projected," resulting in lower than expected growth rates in nine out of the subregion's 11 economies. The report added that only three of Southeast Asia's 11 nations – Singapore, Cambodia, and Malaysia had so far vaccinated a greater proportion of their populations than the United States (51.8 per cent of the population) and the European Union (58 per cent). Six SEA nations have only fully vaccinated less than a third of the population.
The predictions for the entire Southeast-Asia region has been forecast as 3.1 per cent in 2021 by the ADB, while growth is expected to reach 5.0 per cent in 2022.
The GDP of the 46 nations the ADB terms "developing Asia" is projected to reach 7.1 per cent in 2021.