Cathay Pacific announced that it intends to add more than 200 pairs of passenger flights in October 2022 to both regional and long-haul destinations as the Hong Kong government has removed the hotel quarantine arrangement for passengers arriving in HK.
Although travellers into Hong Kong will still face some COVID-enforced measures they are now notably relaxed and the airline said these "adjustments will help boost sentiment for travel, thereby facilitating the gradual resumption of travel activities and strengthening of network connectivity to, from and through the Hong Kong aviation hub."
Cathay Pacific will resume daily flights to Tokyo (Haneda) from 1 November and four-times-weekly flights to Sapporo from 1 December. They will also increase flight frequencies to Tokyo (Narita) to 43 pairs and Osaka to 50 pairs in October.
In Europe, the airline is increasing services to Paris and Frankfurt from twice-weekly to three times a week next month. Paris will see four Cathay flights touch down weekly by December 2022.
Seoul-Incheon flights will increase up from four times weekly in November to six times a week in December 2022.
Singapore – HK will see daily flights by the end of 2022 compared to four times weekly in October.
The Hong Kong–Jakarta route will be daily as soon as October.
By December 2022, Ho Chi Minh City and Hanoi will be served six and four times per week, respectively, up from four- and three-times-weekly the previous month.
There were no reported increases for the Hong Kong to Phnom Peng route which is twice fortnightly on Sunday. Pre-COVID there were more regular flights, also on the carrier's budget airline Cathay Dragon which went bust during the pandemic.
The airline added, "While we will continue to add back more flights as quickly as is feasible, it will take time to rebuild our capacity gradually."
Hong Kong Entry Regulations – 26 September 2022
According to the SCMP "Under the new "0+3" arrangements which took effect from September 26 2022, travellers from overseas no longer undergo three days of hotel quarantine.
This is replaced by three days of medical surveillance, with travellers staying in their own homes or hotel of their choice."
Arrivals will only need to conduct a rapid antigen test (RAT) within 24 hours before boarding their flight, replacing the existing PCR screening requirement.
Upon arrival at the airport, visitors will undergo a PCR test and be allowed to head home or to a hotel via any kind of transport before results are released.
Those with a negative PCR result will receive an amber code for the next three days, which will prohibit them from entering places that require vaccine pass checks, such as restaurants, gyms, nightclubs, swimming pools, beauty parlours and salons.
Travellers will need to conduct a daily RAT until Day 7 – the eighth day of arrival – in addition to PCR tests on days 2, 4 and 6. The PCR tests can be conducted at community screening centres, mobile specimen collection stations or by testing firms recognised by the authorities. After obtaining a negative PCR result from the Day 2 test on the morning of Day 3, the medical surveillance period will end.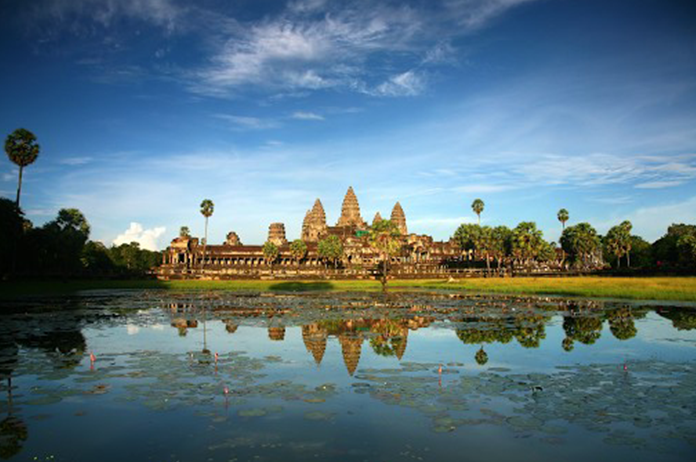 Cambodian Tourism Numbers 2022
The
Phnom Penh Airport
passed the 1-million passenger mark reached in September 2022. The airport CEO Cyril Girot "praised the teams for their dedication, contributing to the collective effort of reconnecting Cambodia to the world after more than 2 challenging years due to COVID-19 impacts."
This week Prime Minister Hun Sen said in a statement to the World Tourism Day 2022 that the Kingdom expects to receive about 1.5-2 million international tourists in 2022 and about seven million in 2026.
The past Pchum Ben long holiday weekend is claimed by the Ministry of Tourism to have seen more than 1.2 million Cambodians visit tourist destinations – of which 14,000 were international visitors.
The upcoming Water Festival has been cancelled in the capital.