CCI France Cambodge organised and hosted the Cocktail de Gala des Affaires France-Cambodge and presented awards to new businesses and activities in the Kingdom.
The gala event and awards were held at the Rosewood Hotel in the capital of Phnom Penh on Friday 11th February 2021, with 220 guests attending. CCI France Cambodge President, Soreasmey Ke Bin, said the occasion "remains a must-see event for our Franco-Cambodian business community."
Ke Bin also congratulated the winners of the France Cambodia Business Grand Prix and all of the participating companies.
Among the award winners was Yekowave who picked up the "French Cambodia Business Award" in the "New Business or Activity" category. The company said on their Facebook page "Yekowave has been a great success since November 2020 and we are still committed to developing further projects for the sporty Community in Cambodia, such as:
Launching the men's collection and a new women's line
Developing new products ranges with more innovative materials
Further sports events organization to make Yekomunity happier and bigger
Promoting sustainability and eco-friendly behaviours with our Green Station's partners:
Developing locally-made eco-friendly fabrics with local raw materials
Expanding Yekowave globally and internationally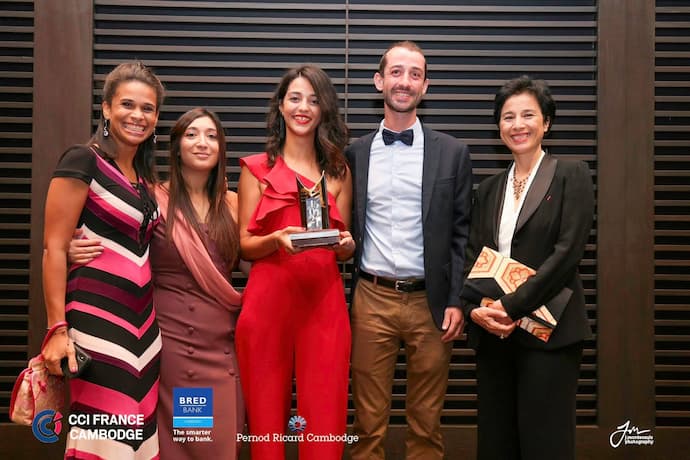 EcoBatt Energy Solutions and WAT Chocolate, both based in Siem Reap, were also recognised for their successful and promising businesses.
Fair Farms was the winner in the "Corporate Social Responsibility" category while Eau Kulen and Mulberry Hotel were also recognised for their CSR activities in the Kingdom.
In attendance at the event were His Excellency Mr Sok Chenda, Minister attached to the Prime Minister and Secretary-General of the Council for the Development of Cambodia (CDC) and the French Ambassador to Cambodia, Eva Nguyen Binh.