One of Cambodia's leading telecommunications and mobile service providers, Cellcard, met with Cambodian government officials last week to show off its 5G readiness. Cellcard plans to roll out the super-fast 5G services in Cambodia in 2020.
On the 28th February 2020, government officials toured the Cellcard (CamGSM Co Ltd) facilities, also witnessing a 5G demonstration, with 5G tests reaching speeds of 1.6GBps on the Cellcard site.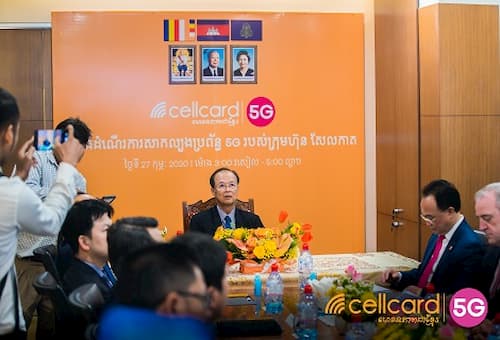 Cambodia and 5G networks
His Excellency Tram Iv Tek, Minister of Posts and Telecommunications (MPTC) and a delegation of Senior Ministry Officials including, HE. Sarak Khan, Secretary of State, HE. Sok Puthivuth, Secretary of State, HE. Chea Manith, Secretary of State and Director of the Minister's Cabinet, HE. Moa Chakrya, Chairman of the Telecommunications Regulator of Cambodia were part of the delegation.
"I am very impressed with how far Cellcard has come in their 5G planning in support of the Government's initiative Digital Economy.," H.E Tram Iv Tek said. "5G will be a giant leap forward in advancing the Cambodian economy and we must be ready to embrace the technology and ensure it drives economic development and enrichment of our local industries and people's lives."
Iv Tek said Cambodia has 16.7 million mobile internet users and 215,000 fixed broadband connections. Globally, 5G is expected to increase operator revenues by about 36 per cent by 2026, and 5G mobile connections will rise to more than 2.7 billion worldwide.
Cellcard Chairman Oknha Kith Meng said "It's an exciting new chapter for Cellcard and indeed for Cambodia as we realise the Royal Group's vision for a fully digitalised Cambodia. As the Proudly Khmer Cambodian-owned operator, Cellcard is very excited and our entire team takes its role seriously in contributing to Cambodia's future with such purpose and meaning."
Cellcard rolled out its 4G LTE network services in 2017.
What is 5G?
5G is the fifth-generation wireless technology for digital cellular networks and 5G actual speeds can reach 1–2 Gbit/s. Some nations started rolling out the first 5G networks in 2019. South Korea and the US lay claims to being the first to offer 5G.
Cellcard awarded the fastest network in Cambodia
Earlier this week, on March 3rd 2020, Cellcard was recognised as Cambodia's Fastest Mobile Network 2019. It marks the 3rd year in a row they have won the award from Ookla.
Ookla monitors Internet performances globally and awards the fastest mobile networks in each country based on their speed test reports. On their website, Ookla said "Cellcard is Cambodia's Speedtest Awards Winner for mobile network speed during Q3-Q4 2019. To win this award, Cellcard achieved a Speed Score of 14.92, with average download speeds of 16.31 Mbps and average upload speeds of 14.32 Mbps."
Cellcard partners with Electroneum
The Cambodian telco also announced in 2020 that it partnered with Electroneum (ETN) and is the "first Mobile Network Operator in the world to offer the service where customers simply download the Electroneum App and generate ETN Rewards on their mobile phone."
Electroneum Ltd (ETN) native token is the world's first cryptocurrency compliant with Know Your Customer (KYC) and Anti-money Laundering (AML) regulations.