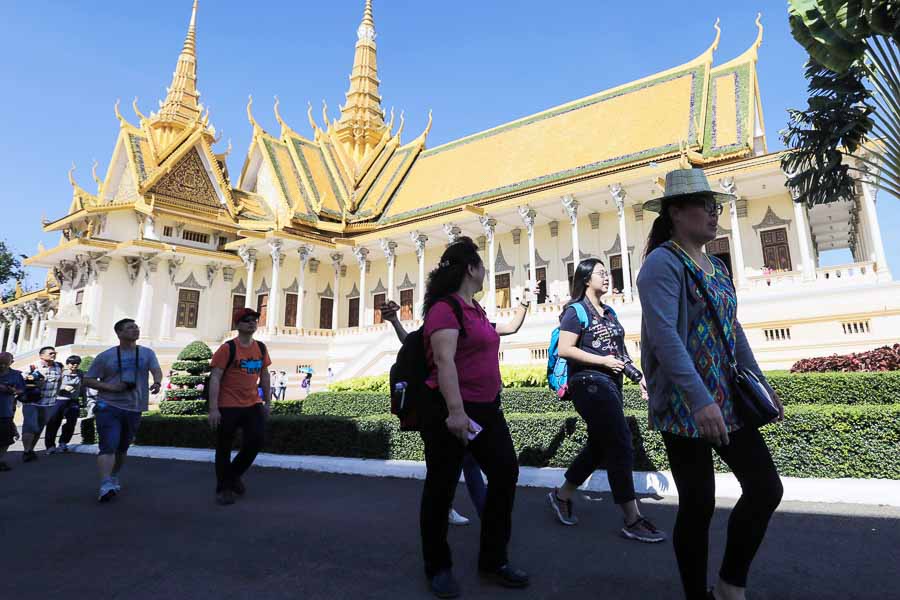 China plans to establish a comprehensive tourism development plan for Siem Reap province, home of the famed Angkor archeological park.
In a meeting with Cambodian Tourism Minister Thong Khon on Thursday, Zhang Xilong, deputy head of the China National Tourism Administration, said Chinese expertise would be an asset to Cambodian tourism officials in setting up the plan. "Chinese tourism experts will be sent to work with Cambodia's Tourism Ministry's officials to prepare the plan because China has wide experience in working in world heritage sites in the country," Zhang said.
Khon said a comprehensive plan was needed to ensure that any tourism development in the Angkor temple area and its surroundings follows the "Clean and Green" basic rules. The ministry said the plan was in response to the increase in tourists to the Angkor archeological park every year.
Zhang said also that China would share its experiences of bringing tourism up to industry standards and developing the sector in rural areas. The plan to help Cambodian tourism was drawn up as the Cambodian government sets a target of 7 million tourists by 2020. It is also aiming for 1 million Chinese tourists by 2017, up to 2 million by 2020.
In speech at the "Beauty China" campaign held in Phnom Penh on Wednesday, which aimed to attract Cambodian tourists to visit China, Khon said that the Chinese are Cambodia's biggest tourists by number. In the first five months of this year, 440,000 Chinese tourists visited Cambodia, a 35 percent year-on-year increase. Last year, Cambodia recorded around 900,000 Chinese tourist arrivals.
Khon said that under the China-backed Belt and Road initiative, boosting the development of tourism in countries along the old Silk Road, including the Asian hinterland and Cambodia, would be enhanced. The Angkor Archeological Park earned $52 million in its entrance pass sales in the first half of 2017, with sales to 1,233,137 foreign tourists.