The Digital Cambodia by 2025 event is being held in Phnom Penh on 24th May 2022 with industry professionals from fintech, telcos and the banking and financial services sectors. The event is organised by Mitra Innovation and WSO2.
Digital Cambodia by 2025 will include a series of workshops and presentations at the Hyatt Regency Phnom Penh.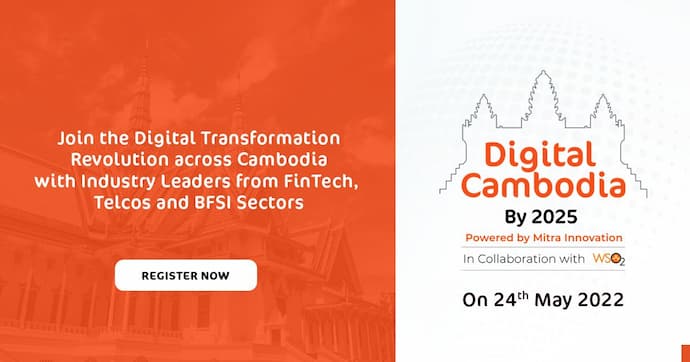 Chinthi Weerasinghe, CEO of Mitra Innovation said "Digital transformation goes beyond digitalisation by creating a comprehensive change to a company's business strategy.
A company might implement an isolated project as a digitalization effort, but if that project has digital transformation as its goal, it will create change across all departments… and perhaps impact a whole nation."
The main goals of Digital Cambodia by 2025 are:
Showcasing the power of digital transformation
Explore systems integration, software agility and API management solutions
Share insights from industry leaders on business transformation and growth
The event also has a strong sales feel to showcase the products from the organisers which are also reflected in the day's itinerary.
In the afternoon there are presentations from some leading Cambodian firms in the digital space. They will present on topics including:
Soksophay Lim – CIO, Cellcard – Cellcard's Digital Transformation Vision
Manu Ranjan – CEO, Wing Money – Wing Money's Digital Transformation Vision
Panel Discussion on Digital Transformation – The Challenges, Opportunities and Lessons Learnt – Thilina Herath, Soksophay Lim, Manu Ranjanm, Lim Chin Wan – Chief Technology Officer at RHB Bank Cambodia.
Both Cellcard and Wing Money are part of The Royal Group Cambodia.