The feasibility study on a promising fisheries-conservation project that will be financed by the European Union has been finished, and will now be presented to European lawmakers for approval, according to the Ministry of Agriculture.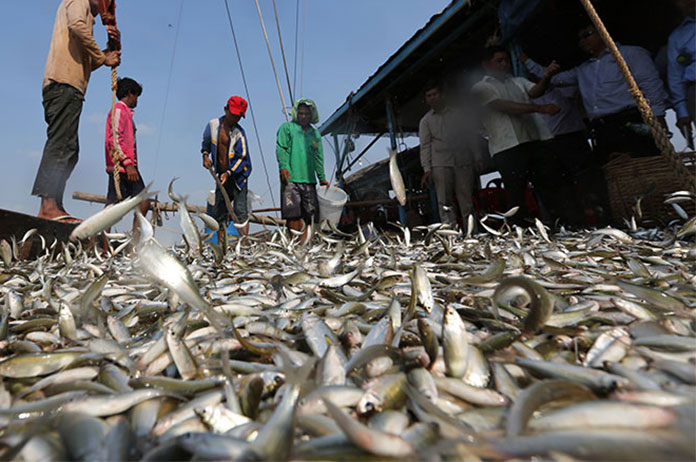 The study assesses the potential impact of the 'Cambodia Programme for Sustainable and Inclusive Growth in the Fisheries Sector' (CAPFISH), a project that focuses on the management, monitoring and conservation of ocean and fresh water fisheries.
The project also aims to improve the food-processing industry, and raise living standards in fishing communities, according to the ministry.
Cambodian Agriculture Minister Veng Sakhon and George Edgar, the EU Ambassador, met Wednesday to discuss the findings of the report.
According to Mr Sakhon, the project will have a lifespan of five years and cost 85 million euros (around $100 million). It will involve the Fisheries Administration, development partners, NGOs and private investors, he added.
Ambassador Edgar said EU lawmakers will convene next week in Brussels to consider the project, and added that he believed the programme could be given a green light before the end of the year.
"This project will help protect, preserve and develop our fisheries with sustainability so that our younger generations also have access to them," said Minister Sakhon.
"The Ministry of Agriculture will co-implement the project to the best of its ability to bring about the best possible results," he added.
The European ambassador and the Cambodian minister took the opportunity to discuss other topics, including illegal fishing activities, the management and monitoring of fishing boats, and amendments to the Law on Fisheries.
During the meeting, Minister Sakhon agreed to head an inter-ministerial committee that will conduct a census of the fishing boat population, and committed to setting up a working group to monitor and control forest resources.
With river and sea fish catches on the rise, revenue in Cambodia's fishing sector reached $750,000 last year, an increase of $150,000 compared to 2016. However, the sector experienced a drop in exports of fresh fish and processed fish products.