This April, Heineken® is inviting Cambodians to experience the 5-star brewing elements that deliver its unique and refreshing taste in a lighthearted way. For a few lucky people, there will even be an opportunity to visit the home of Heineken® and the flagship Heineken® Experience in Amsterdam.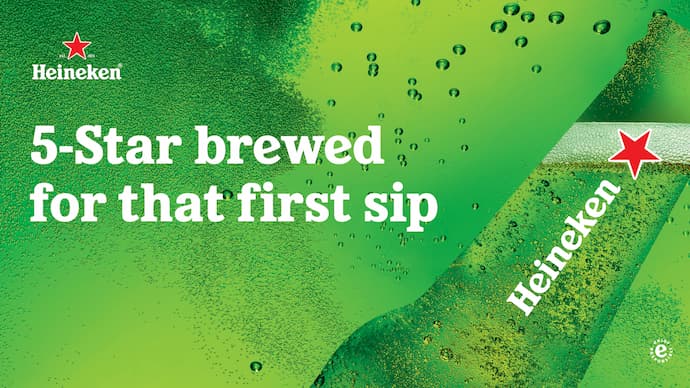 There's nothing quite like that first sip of ice-cold Heineken® after a long day. Wherever you go to get your Heineken®, from Phnom Penh to New York, you can expect that same great taste in every sip.
This high quality serve stems from the 5-star brewing elements that happen behind the scenes. It all starts with using 100% natural ingredients which include 95% of water, pure malt, hops and Heineken®'s signature A-yeast. Heineken® is then brewed in a horizontal tank (others are brewed in vertical tanks) to deliver a balanced richness in taste, clarity, and a brilliant tinge of gold. It is also brewed twice as long as most other lagers. Great things take time, and this is how we promise our consumers a great experience at every first sip.
This entire process is kept under the watchful eye of our Master Brewers. "It takes 10 years to become a Master Brewer and we are very passionate about brewing the best quality for Heineken® consistently and sustainably. These high standards of quality are practiced internationally, and here in Cambodia, we are proud to say that we have an international standard brewery producing Heineken® quality that's the same as that in Amsterdam", said Susanne Bose, Master Brewer at HEINEKEN Cambodia.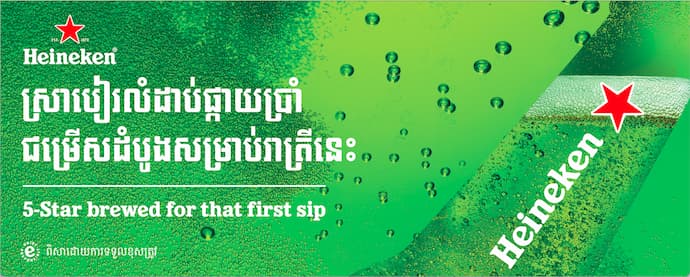 "Since 1873, Heineken® has crafted its 5-star brew to perfection, pleasing discerning beer lovers across the world. We look forward to sharing what makes Heineken® so uniquely refreshing with Cambodians in the coming months," said Loic de Laubriere, Marketing Director at HEINEKEN Cambodia.
Soon, there will be exciting experiences to look out for as Heineken® brings its Credential stories to life.
Stay tuned to discover a unique pop-up bar experience in Phnom Penh and stand to win, a trip to the home of Heineken® in Amsterdam. Look out for exciting activations happening in your favourite bars, in selected stores and on major e-commerce platforms across the months of April and May.
Stay tuned to Heineken Cambodia Facebook and Instagram to fund out more!
This press release is supplied.