As many as nine international business chambers in Cambodia have asked the General Department of Taxation (GDT) to extend the deadline for filing the 2020 tax on income.
The current deadline is March 31, 2021, but the chambers argued that the Covid-19 pandemic has added pressure for businesses operating in the Kingdom.
On March 17, The General Department of Taxation (GDT) rejected the request to extend the deadline for the submission of annual tax on income (TOI).
All businesses in the Kingdom of Cambodia are required to pay the annual profit tax to the government, which is a source of tax revenue.
A joint letter, signed by the International Business Chamber of Cambodia (IBC), AmCham, AusCham, Britcham, EuroCham, India, Japan (JBAC), Malaysia (MBCC) and the Philippines was presented to the GDT director-general Kong Vibol on March 12, 2021.
MBCC vice-president Tan Khee Meng told The Phnom Penh Post "The GDT should be considerate and provide some breathing room for taxpayers and the accountancy and tax professionals, which will help cut down the potential spread of Covid-19 during this critical period."
AmCham president Anthony Galliano added that the businesses are operating under stress due to the most recent community outbreak, forcing staff to work from home.
Among the requests are:
For the GDT to conduct digital meetings between taxpayers or their representatives through messaging platforms such as Telegram or WhatsApp.
Hold essential audit meetings via business communications platforms such as Zoom or Microsoft Teams.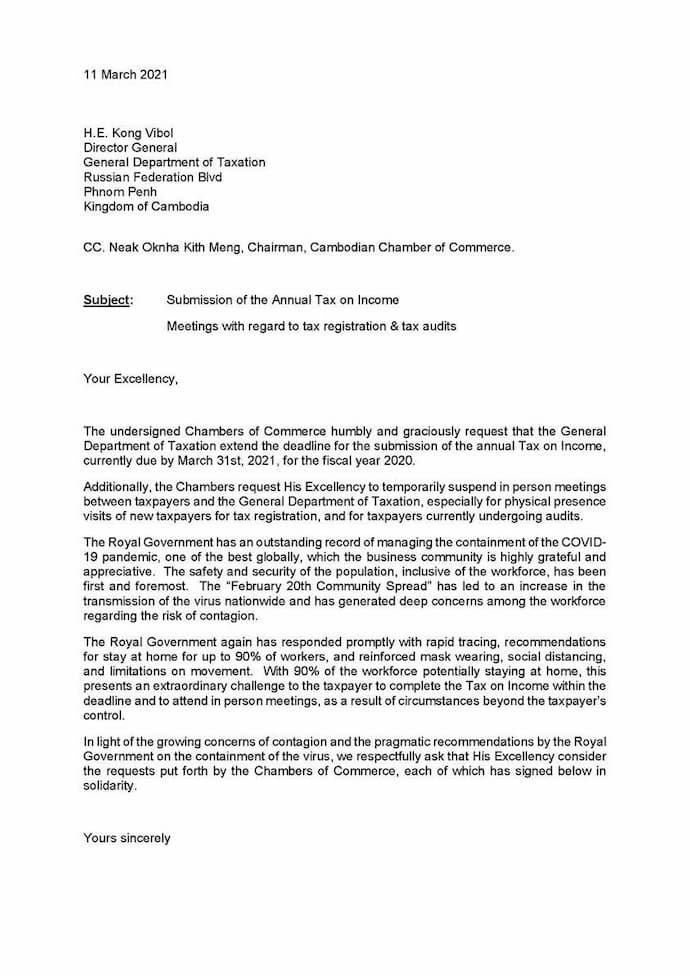 The GDT will allow the temporary suspension of in-person meetings for tax registration and audits report the Khmer Times.
GDT Taxpayer App
In the same week, the General Department of Taxation issued a notification that the payment of property tax on mobile phones via the GDT Taxpayer App is now possible.
GDT director-general Kong Vibol said: "The GDT believes that the public and property owners will gain benefits from this programme since it saves time and makes paying taxes more convenient as well allowing for the monitoring of the status of payments for their property."
The Khmer Times reports that the app will allow for:
Users to check information on registered and updated real estate in the real estate data management system of the General Department of Taxation.
Payment of the annual property tax without having to fill in a tax return form.
Time-saving taxes don't need to be paid at the provincial-Khan tax branch or commercial bank branch partner of the General Department of Taxation
More efficient as there is no need to go to the provincial-Khan tax branch where the property is located to verify the tax receipt
Updates on various notices such as date of tax declaration, date of tax payment expiration, certain tax declarations in any taxable period and other notices related to the type of tax in Cambodia.
The app can be downloaded via the Play Store for Android and the App Store for iOS.