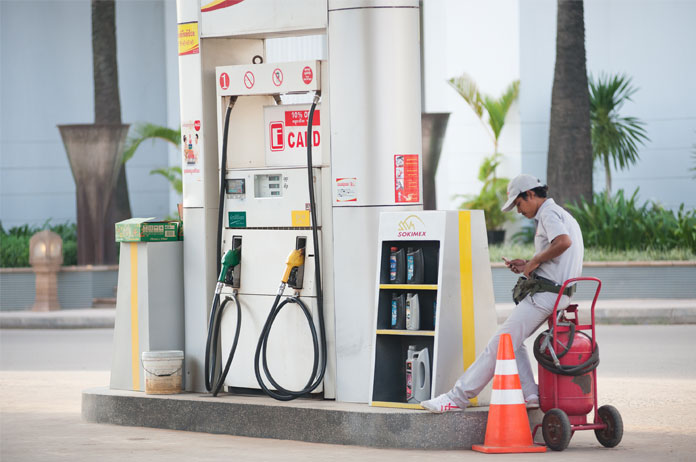 The joint venture behind an oil refinery, which officially broke ground yesterday, says it plans to build a chain of 300 petrol stations to supply the local market.
The venture between the Cambodian Petrochemical Company (CPC), and China Perfect Machinery Industry Corp (Sinomach) will have a total capital investment of $1.62 billion and will be able to produce five million tonnes of fuel per year. The facility is being built on 365 square metres in Sihanoukville and Kampot provinces. About $300 million is to be spent on the petrol stations.
In the first of two phases, the company will spend $620 million which allow for the production of about two million tonnes a year. It will be completed in mid-2019 and supply only the local market.
The first construction phase would transform Cambodia from an oil importing country to an oil-producing country, CPC director Hann Khieng said at the ground-breaking ceremony in Sihanoukville yesterday. "Our company will invest another $300 million to build about 300 petrol stations with mini marts and big carparks," he said. "We are also going to build many big stations along main national roads."
Suy Sem, Minister for Mines and Energy, presided over the ceremony and said the official launch of construction of the plant marked a milestone for the country in the petrochemical industry as the country spent a lot of money importing oil.
"Presently, our country imports 100 percent of its oil and gas. This ceremony shows the encouragement of the government in pushing local production in oil and gas to ensure energy stability and reduce imports," said Sem. "The construction of the oil refinery doesn't only help to develop the petrochemical industry in Cambodia but it also generates revenue for the government and creates jobs for our people," he added.
The Minister revealed that the plan was for the refinery to import crude oil from the Middle-East and buy local crude oil for refining. He said that in 2015 the country consumed 1.8 million tonnes of oil, up 6.7 percent on the figure for 2014.
Consumption of diesel went up by 9.3 per cent, petrol was up by 5.6 per cent and LPG was up by six percent. "This emphasises that consumption is rising in line with our economic growth," added Sem.
Khieng said the company would start building the second phase in 2022 by investing another $1 billion. It would be able to produce three million tonnes for export.